6 vegan store-bought pastries
On Zucker&Jagdwurst you will find so many recipes that it can sometimes be difficult to find exactly the right one for the moment. For that, we've categorized our recipes, but if you want to be more specific, you'll hopefully find the right dish in our recipe collections – for example if you're looking for soy-free desserts, hangover food, and what to eat when you have a cold. You can find all recipe collections here.
Yes, we DO love cooking and baking. We especially love carbs in combination with fat and sugar and so we love: dough! Mixing dough, kneading dough, watching dough while it rises, rolling out dough and secretly eating half of the dough. BUT, and now we're getting to this article, sometimes you simply don't have the time for all of this (except for the eating part) and then it's totally fine to take a short cut in the kitchen.
Often, many people are surprised when they see how many store-bought doughs are actually vegan. But check out your supermarket and you'll see that's we're not lying. But where would a list of these doughs get us, if we're not telling you tasty recipes to bake with them?!
So here are 6 recipes that you can do quick & easy with vegan store-bought dough. If you'd rather to it with dough from scratch, we're more than delighted!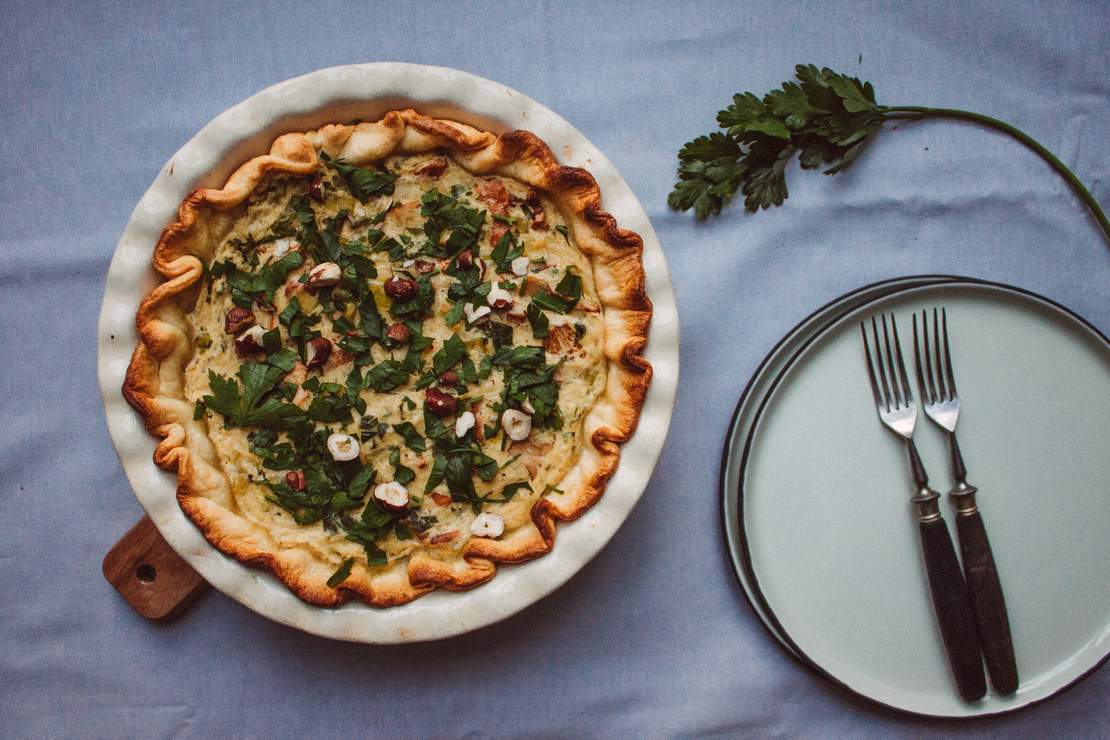 Shortcrust pastry
Let's bake: Chanterelle-leek quiche (GET THE RECIPE HERE)
Depending on the recipe you can use puff pastry or shortcrust pastry for a quiche. Both can often be found pre-made and ready-to-go in supermarkets. All you have to do now is add the filling you'd like.
If you'd rather prepare the dough from scratch, here's the vegan recipe, just leave out the sugar and add some salt.
Croissant pastry
Let's bake: Stuffed croissant bread (GET THE RECIPE HERE)
If you want to bake croissants in your own kitchen, you can either use classic (frozen) puff pastry and roll it or even fill it. Sometimes you can also buy actual croissant pastry, but it's probably also just puff pastry in the end.
Classic Sunday buns
Let's bake: Garlic knots (GET THE RECIPE HERE)
You will find plenty of vegan option for bun dough - sometimes they are classic, sometimes whole grain. To be honest, we've never found a good product to eat plain as a bun because they are often sweet-ish. BUT they are a good choice to use for quick homemade pizza buns or these garlic knots.
If you want to bake buns with yeast dough from scratch, here's there vegan recipe.
Puff pastry
Let's bake: Puff pastry crumble cake (GET THE RECIPE HERE)
If you've ever prepared homemade puff pastry you know that the job easily takes a whole day. Constant cooling, folding, rolling and so on. But in fact most of the store-bought puff pastry is actually vegan. Knowing this you can bake some of the easiest and quickest cakes like this recipe!
Yufka and phyllo pastry
Let's bake: Vegan börek roll with spinach-artichoke filling (GET THE RECIPE HERE)
Yufka and phyllo pastry are not only available at Turkish supermarkets but can often be found in regular supermarkets as well. Add a filling of choice, then roll, and fry or bake them. You can either do the classic small rolls or get huge with this stuffed roll!
Cinnamon roll dough
Let's bake: Cinnamon roll waffles (GET THE RECIPE HERE)
Last but not least - some companies also offer vegan cinnamon roll dough. You can simply bake them as instructed, but why not try out these cinnamon roll waffles in your waffle maker?
If you'd rather bake them from scratch, here's our recipe for classic vegan cinnamon rolls.