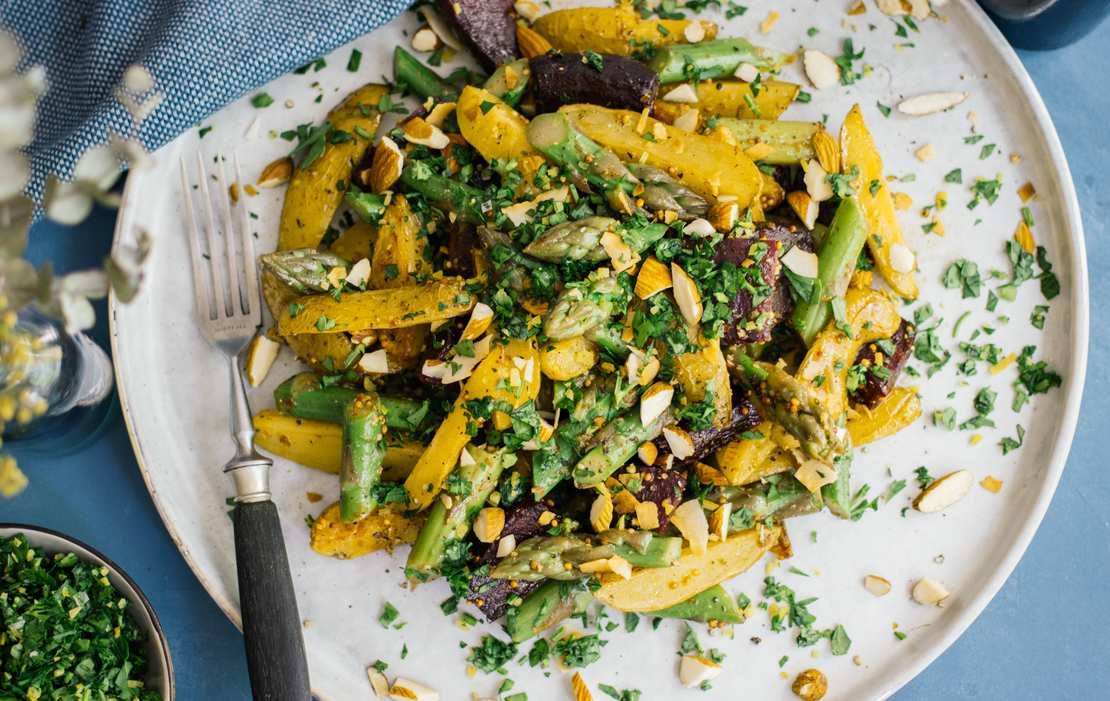 Asparagus and Potato Salad with Wild Garlic Gremolata
There's only one month left to enjoy asparagus to the fullest - until the season ends. Our asparaus recipe mission missed a salad so far, so here it is with a combination of asparagus, potatoes, and beetroot. The trick is to roast potatoes and beetroot in the oven which gives the salad a deeper flavor. The asparagus itself if blanched which is one of the most gentle ways of preparation.
Since some roasted and blanched veggies still not make a good salat, we'll add a red vinaigrette and toasted almonds and coconut flakes to give this salad a crunch. And then there is the gremolata! Never heard of it? It's a chopped herb condiments made from fresh herbs, lemon zest, and garlic. It really is one of the easiest and fastest ways to add a fresh touch to almost any dish. Depending on what you cook, you can switch out the herbs - today we'll use wild garlic which is in season right now. Since it already has a strong garlicy flavor, we'll skip any additional garlic cloves. But if you prep a parsley gremolata, make sure to add a chopped garlic clove to the gremolata.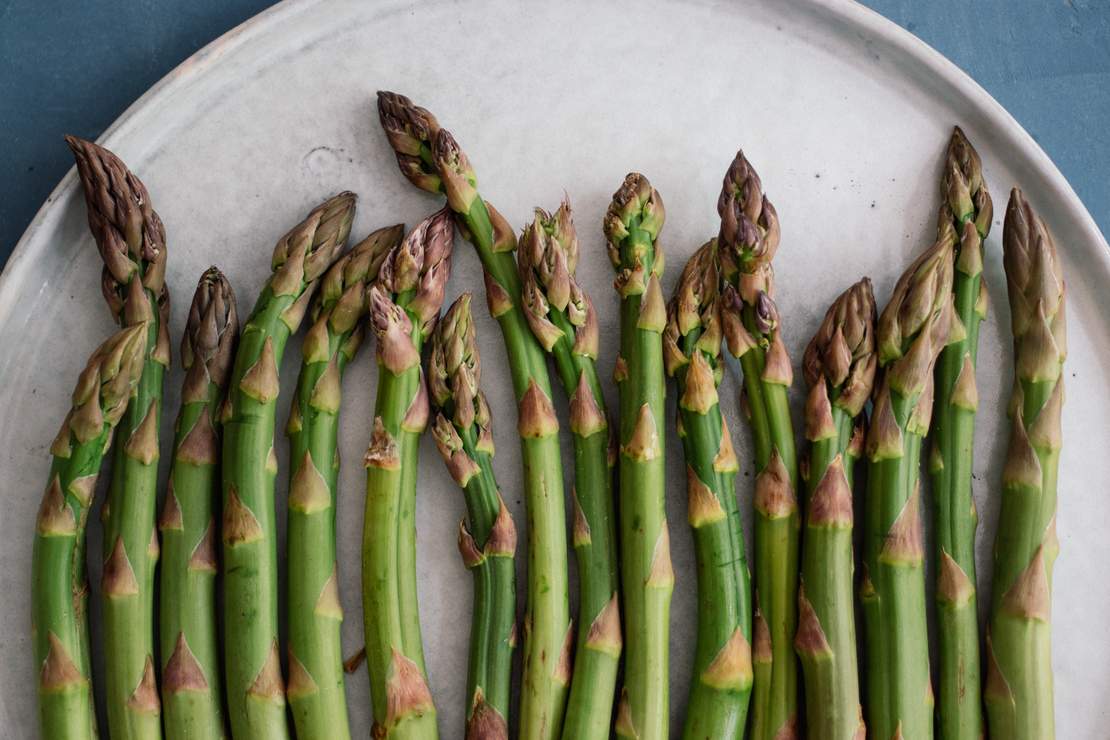 Asparagus and Potato Salad with Wild Garlic Gremolata
Ingredients
300 g (10.5 oz) potatoes
300 g (10.5 oz) beetroot
1 tbsp olive oil
250 g (9 oz) green asparagus
50 g (2 oz) almonds
2 tbsp coconut flakes
salt
pepper
For the vinaigrette:
2 tbsp olive oil
1 tsp grainy mustard
1 tsp agave syrup
1 tsp red wine vinegar
salt
pepper
For the gremolata:
15 g (0.5 oz) wild garlic
25 g (1 oz) parsley
1 lemon
0.5 salt
Instructions
Preheat oven to 175°C/350°F. Peel potatoes and beetroot, cut in wedges, and transfer to a baking sheet. Toss to coat with olive oil and season with salt and pepper. Bake for approx. 30 minutes. The potatoes and beetroot wedges should be roasted and soft - you can flip them in the oven from time to time.

In the meantime, cut off dry ends of asparagus, then cut into bite-sized pieces. Bring a pot of salted water to a simmer and blanch asparagus for approx. 3 - 4 minutes or until fork-tender. Add to a bowl of ice water, then remove and set aside.

Heat a frying pan over medium heat and toast almonds for approx. 3 minutes until the brown. Add coconut flakes and keep frying for approx. 1 minuten - keep an eye on the pan, so nothing burns! Remove almonds and coconut flakes from the heat and roughly chop them. Then set this mixture aside, too.

For the vinaigrette, mix olive oil, grainy mustard, agave syrup, and red wine vinegar. Season with salt and pepper to taste.

For the gremolata, finely chop wild garlic and parsley. Peel a lemon using a vegetable peeler, then finely chop the lemon peel, too. Mix herbs with lemon peel, and salt.

For serving, remove beetroot and potatoes from the oven and add them to a bowl. Add blanched asparagus and the vinaigrette and toss to coat. Serve the salad on plates and sprinkle almonds, coconut flakes, and gremolata on top!