Vegan Naked Cake with Lemon & Thyme
If you have birthday, you can make a wish. So because today is our birthday, it's definitely time for our first vegan naked cake. We really love the combination of thyme and lemon, so our wish for our first birthday cake was immediately clear. We hope you also like this combination. In the end you have one big advantage of baking a Naked Cake: you avoid the huge amount of sugar around your cake, that is always over the top (plus you don't have to work too filigree). We send you a piece of cake folks, cheers!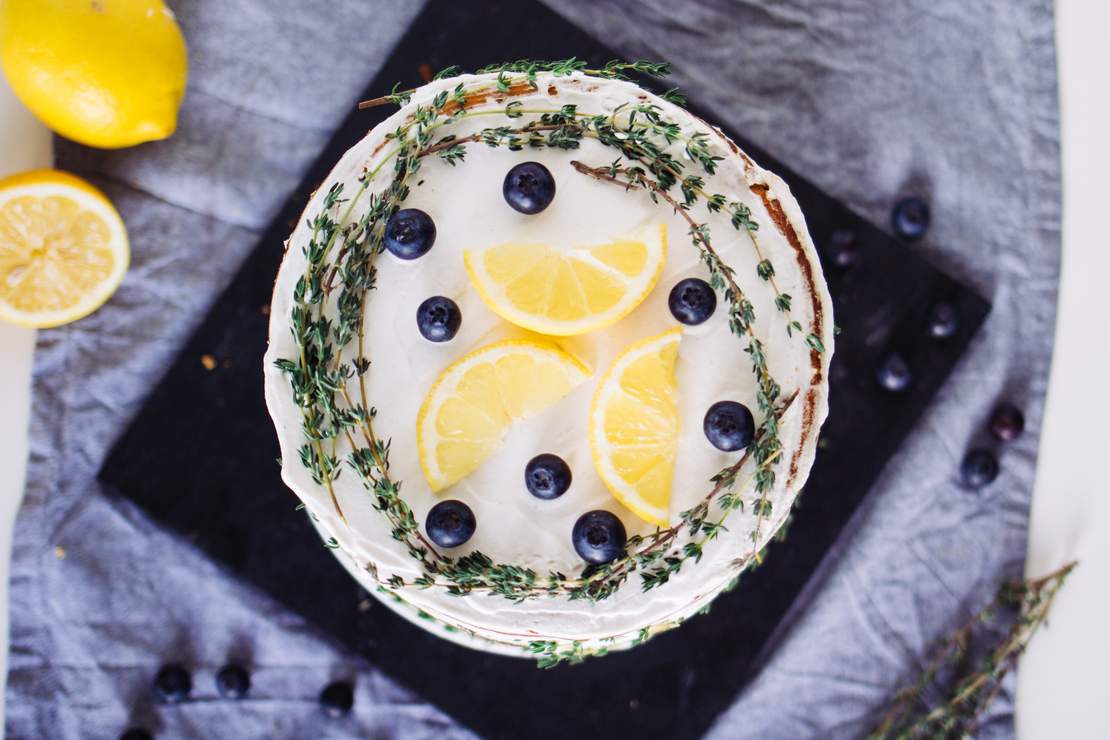 vegan naked cake with lemon & thyme
Ingredients
1 SPONGE CAKE (YOU NEED 3 OF THEM)
450 g 4 cups flour
200 g (1 cup) sugar
200 g (7 oz) vegan butter
150 ml (0.66 cup) plant-based milk
1 tbsp vanilla sugar
0.5 tsp salt
2 tbsp baking powder
2 lemons
50 ml (0.2 cup) sparkling water
CURD CREAM
400 g (14 oz) vegan curd
200 ml vegan cream (1 cup)
1 vanilla bean
1 pck cream stiffener
2 - 3 tbsp agave syrup
CURD CREAM
10 sprigs thyme
5 blueberries
1 lemon
Instructions
LEMON SPONGE CAKES
At first we bake three lemon-sponge-cakes.
Preheat oven to 180°C. Grease the cake tin (16 - 18cm) and sprinkle it with some flour
In a large mixing bowl hit vegan margarine with sugar.
Gradually add vanilla sugar, salt and flour.
Halve lemons, squeeze out the juice and combine with your dough.
Now add the milk and sparkling water and mix until well combined.
Pour into the prepared cake tin and bake for 60 minutes or until golden brown. Cover cake with aluminium foil as the cake turns out too dark to fast.
Cool in the tin for 15 minutes. Remove tin apart from the base and transfer to a wire rack to cool completely.
Now follow these steps again, so in the end you get three sponge cakes.
CURD CREAM
Halve the vanilla pods lengthways and scrape out the soft pulp.
In a medium bowl combine the seeds of the vanilla and the curd.
In a high container whip the cream with the stiffener and add to your curd.
Add agave syrup if needed and store in your fridge.
ASSEMBLING THE CAKE
Remove the disc of baking parchment from the cake base. Put your cake on a turntable, chopping board or a large plate.
If the top of your cake is not flat, use a serrated knife to level it so each layer will sit flush with the next.
Now spread 1 - 2 tbsp of the cream on your first sponge cake.
Stack the second sponge cake on top of the first and add the next 1 - 2 tbsp of the cream.
Add the last sponge cake on top of the second and spread the rest of your cream all around your cake.
DECORATION
Rinse the thyme and shake it to dry. Wash blueberries.
Wash lemon, slice or cut into triangular pieces.
Decorate your cake with this stuff and store in the refrigerator.
Better: eat it immediately.