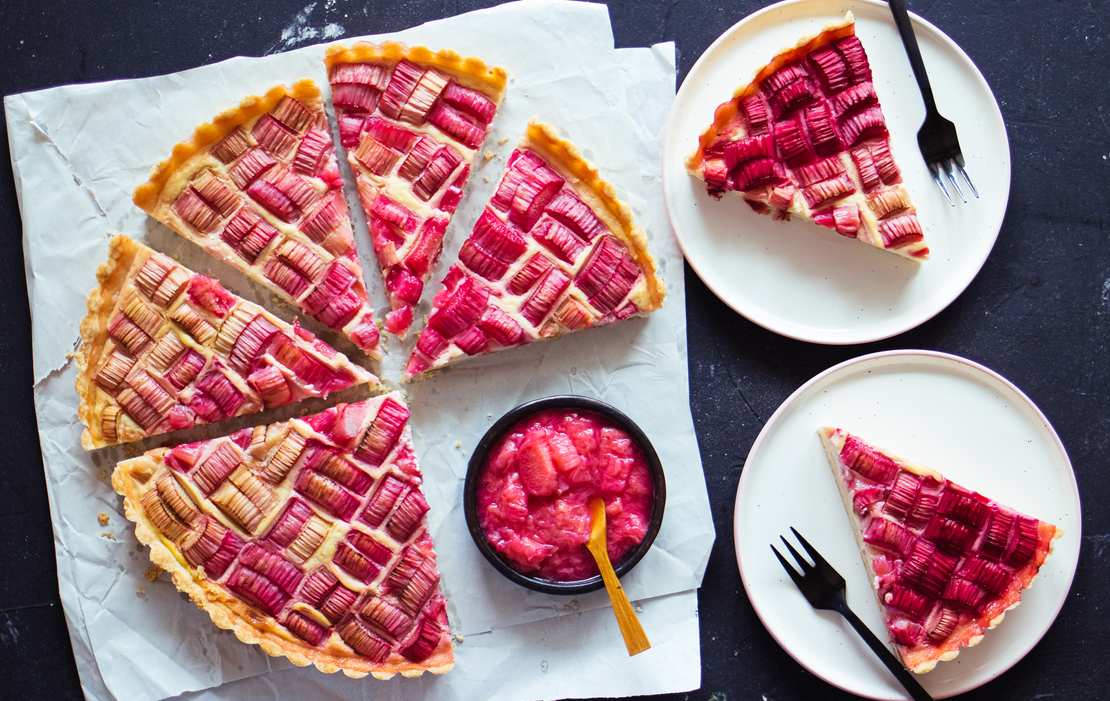 Simple Vegan Rhubarb Tart
We are approaching summer in tiny steps. The first heralds arrive in April and are called asparagus and rhubarb. With them, the culinary diversity on the markets begins until it ends again in August with fresh cherries. Until then, we try to prepare as much as possible with the fresh rhubarb cause they are not available all year round like apples or pears. Thus we show you a simple and easy recipe for a vegan rhubarb tart.
The bottom of the tart is a classic shortcrust pastry that consists only of flour, sugar, and butter. We add a lightly sweetened quark cream on top of it but kept the cream very simple. You could usually add a little lemon zest, but the rhubarb is most of the time quite sour, so you don't need any sour taste on top. You can, of course, change the pattern for the tart. Be creatice! You could arrange the pieces in a kind of spiral or cut the rhubarb into strips. We are sure that your tart will look very, very pretty in the end!
Simple Vegan Rhubarb Tart
1 tarte (∅ 28 cm/11 inches)
30 minutes (+ 30 minutes cooling time + 30 minutes baking time)
Ingredients
For the shortcrust pastry:
250 g (2 cups) wheat flour
75 g (0.33 cup) white sugar
125 g (1 stick) vegan butter (cold)
cold water as needed
For the vegan curd layer:
400 g (14 oz) vegan curd
15 g (2 tbsp) cornstarch
50 ml (2.5 tbsp) agave syrup
For the rhubarb layer:
Also:
flour for dusting
vegan butter for greasing
Instructions
For the shortcrust pastry, mix flour and sugar in a large bowl. Add cold vegan butter in small dices and start to knead the dough with cold hands. If needed, add some cold water and keep kneading until a smooth dough forms.

Refrigerate the shortcrust pastry for at least 30 minutes.

In the meantime, prepare the cream layer and rhubarb. Mix plant-based curd, cornstarch, and agave syrup in a bowl until combined.

Wash rhubarb and cut off dry ends. Halve rhubarb lengthwise, then cut it into bite-sized chunks.

Preheat oven to 180°C/355°F circulating air. Grease a tart form with vegan butter. Remove the shortcrust pastry from your fridge and roll it out on a floured surface. The pastry should be large enough to cover the bottom and sides of your baking pan. Carefully transfer the rolled out dough to your baking pan and lightly press it down. Spread the plant-based cream on top and smooth out. Cover the cream mixture with cut rhubarb – if desired, you can lay it out to create a pattern.

Bake tart at 180°C/355°F (circulating air) on the medium level of your oven for approx. 30-40 minutes.