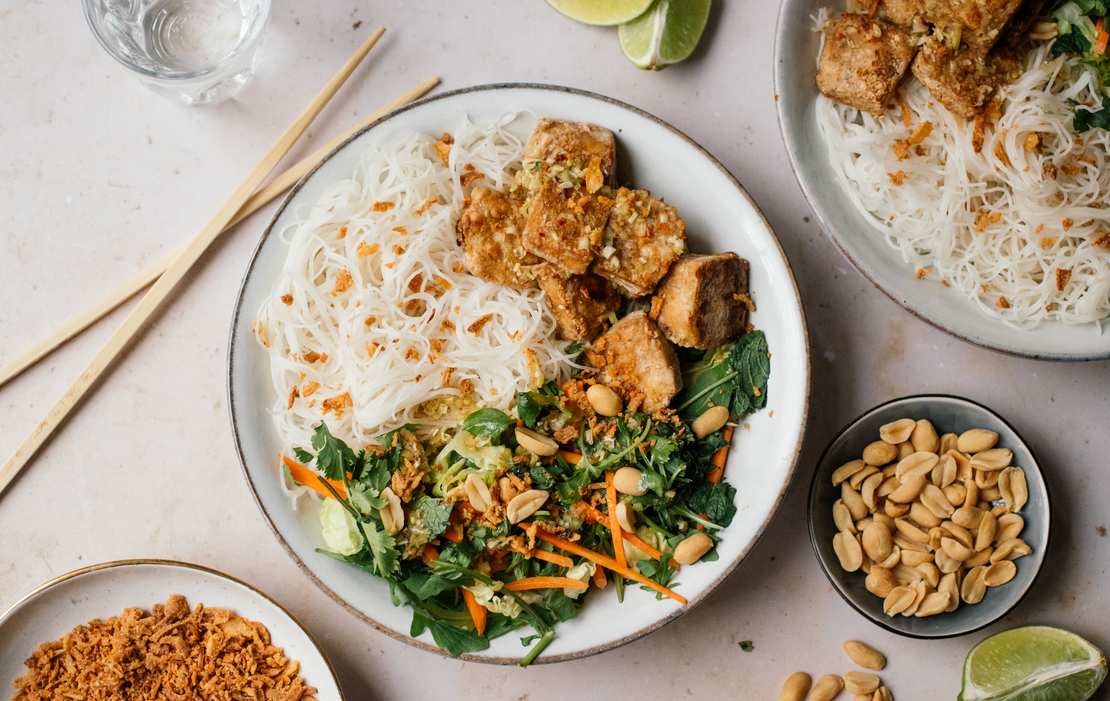 Vegan Rice Noodle Salad with Baked Tofu and Lemongrass Dressing
Maybe you also have this one dish that you order every time when you go to a restaurant and find it on the menu. That's at least the deal with me and rice noodle salad with lemongrass dressing, which is often on the menu at my favorite Vietnamese restaurants in Berlin as "Bun Sa Ot." This salad is just a perfect combination of different textures, flavors, and temperatures: lukewarm rice noodles meet crisp lettuce, deliciously baked tofu, and then there's this refreshing lemongrass dressing that coats everything and some crunchy peanuts and fried onions on top. This salad is filling and yet doesn't sit heavily on your stomach – that's why especially in summer, it's one of my go-to dishes. In Vietnam, the classic version with marinated meat is also eaten as a refreshing meal "to cool down" when it's hot outside.
Simply because I couldn't get enough of it, I also started making the rice noodle salad at home and kept tinkering with the recipe until I was satisfied with it. In addition to thin rice noodles, two types of lettuce are essential for me: iceberg lettuce adds a crunchy bite, while arugula adds more flavor. Mint and cilantro bring some freshness to the salad, and a thinly sliced carrot is enough for me as the vegetable component. Of course, lemongrass can't be missing from the dressing, but I'd also recommend to opt for the toasted version of sesame oil. As always, it's a matter of your own taste, so it's best to adjust the dressing to your desire until it's salty, sour, or sweet enough for you. If you like to eat spicy, add a finely chopped red chili pepper directly to the dressing, or serve Sriracha with this salad.
If you have an Asian supermarket nearby, you should definitely look out for baked tofu there, which you only have to cut and pan-fry. Alternatively, you could use any tofu of your choice – for those who can't find baked tofu but still would like to try it, we've also written down how to prepare it yourself in the recipe.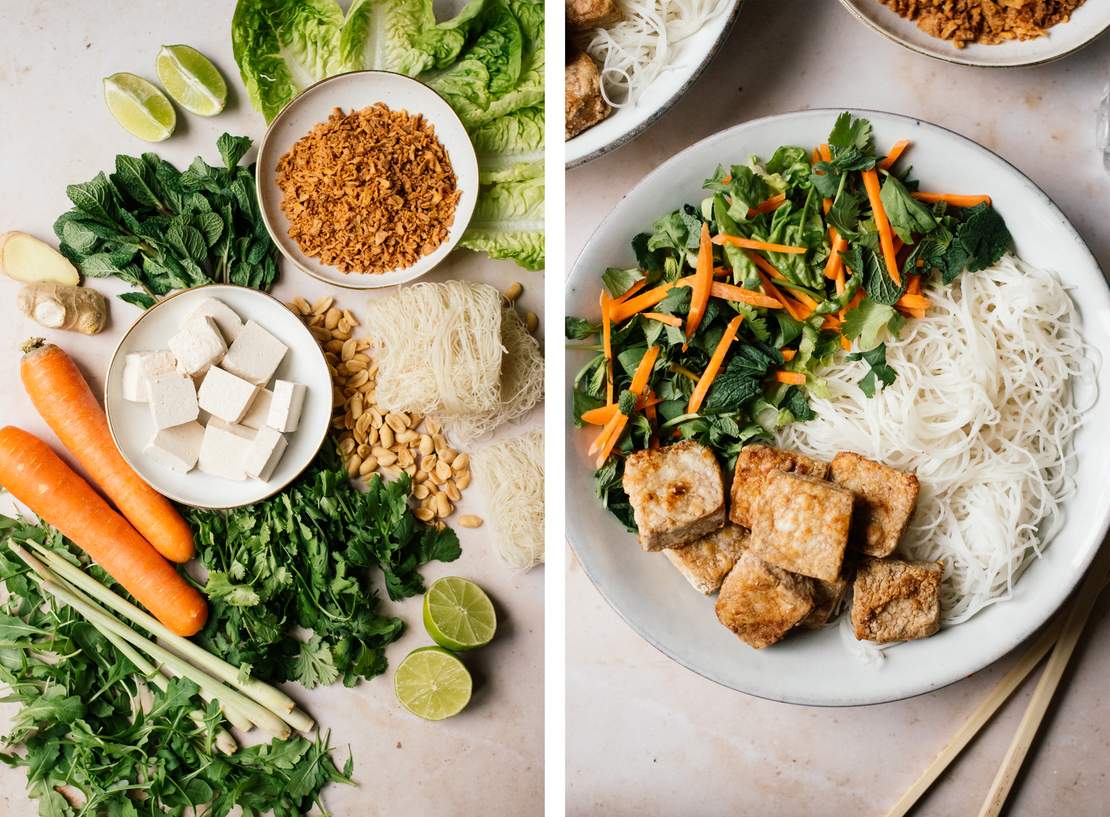 Vegan Rice Noodle Salad with Baked Tofu and Lemongrass Dressing
Ingredients
For the salad:
200 g (7 oz) thin rice noodles
1 tbsp toasted sesame oil
75 g (2.66 oz) arugula
100 g (3.5 oz) iceberg lettuce
20 g (0.75 oz) mint
20 g (0.75 oz) cilantro
1 carrot
For the tofu:
200 g (7 oz) baked tofu or
200 g (7 oz) plain tofu
2 tsp soy sauce
2 tbsp sesame oil
5 tbsp cornstarch
vegetable oil for frying
For the dressing:
2 stalks of lemongrass
30 g (1 oz) ginger
1 red chili pepper (optional)
2 limes (juice)
2 tbsp rice vinegar
2 tbsp soy sauce
1.5 tbsp toasted sesame oil
1.5 tbsp agave syrup
5 tbsp water
pepper
For serving:
fried onions
toasted peanuts
Instructions
Prepare rice noodles according to package instructions. We usually add rice noodles to a large pot, pour over boiling water, and let them soak for approx. 3-4 minutes. Keep stirring the rice noodles from time to time to loosen them up. Afterward, drain, add sesame oil, and gently toss to coat to prevent the rice noodles from sticking together.

If you can find baked tofu right away, just cut it into bite-sized cubes or slices. Heat vegetable oil in a frying pan over medium heat and fry baked tofu for approx. 2-3 minutes from all sides until it's browned. If you can't find baked tofu, simply use any other tofu or bake it yourself. Preheat oven to 200°C/390°F. Cut tofu into cubes and pat it dry with paper towels. In a bowl, mix soy sauce and sesame oil, then toss tofu in it. Add cornstarch and toss again until the tofu is coated with cornstarch from all sides. Transfer tofu to a lined baking sheet and bake for approx. 15-20 minutes, flipping it several times in between to get it crispy from all sides.

In the meantime, wash and chop arugula and iceberg lettuce. Wash mint and cilantro and roughly chop the leaves. Wash and julienne the carrot. Add everything to a bowl and mix.

For the dressing, remove the outer harder leaves and the stem from your lemongrass and peel ginger. Finely chop ginger and lemongrass and add them to a bowl. If you like to eat spicy, finely chop a deseeded red chili pepper and add it as well. Add lime juice, rice vinegar, soy sauce, toasted sesame oil, agave syrup, and water. Stir to combine and season with salt and pepper to taste.

Arrange rice noodles, fresh vegetables, herbs, and baked tofu on plates or in bowls. Pour over lemongrass dressing sprinkle with fried onions and peanuts.