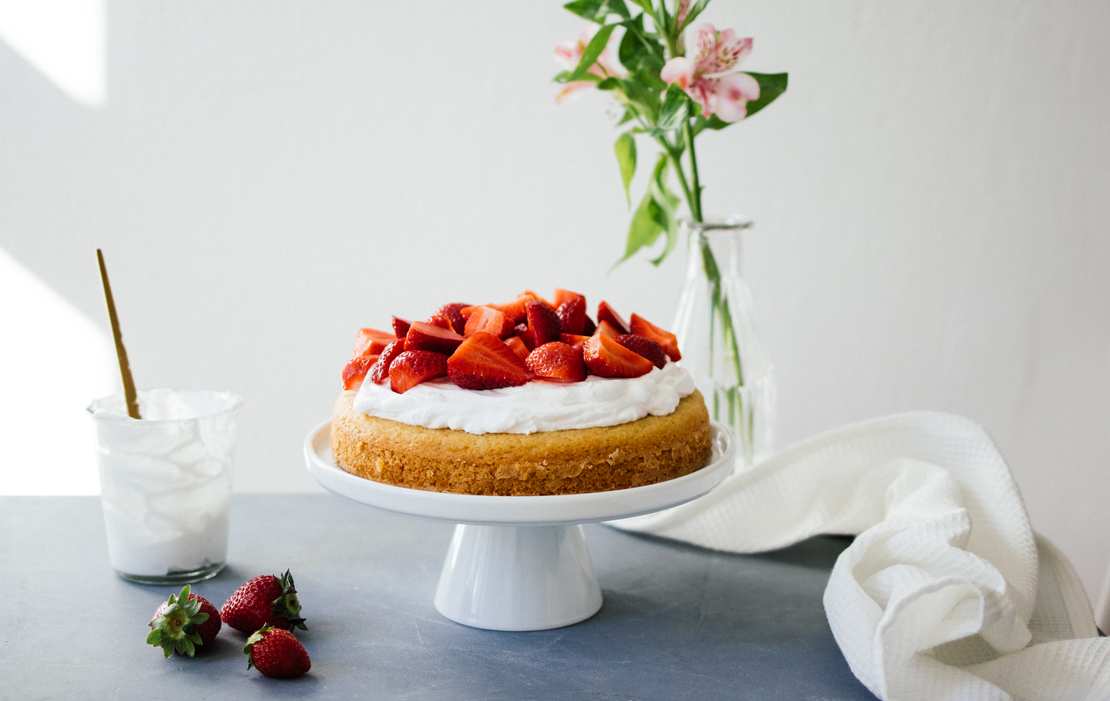 Vegan Strawberry Cake with Whipped Cream
No matter what you do, this cake will come out perfectly. Why? Because you can't do anything wrong! Mix the ingredients for your dough, whip your cream and add the strawberries. Even if you're a baking-idiot, you can't fail with this recipe. The sponge cake is soft and luscious, the whipped cream cold and fluffy and the strawberries sweet and fresh. It's a perfect summer cake!
Vegan Sponge Cake
Ingredients
225 g (2 cups) flour

150 g (0.7 cups) sugar

250 ml (1 cup) sparkling water

50 ml (0.25 cup) plant-based oil

1 tsp baking powder

8 g (0.28 oz) vanilla sugar
You need a 9 inch/22 cm circular cake pan for this recipe.
Instructions
Preheat your oven to 180°C/350°F.
Mix in a bowl: flour, sugar, vanilla sugar, baking powder. Whisk until combined.
Add the oil and the sparkling water. Mix the dough for another time.
Grease a cake pan and add the batter. Bake for 30 minutes. Test with a wooden stick if your sponge cake is done. Extend or reduce the baking time until cake is golden-brown.
Vegan strawberry cake with whipped cream
12 pieces
20 minutes (without the sponge cake)
Ingredients
1 sponge cake (recipe up on the blog)
a punnet of strawberries
200 ml (0.8 cups) vegan cream to whip
2 tbsp stabilizer for whipping cream
2 tbsp vanilla sugar
Instructions
Prepare sponge cake as instructed on the blog. Let cool down.
In a high container whip cream with stabilizer and vanilla sugar.
Wash and dice strawberries.
Spread whipped cream evenly on sponge cake and top with berries.
Let sit in the fridge for 2-3 hours and serve.