In our series "Berlin Guide" we share our favorite snack bars, restaurants or cafés with you. We reveal where to get the best vegan donuts in town, which Vietnamese tapas restaurant you should visit and where you'll catch us eating vegan pizza. Here are all our Berlin recommendations.
If we don't have the chance to quickly travel to Italy, we love to try out all kinds of pizzerias in Berlin. Of course we also like to bake pizza at home, but it's quite impossible to get this perfect crust without a pizza stone and 450°C power in our oven. But what is the perfect pizza actually?
Julia swears by Roman pizza, thinks that vegan cheese or meat substitues are often unnecessary and would rather wish for much more love for veggie toppings on pizza. Isa instead is very into vegan cheese on a pizza and even made friends with vegan tuna as a topping even though she never ate real tuna. You see, everything's possible with pizza.
So what should it be for you: Neapolitan or rather a Roman pizza with a thin and crispy crust? Vegan cheese or only veggies as topping? We've collected our ten favorite pizza spots in Berlin for you and tell you why you should go there and what you need to try!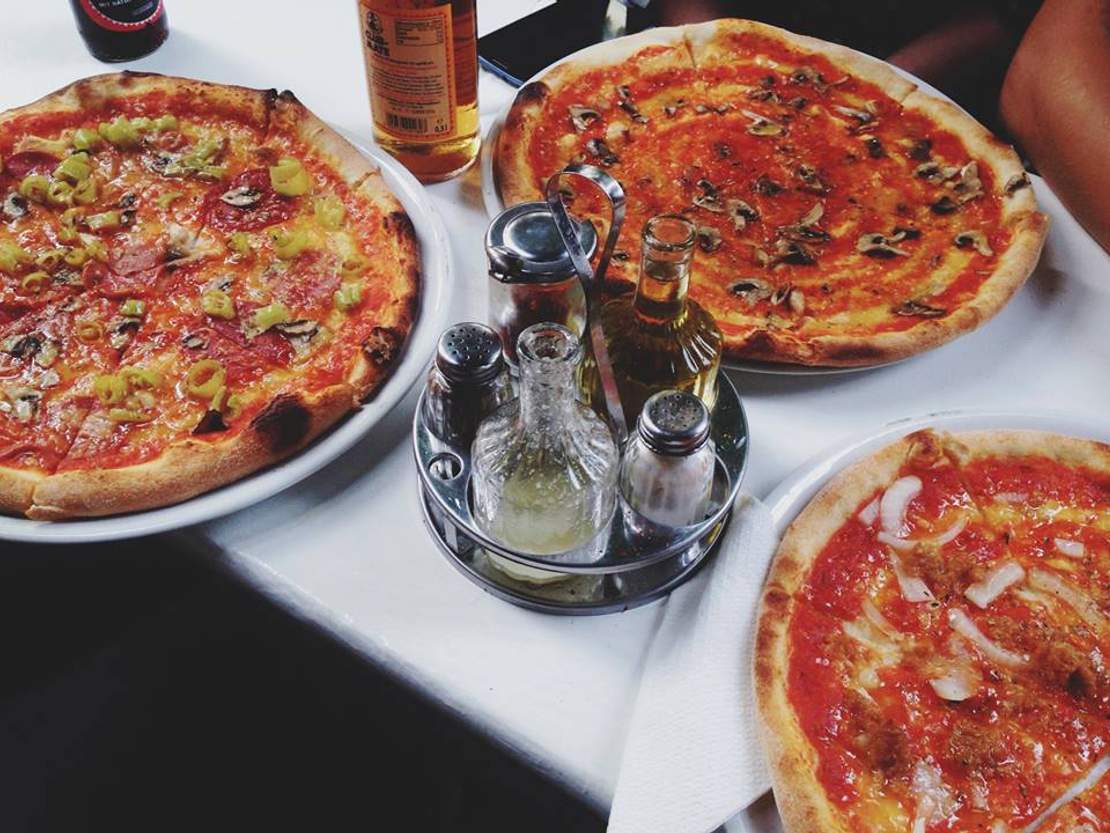 It feels like 'Zeus' was our number one vegan pizza spot for quite a long time and we definitely weren't the only ones with this opinion. Until recently every wall of this place was decorated with approx. 93948 million handwritten notes from guest from all over the world expressing how much they love the place. But recently they re-decorated the place and now you'll find all their awards framed on the walls.
So why was it our number one? It's a place to take all your friends, because they are not only offering vegan pizzas. BUT there are plenty vegan options to choose from - from Funghi to Hawaii and even vegan tuna pizza. The pizza dough is thin and crispy (you can also go for whole wheat dough), and they use a good vegan cheese substitute.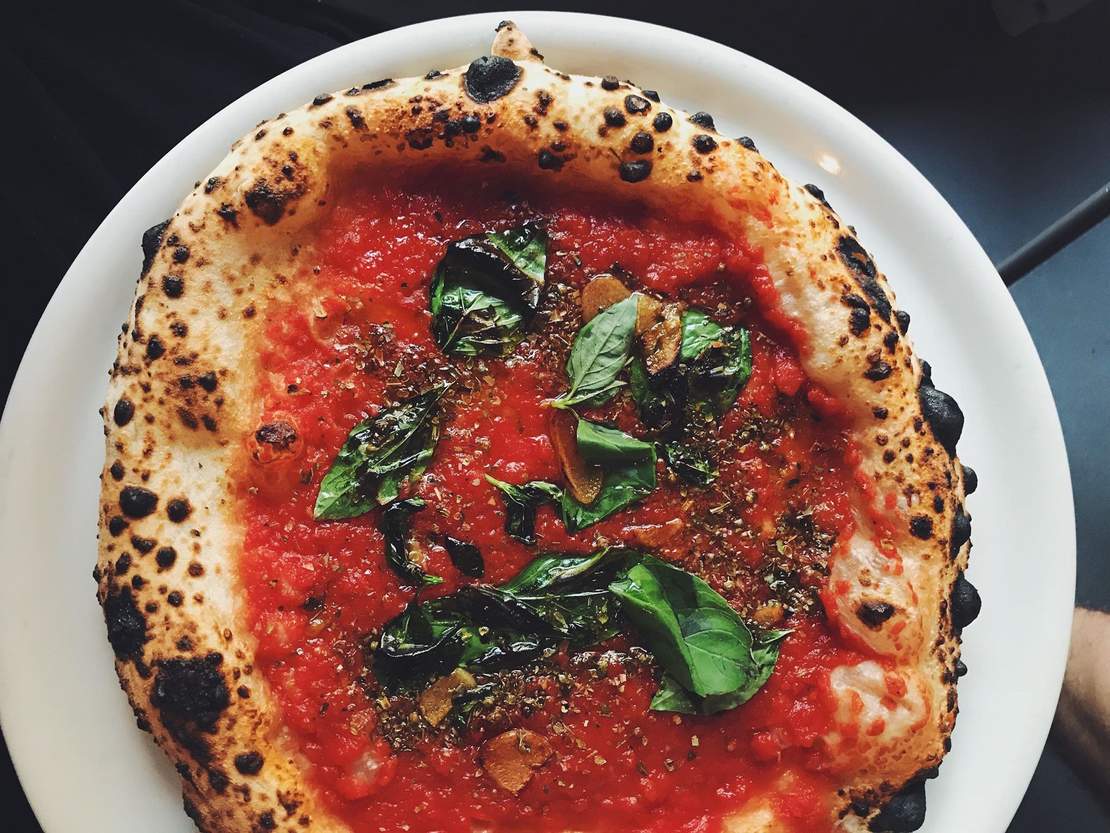 Once upon a time, Julia went out to visit one of the most popular pizzarias in Berlin where Neapolitan pizza is served. Unfortunately, she didn't like it at all and thought it was a bit too "doughy" (don't be too harsh to her, please!). But once upon another time, Julia visited "W Pizza" where they also serve pizza the Neapolitan way. Believe it or not - it was probably the best pizza she has eaten in Berlin so far. Fluffy dough and a wonderful Marinara topping with aromatic tomatoes and a lot of garlic and spices. They have even more vegan options on their menu, such as a pizza with fresh vegetables. All vegan pizzas are served without any kind of cheese substiute and we like that a lot, because it isn't necessary at all.
Ron Telesky Canadian Pizza
Have you ever heard of Canadian pizza? To be honest, neither did we, but then we stumbled into "Ron Telesky" in Kreuzberg for the first time (not literally though, to enter you'll go stairways down, so it's better not to stumble). Instead of a chic pizzeria, this is a combination of a cellar and a large living room with a pizza oven (we'd love to have this situation at home). Underneath a big plüsch elchkopf there are a few wooden tables with lego to play, a record collection and a flipperautomat. What we love about this place, is that they understand the joy of the pizza slices games that makes sure that you can try out several pizzas. There are always a few vegan options, such as sweet potato and cilantro pesto – definitely not the "boring" standard. Afterwards, you can drizzle some (spicy) maple syrup on your pizza slice and top it with a pile of arugula.
Pizzare is located in Prenzlauer Berg at Eberswalder Straße. They offer a complete vegan pizza menu card including "classics", pizza with truffle and sweet Nutella pizza. They also offer vegan mac'n'cheese and lasagne, served with their sticky, homemade, vegan cheese. Our recommendation: choose the spelt flour crust, you can have for 0.50€ extra - the dough is thinner and more crunchy than the normal pizza dough. Something we are not really sure about is their meat substitutes, placed on top of the pizza. But we really like their pizza, so go to Pizzare for a quick dinner with friends!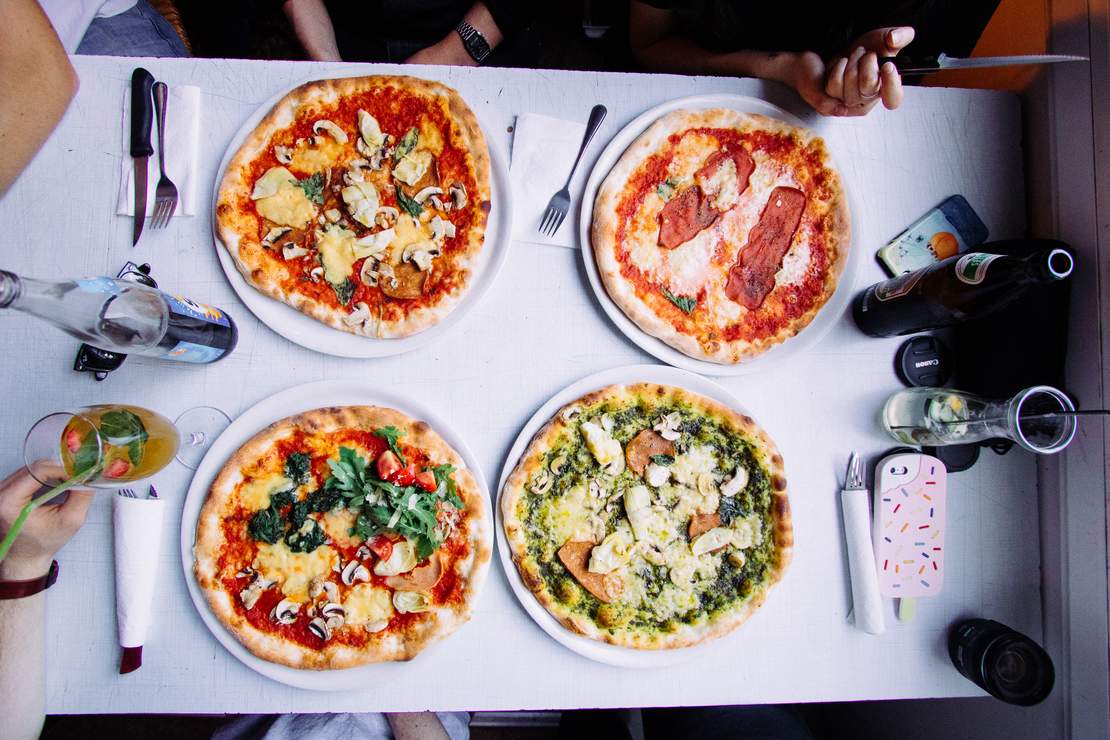 Sfizy Veg feels like a big living room and is a great place to bring your parents to introduce them to vegan pizza. Our favorite toppings: vegan blue cheese and gorgonzola! Both vegan cheeses taste delicious just as the meat substitutes that they use. Besides pizza they not only serve vegan desserts as tiramisu and small cakes, but also glutenfree lasagna with cashew Parmesan or huge pizzas to share with a group of friends.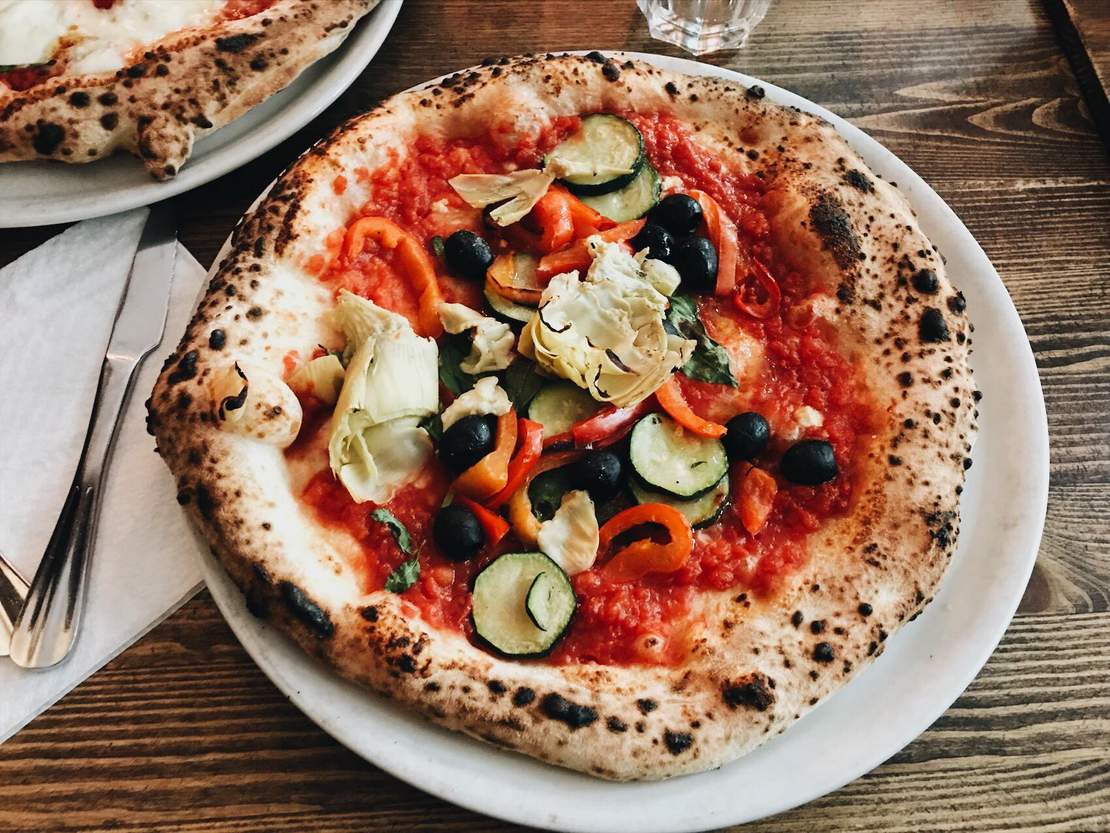 At Zola, pizza needs only 90 seconds in the oven. You'll find the pizzeria twice in Berlin - one at Funkhaus and the second one in a backyard at Paul-Lincke-Ufer. If the fans aren't turned on, it's really, really cozy there (but maye it was also just us sensitive humans to were freezing at bit). Instead of an overloaded menu, the choices are pleasantly straightforward and two of them are even vegan or can be made vegan (Marinara and Vegetariana). These two are really delicious, featuring a soft dough and fresh, aromatic ingredients. Still, our secret favorite is actually the garlic oil that you can find on each table. We love to drizzle it on top of our pizza AND dip the last pieces of the pizza crust in it.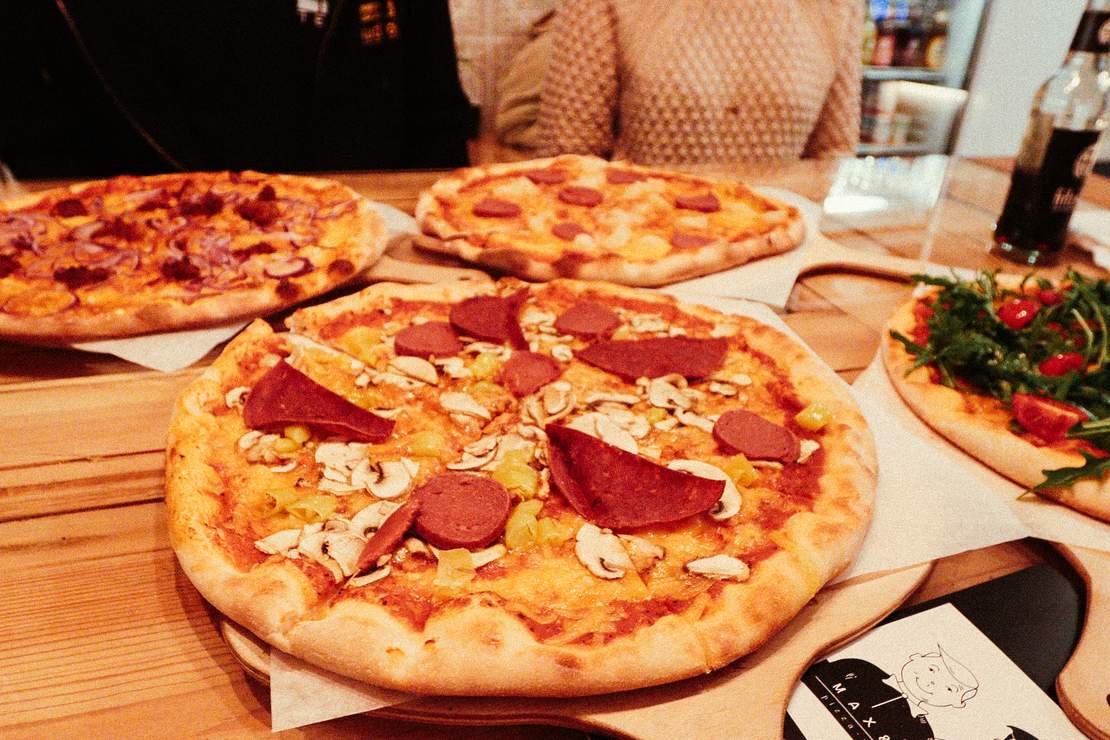 Max&Murat has 8 vegan pizza options on their menu – at least when we were there the last time. The offer all the classics from vegan funghi to hawaii. To be honest, we weren't big fans of the meat substitutes there, but big fans of their vegan cheese! They use 'Wilmersburger pizza melt' but luckily add it right on top of the tomato sauce, so it actually 'melts' (as much as vegan cheese can melt so far). So we would definitely recommend to order one of their veggie pizzas. They also serve some black tea for free (again: at least the last time we were there).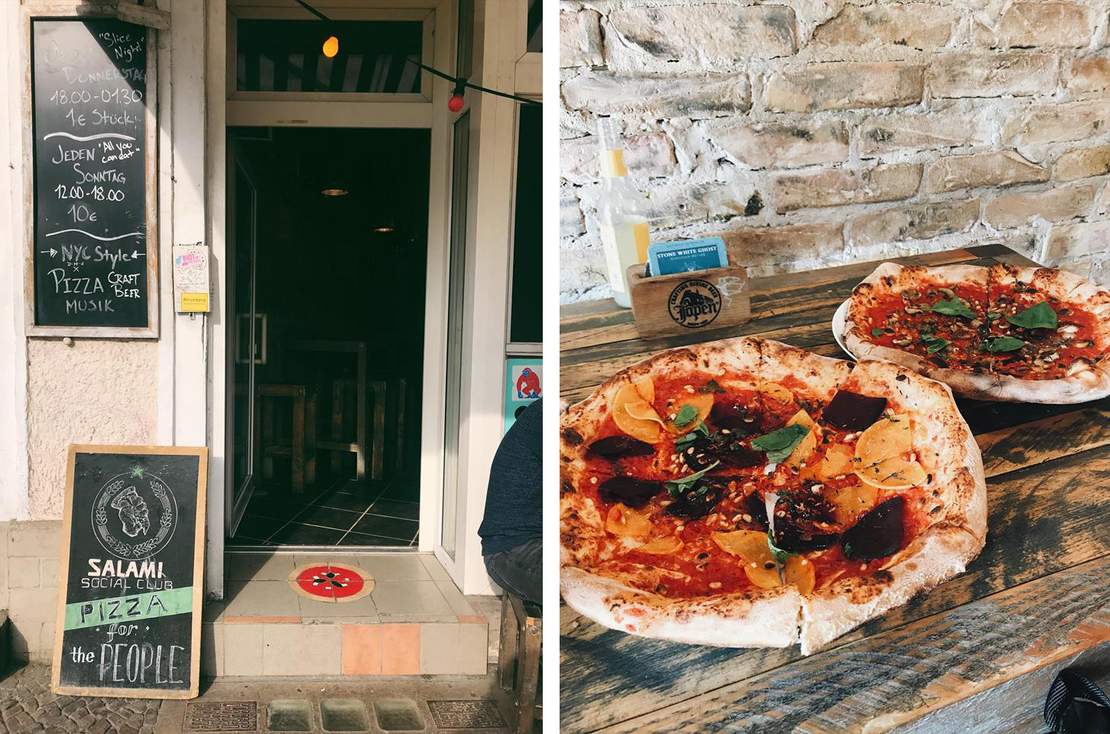 The 'Salami Social Club' definitely wins in the category 'Best Name of a Pizzeria' – congratulations! But they also perform really well in all other categories. On a regular day, you have the choice between vegan options such as marinara, beetroot, and pumpkin. But then there's also our beloved "Slice Night" every Thursday when every slice costs only 1 Euro - and they always have a vegan selection of slices. Since there is always a lot going on during slice night, make sure to be there early if you're with a bigger group. If you're over-the-top hungry, rather go there on Sundays when they celebrate "All You Can Eat".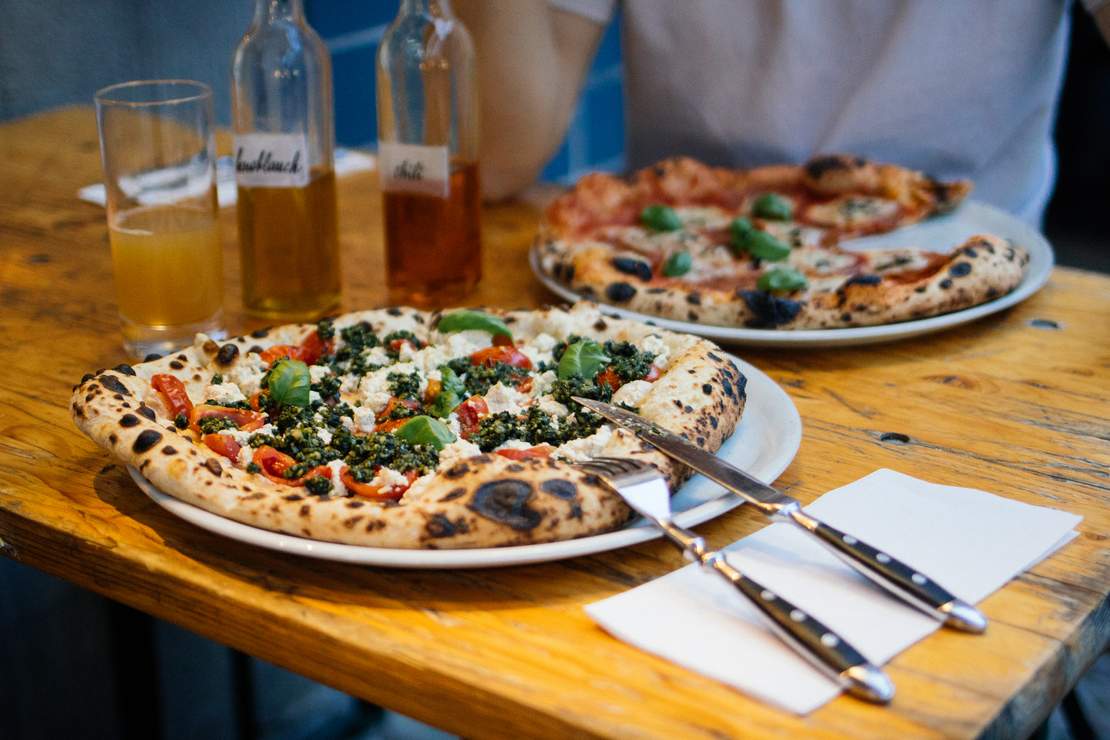 "La Stella Nera" is another incredible spot in Berlin serving authentic Neapolitan pizza. And it's all vegan! Choose between Pizza Rossa and Pizza Bianca, with or without cheese. We immediately fell in love with their cheese, cause it (spoiler!) pulls threads and melts perfectly. They also serve homemade vegan ricotta, so there are a lot of things to try. We are still blown away!
If you're hungry for a slice of pizza that's actually almost as big as a whole pizza elsewhere, then check out "Zero Stress Pizza" in Friedrichshain. What once began as a food truck is now a rustic, cozy little pizzeria, where you can get single slices or whole pizzas. The menu features four vegan options with a crispy thin pizza crust and toppings such as with pumpkin, potatoes, sweet potato or onions, bell peppers and olives. Being surrounded by so much pizza, make sure to still try their huge focaccia sandwiches, which can also be made vegan!