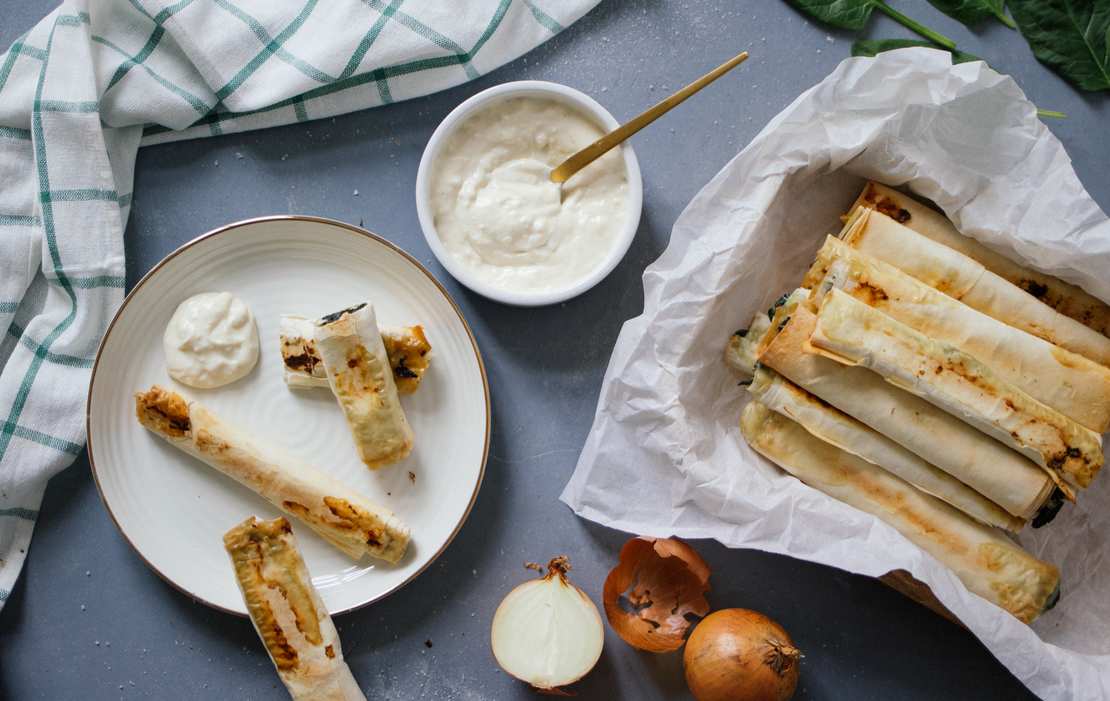 Vegan cigarette börek with spinach
We've already introduced some Turkish specialties to you, like this pide with vegan minced meat, for example. Today we'll show you a classic recipe that's great for your next party buffet.
The Turkish "Sigara böreği" are stuffed and deep fried pastry rolls, you get in many Turkish shops. The filling is usually made of minced meat, spinach and cheese or potato. Not really vegan, even though the originally triangular yufka dough is entirely vegan, yay!
For a quick and easy recipe to bring to the next party, we've made a spinach filling and put the börek cigars in the oven. That also makes them super crispy. Yufka dough sheets are available in many Turkish, but also in many regular supermarkets. The only difference is usually the form, which is no longer triangular, but quadrangular. Depending on the size of the dough sheets, it makes sense to halve the leaves lengthwise. Otherwise, you will receive a very long cigarette börek, which are challenging to eat later. The optimal size is about 10-15 cm in length. But don't worry, the shape of the leaves does not bother with this delicious snack.
Vegan cigarette börek with spinach
20-25 cigarette börek
40 minutes
Ingredients
1 onion
2 cloves of garlic
400 g (14.1 oz) fresh baby spinach (or leaf spinach)
3 tbsp of vegetable oil
3-4 tbsp of vegetable yoghurt
1 tsp salt
1 tsp pepper
1/2 tsp nutmeg powder
10-12 Yufka pastry leaves (minimum 1 pkg)
4-5 tbsp plant-based milk
Instructions
Peel and finely chop the onion and garlic.
If necessary remove thick stems from the spinach and wash thoroughly.
Heat a big pan with vegetable oil and sauté the onion and garlic.
Add the spinach, cover with the lid and wait for 3-4 minutes.
Season with salt, pepper, and nutmeg. Add the plant-based yogurt, season to taste and remove from the heater.
Halve the Yufka leaves if necessary, spread 1-2 tbsp of the filling on the short side of the Yufka leaf and roll them up. Place all cigarette börek on a baking tray with baking paper. Brush with some plant-based milk.
Bake the cigarette börek for 15 minutes at 180°C until crispy and brown.