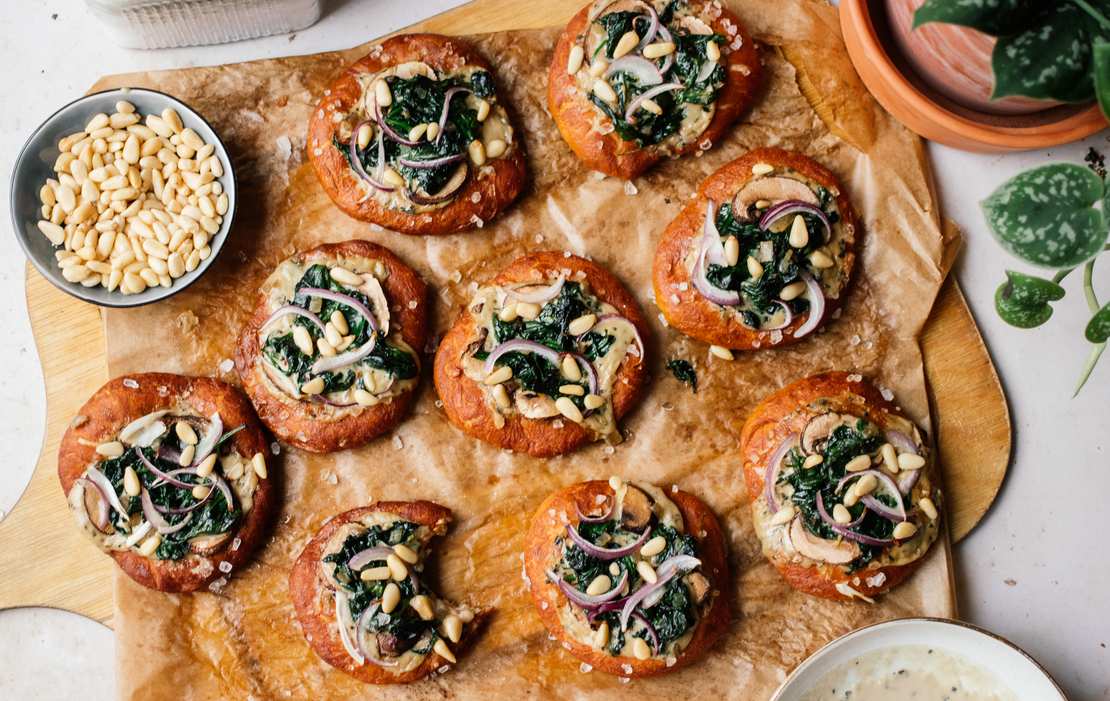 Vegan Mini Pretzel Pizza with Spinach
Actually, my dream was a very big one - it was the dream of a pizza that should have a pretzel dough instead of the usual pizza crust. But then everything turned out (somewhat) differently...
Let's start from the beginning. I love making pizza at home. On the blog, you can already find some recipes where we experimented, especially with the pizza crust. Our vegan frozen pizza has a rather classic pizza dough, but we seasoned it with Everything Bagel Seasoning. Our BBQ sheet pan pizza has a thick and fluffy dough, and then there's our flatbread pizzas with rosemary. This time, however, I set out to take it to the extreme and live out my love for pretzels in a pizza context.
We already have a recipe for stuffed pretzel rolls on the blog. Slightly adapted, this was to become the base of my pretzel pizza, but then it happened .. all my tests at a large pizza failed when I tried to turn or remove the pretzel dough from the lye. The dough simply wasn't solid enough, too heavy, or maybe I was just too clumsy. After the third lost round, I finally gave up and decided to make mini pizzas instead as they fit on a spatula and are much easier to transport. However, I'd like to leave the decision up to you and can't rule out that I'd also take the risk again next time to form a larger pizza.
But no matter what pizza size you decide on in the end – the pizza will taste great anyway! Concerning the topping, you can, of course, choose any ingredients according to your taste. I chose spinach, onions, mushrooms, and pine nuts. Plus, since I'm in team "white pizzas", I decided to prepare a very simple pizza sauce with a vegan heavy cream which is only boiled down until it thickens. Before we begin, here's a fun fact: the sauce reminded me of an almost forgotten ready-made meal from my childhood, which made me SO happy that I even forgot any mishap with my pretzel dough. It tasted just like the cream sauce I used to ate with pasta, so yes, I might have already alienated this pizza sauce.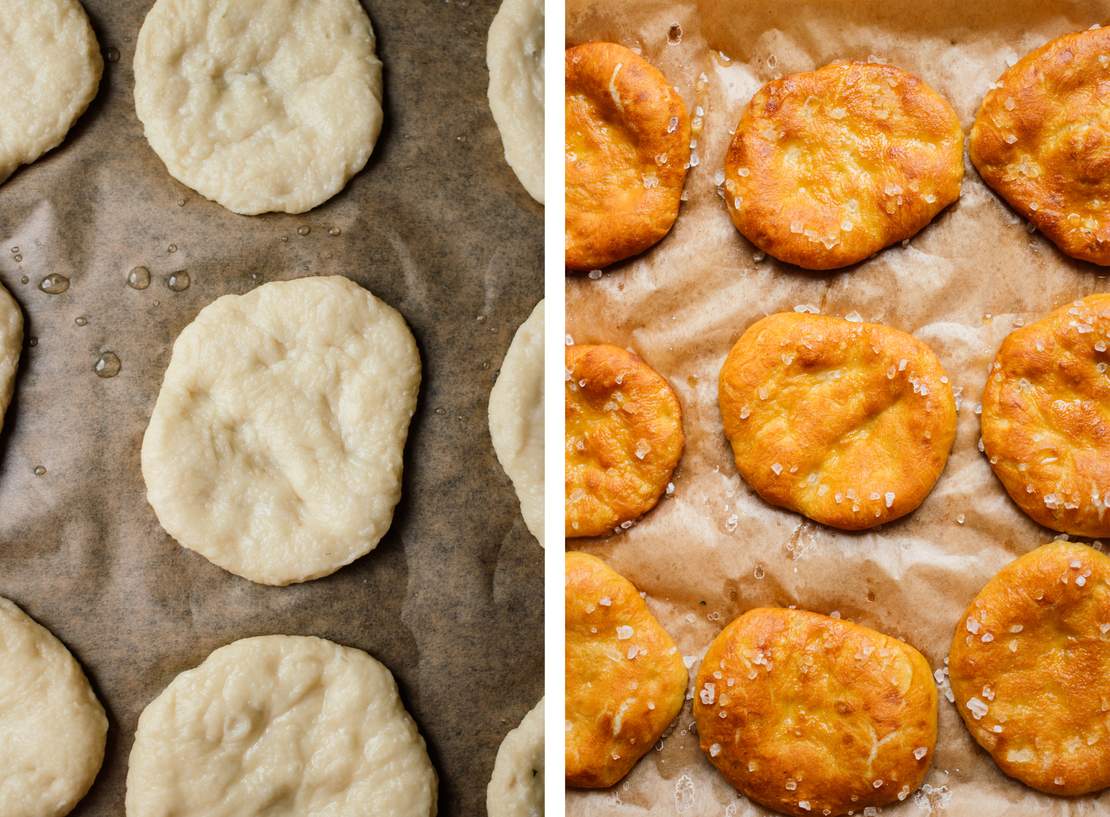 Vegan Pretzel Mini Pizza with Spinach
approx. 10 mini pizzas
45 minutes (+ 10 min. resting time + 20 min. baking time)
Ingredients
For the dough:
115 ml (0.5 cup) warm water
1.5 tsp active dry yeast
0.5 tsp sugar
225 g (1.75 cups) flour
1 tsp salt
1 tsp olive oil
flour for dusting
olive oil for brushing
coarse salt for sprinkling
For the lye:
1 liter (4.25 cups) water
50 g (2 oz) baking soda
For the toppings:
1 red onion
100 g (3.5 oz) button mushrooms
100 g (3.5 oz) baby spinach (or frozen spinach)
1 white onion
1 tsp chili flakes
50 g (2 oz) pine nuts
salt
pepper
nutmeg
vegetable oil for frying
For the sauce:
250 ml (1 cup) plant-based heavy cream
2 garlic cloves
2 tbsp nutritional yeast
1 tsp dried oregano
lemon juice
salt
pepper
Instructions
Add warm water, active dry yeast, and sugar to a bowl, and stir to combine. Let the mixture sit for approx. 10 minutes, or until the surface gets bubbly. Afterward, add flour and salt little by little before adding olive oil. Knead the dough for approx. 5-10 minutes by hand or using a kitchen machine until it's smooth. Cover the dough and let it rest in a warm place for approx. 30 minutes, or until it's doubled in size.

While the dough rests, prepare all of the toppings. Peel and thinly slice the red onion, clean, and slice mushrooms. Wash and dry baby spinach. Peel and finely dice the white onion.

Heat vegetable oil in a frying pan over medium heat. Fry diced white onion with chili flakes until the onion is translucent. Add baby spinach and heat for a few minutes until it starts to wilt. Season the spinach with salt, pepper, and nutmeg to taste.

For the sauce, add plant-based heavy cream to a small pot over medium heat and let it simmer for approx. 5 minutes, or until it thickens. Peel garlic cloves and finely grate them directly into the sauce. Season with nutritional yeast and dried oregano, then season the sauce with salt, pepper, and lemon juice to taste.

Preheat oven to 220°C/430°F (top and bottom heat) with a baking sheet inside. As soon as the dough has rested long enough, roll it into a log on a floured surface, then divide the dough into approx. 10 equal-sized parts. Form each part of the dough into a circle but leave the rind a bit thicker.

For the lye, add water and baking soda to a large pot and bring to a boil. Reduce heat until the water is only slightly simmering. One by one, add pizza crusts to the lye and let them simmer for approx. 15-20 seconds per side. Remove from the pot and transfer them to a sheet of parchment paper.

Once all pizza crusts have simmered in lye, brush their surface with some olive oil and sprinkle the pizza rim with coarse salt. Carefully transfer the parchment paper to the hot baking sheet and pre-bake pizza crusts at 220°C/430°F for approx. 10 minutes.

Remove the baking sheet from the oven and spread sauce on top of all pizzas. Top with spinach, button mushrooms, and red onion. Bake for another 10 minutes, or until the pretzel pizza crusts are golden brown. Approx. 3 minutes before the end of the baking time, sprinkle pine nuts on top of each pizza.