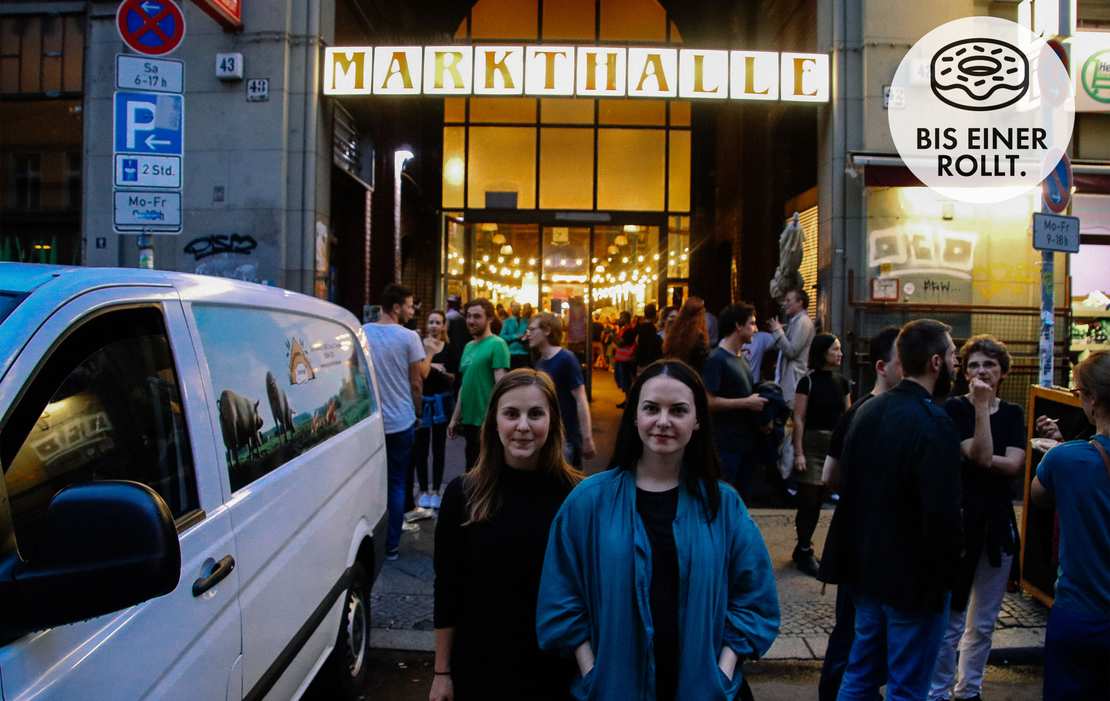 Streetfood Thursday at Markthalle Neun
In our series "Food Feast" we regularly visit places, streets or food events to try and eat as much vegan food as possible there - until we roll home. Amongst others, we've already been to the Don Xuan Center or Streetfood Thursday at Markthalle 9. You can read all about our culinary trips here.
Welcome to our first episode of "Foodfeast". The concept is very easy: we visit places where we find a lot of vegan stuff and try to eat as much as we can. Yesterday we visited one of Berlins hottest hotspots for fancy food. So this thursday calls for "Streetfood Thursday" at Markthalle Neun. Julia hasn't visited this place yet because it's always extremely crowded. But well, maybe everyone is thinking like her, so nobodys there tonight. HA, joke! So hello rain, hello Markthalle Neun, we want food! Let's start!
Markthalle Neun
Eisenbahnstraße 42-43, Kreuzberg
Start. Status: feeling fresh and hungry. We ate just some bites today, to save place in our stomach for this game. So there we have a depressed Isa: "I only ate half of a bread today, ugh."
No minute after entering the Markthalle we are completely overwhelmed. Right? Left? Where is Brammibal? Oh, ice cream! TACOS! How much money do we have? Burger! Gnaaah! We decided for a very intelligent way from right to left. Damn it, we get get sidetracked. Where are we? Ok, so here we are zig-zagging our way. Everything else would be way too easy, right?
Wow, they made this vegan cheese so well, looks like "real cheese", oh well … ha .. it's not. Upsi!
Ha! Bread! Stuffing our tummy at the beginning with bread, what an intelligent idea!! Let's take two of it: one sweet with sugar and a hearty one with tomato and herbals from "Sironi". Sweat, hearty, sweat, hearty, that's our concept, uh yeah! We are completely full, what a damn idea. But it smells so gooooood! Each of them costs 2,50 Euro, so one of the cheaper things and still a solid base to start. uh.
So here is a super duper tip from Julia: Don't throw the leftovers away, and take them with you. You will be very happy, finding them on your way home, we promise! By the way: Isa doesn't wear her contact lenses today and can't read anything here. Nice conditions for a evening like that. haha. "What do they serve? Is that meat or tofu? Can't find you anymore, hello?!"
So we started with some small carb-monsters. So let's continue with a tofu-burger from "Sunday Burgers". We note: Isa is still not a fan of spicy food. So good, that this burger is topped with some chili-dressing. NOT. Andy and Julia are in chili-heaven and quite amused about Isas chiliy-tears. Och.
"Where is Andy? ARGH?" A short panic attacked is caused by small tofuballs and zoodles, which Andy searched for at "Tofu Tussis". We saved some chairs for us and are proud to be owner of a small table at this crowded place. They taste really good and are not SPICY. Isa is lucky. Everything is alright!
Do we already mentioned? Don't worry: the Markthalle is still extremely crowded. But we are perfect for this place. Andy is 1.90m tall and finds all the vegan stuff for us and we are crawling behind him. Good job, Andy.
Tata! So here is our highlight of this evening. We are in love with "Brammibals Donuts" for a long time. Maybe it's the yummiest place on earth. We need more than ten minutes to make a decision because every donut looks just yummy. Hi you salted-caramel- and strawberry-pistacchio-donut. They are yummy as always.
Our pants getting tighter and there are still some things we want to eat. "Son Kitchen" got some vegan Kimchi-Tacos for us. We can't say no. There's chili on it. NO NO NO. Isa is not lucky anymore.
"Too spicy, Tooo spicy. My tongue is burning! AH." Isa is no big fan of this taco, Julia loves it, it's her favorite dish of the evening. Is there some space in the bag to take away? Isa needs a homemade mint-lemonade after that. AUTSCH.
Meanwhile, we have to quite some spots. No ice sandwich at "Zwei Dicke Bären" or some turkish starters at "Meze". Both looks very good, but the vegan sandwiches are sold out and we have to save place. Damn it.
Whaaat? Sommer rolls? We can't say no to them. They taste good, but we are missing some more herbs and nuts in it. Mhhhh, but we like the tasty sauce from "Dai Cuong".. But it's a small portion for 3 Euro.
On the way back Andy is holding a cucumber-lemon-ice cream. It tastes refreshing and so good, we don't recognize eating it. We are completely full. This Paletas is perfect for the end.
Result: Hello taco, focaccia, burger, lemoande, ice-cream, donuts and sommer rolls. Such a yummy collection of food in our tummies. Next time we have to improve our sweet-hearty-sweet-hearty tactic and Isa definitely needs some new contact lenses. So let's see where our next stop is for a second "Foodfeast"-challenge. Do you have some suggestions?