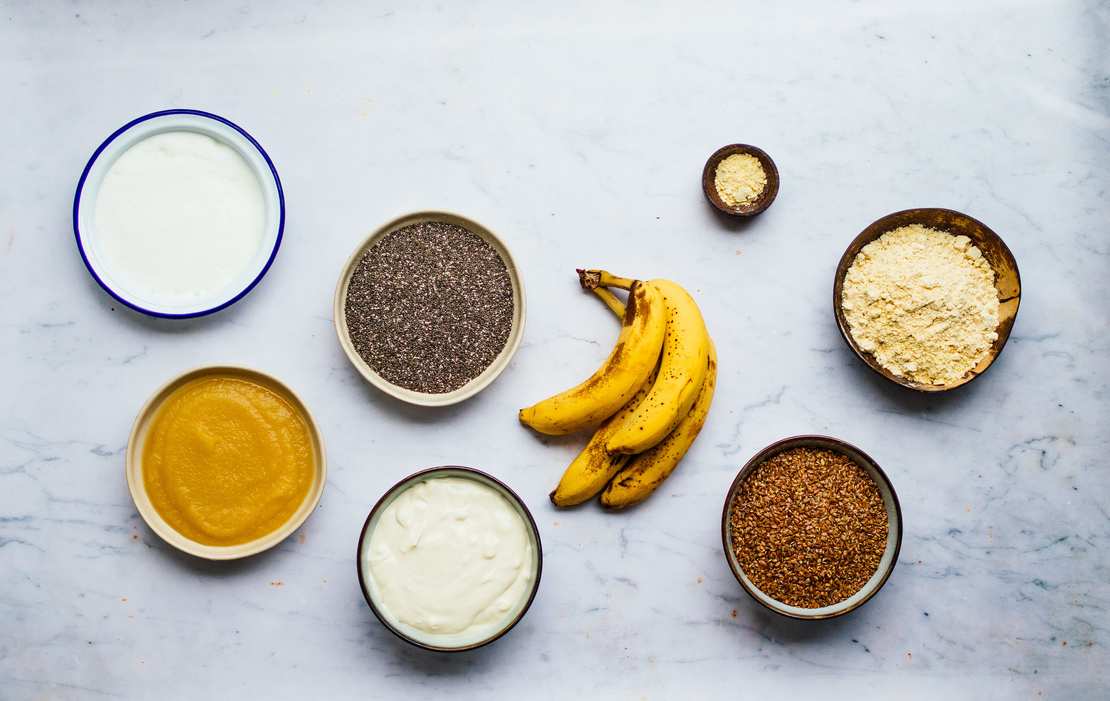 Vegan Substitutes for Eggs in Baking
The first step is always the hardest – to make it at least a little easier for you if you want to switch to a vegan diet, we've written a few articles on the basics. They are about how to get the nutrients you need when being vegan, non-vegan ingredients to look out for, and vegan pantry essentials. Find all our articles here.
Baking without eggs is not possible? You're absolutely wrong! If you have a few alternatives in mind, vegan baking is the easiest thing in the world because there are a few magical ingredients that work very well for replacing chicken eggs. The alternatives we show you in this article work wonderfully if you want to substitute one or two eggs. However, if a recipe calls for six or more eggs, we would advise you to look for a vegan recipe instead. Because in this case, the eggs are not only responsible for binding the ingredients but usually are the basis of the pastry. And no matter which alternative you want to use - the volume of ten beaten egg whites is quite difficult to imitate vegan. However, there is one hope - we'll tell you about it right at the beginning.
Important: With the various substitution options, you should always first consider which ingredient fits your recipe in terms of taste. For example, you won't taste one or two tablespoon applesauce in a chocolate cake, but you will definitely notice a banana in coconut macaroons.

1. Applesauce
Applesauce is one of the simplest alternatives for eggs because you don't have to mix or whip it. You can simply add it directly to the batter. Besides, applesauce makes your pastry very juicy!
1 egg = 3 tbsp applesauce
2. Aquafaba
Aquafaba is the canned liquid of legumes. We'll tell you a little more about it in our article "Fantastic Vegan Ingredients and Where to Find Them". Aquafaba is great as an egg whites substitute but should be handled with kid gloves. Pure aquafaba melts at high temperatures but is great to dry in the oven at low temperatures - it is less complicated when folded into the dough. So aquafaba is not suitable for all recipes.
1 egg = 25 ml chickpea water + pinch of baking powder + few drops of lemon juice
3. Bananas
Like applesauce, a banana is one of the simplest egg alternatives. It works especially well when the bananas are already a little brown and soft. Peel the banana, cut it in half and then mash it with a fork until you get a soft mush. You can then simply mix it into your cake or pancake batter.
1 egg = 1/2 banana
4. Chia seeds
You've probably noticed how chia seeds change when you soak the dry seeds in water for a few hours. Chia seeds can absorb about ten times their weight in water, so they change into a kind of gel. You can use the soaked chia seeds as an egg substitute in bread or cake recipes.
1 egg = 1 tbsp chia seeds + 3 tbsp water__
5. Egg substitute powder
You can find egg substitute powder in supermarkets and organic food stores. You simply mix it with a little water and then add it to your dough or batter. We like to use egg substitute powder in cake recipes, but also for savory dough dishes like dumplings or Schupfnudeln.
1 egg = 1 tbsp egg substitute powder + 2 tbsp water
6. Flaxseed
You can also use ground flaxseed to bind pastries. We recommend buying crushed flaxseed cause they work best. The flax seeds should soak with a little water for at least 10 minutes.
1 egg = 1 tbsp seeds + 3 tbsp water
7. Plant-based Curd ("Quark")
In a lot of supermarkets or organic markets, you can already find plant-based alternatives for dairy curd, in Germany called "Quark". They are usually soy- or oat-based and come very close to their animal counterparts in terms of consistency and appearance. Plant-based curd makes your pastry or batter wonderfully moist.
1 egg = 1 tbsp plant-based curd
8. Soy or chickpea flour
Soy or chickpea flour are very close to egg substitute powder in both appearance and preparation. You'll find it in many supermarkets and organic food stores, and just stir it with a little water.
1 egg = 1 tbsp soy flour + 2 tbsp water