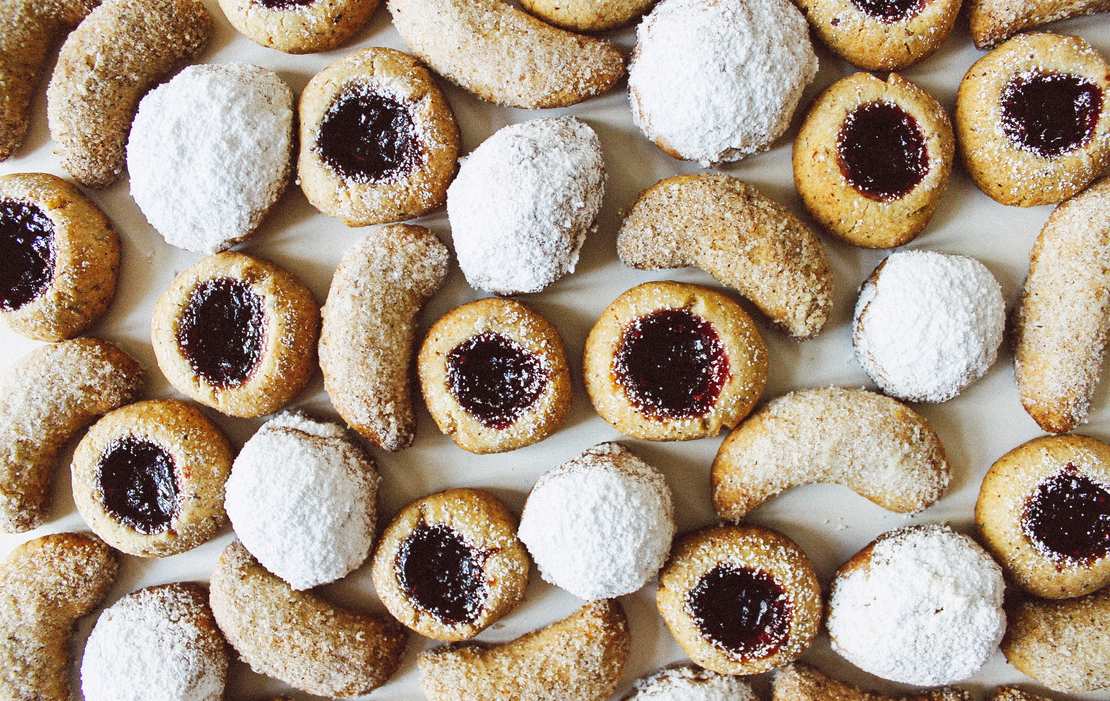 3 Classic Christmas Cookies
Do you want even more inspiration for vegan Christmas cookies? We've uploaded a lot more during the years - check them out here.
There are still some rumours, that vegan baking is tricky or almost impossible. Whether it's cake or cookies – some may think that you just can't do it without eggs and milk, especially when it comes to traditional recipes as Christmas cookies. But in reality, this is one of the easiest things ever and we're not talking about superfood raw crazy cookies, but cookies you already ate when you were a kid. We promise, it won't disappoint your parents and grandparents. Happy Holidays!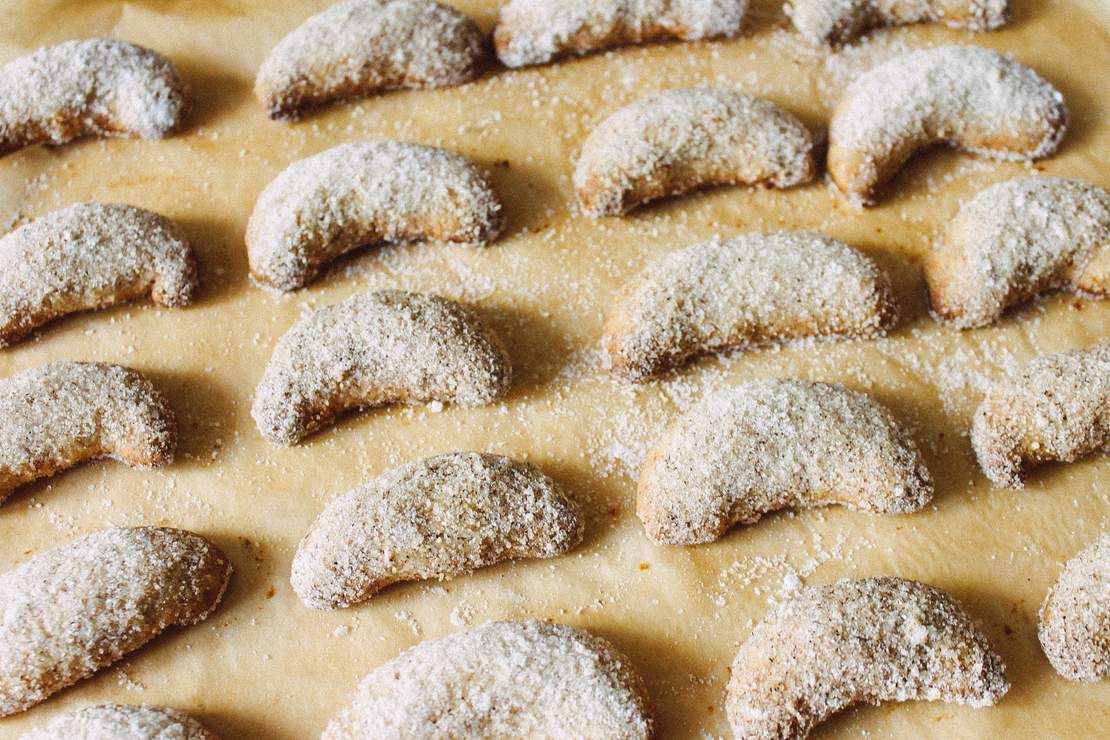 Vegan Vanille Crescents
approx. 25 cookies
90 minutes
Ingredients
280 g (2.25 cup) flour
70 g (0.35 cup) sugar
100 g (0.75 cup) powdered almonds
210 g (1 cup) cold, vegan butter (e.g. Alsan)
1 vanilla bean
2 tbsp icing sugar
2 tbsp vanilla sugar
Instructions
Stir flour, sugar and powdered almonds. Scrape out the vanilla bean and add black seeds. Also add cold vegan butter in small pieces.
Knead until you get a nice, soft dough. If it's still too dry, add a little bit of cold water.
Form dough into a thick roll (about 3-4 cm thick), put wrapping film around it and keep cool in the fridge for at least 1 hour. Preheat oven to 360°F.
After 1 hour of cooling, you can cut the roll into slices (about 1cm thick) and form small crescent shapes out of it. Place them on a baking sheet and bake for 12-15 minutes in the oven.
In a small bowl, mix vanilla sugar and icing sugar and turn vanilla crescents in it while they are stil hot. Afterwards, let them cool down.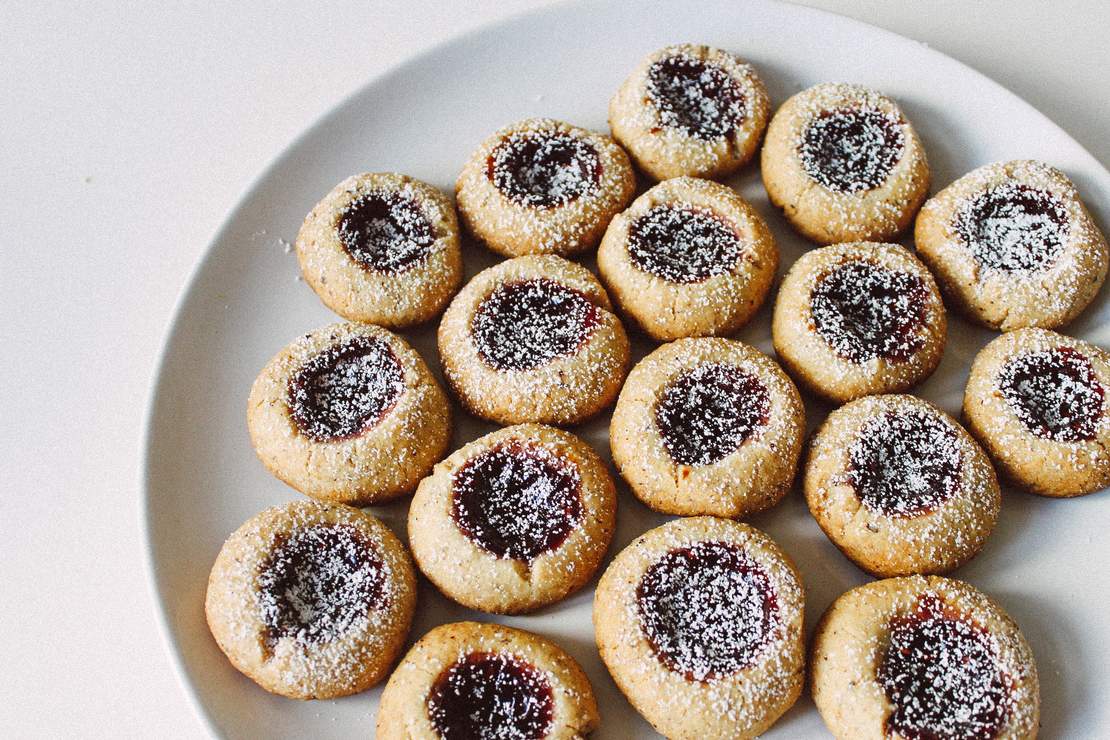 Vegan Jelly Cookies
appox. 20 cookies
90 minutes
Ingredients
150 g (1.25 cup) flour
50 g (0.25 cup) sugar
40 g (0.3 cup) powdered hazelnuts
1 package vanilla sugar
100 g (0.5 cup) cold vegan butter (e.g. Alsan)
about 50 g (2 oz) of your favorite jelly
Instructions
Start by mixing flour, sugar, vanilla sugar and powdered hazelnuts in a large bowl. Add cold butter in small flocks and knead everything to a nice, smooth dough.
Wrap it in cling film and place in the fridge for 1 hour.
Afterwards form small balls out of it and use a wooden spoon stick to press small pits in it. Fill jelly in those small pits, you can use a spoon for this.
Preheat the oven to 360°F and back your cookies for 12-15 minutes.
Afterwards dust with sugar powder.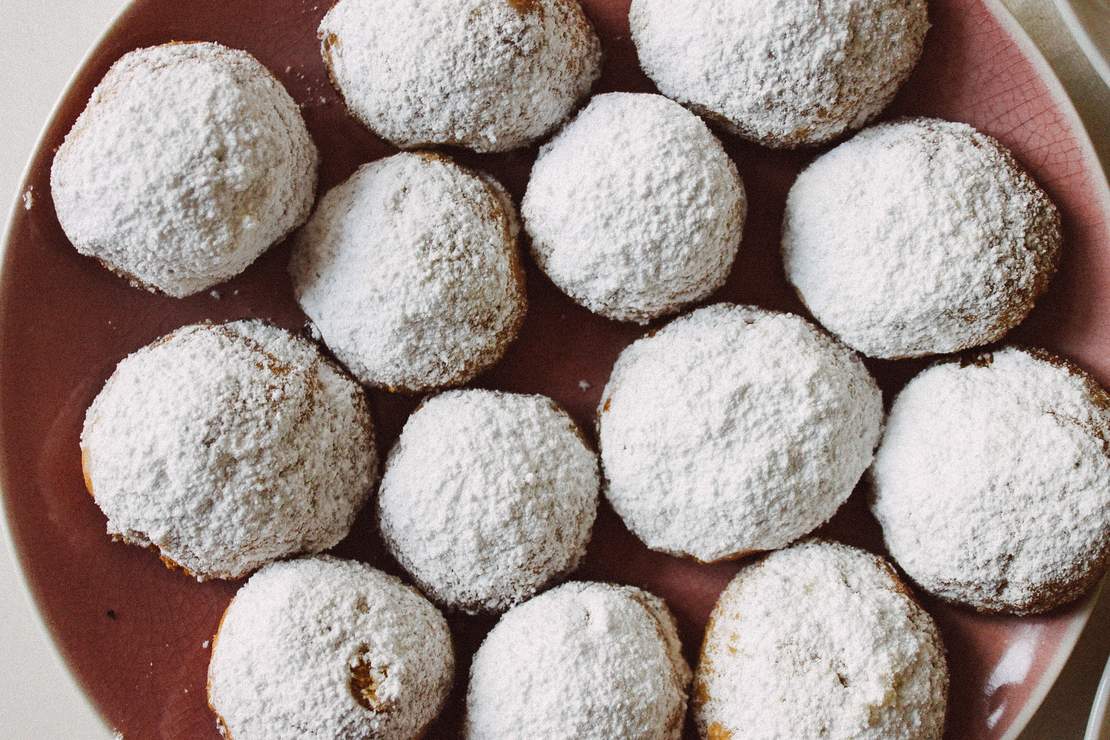 Vegan Snow Balls
approx. 15 cookies
30 minutes
Ingredients
110 g (1 cup) flour
100 g (0.5 cup) vegan butter
1 tsp vanilla flavor
100 g (3.5 oz) walnuts
30 g (0.25 cup) powdered sugar
1 pinch of salt
Instructions
Take out walnuts and chop one half of it. Put the other half in a mixer and grind it finely.
In a bowl, stir flour, chopped and grinded walnuts and a pinch of salt.
Beat vegan butter and sugar until fluffy and add vanilla flavor.
Add flour and stir well. The dough will turn out slightly sticky, but don't worry about this, we want it exactly like this!
Take 1 tsp of dough all roll into small balls. Repeat until all dough is used. Place them on a baking sheet with some space in between.
Preheat oven to 320°F and let them bake for 15 minutes. Make sure to check from time to time because we want those cookies not to get roasted to much.
Afterwards put some sugar powder into a bowl and roll cookies in it while they are still hot. Dust more sugar powder on it to make them look like real snow balls.