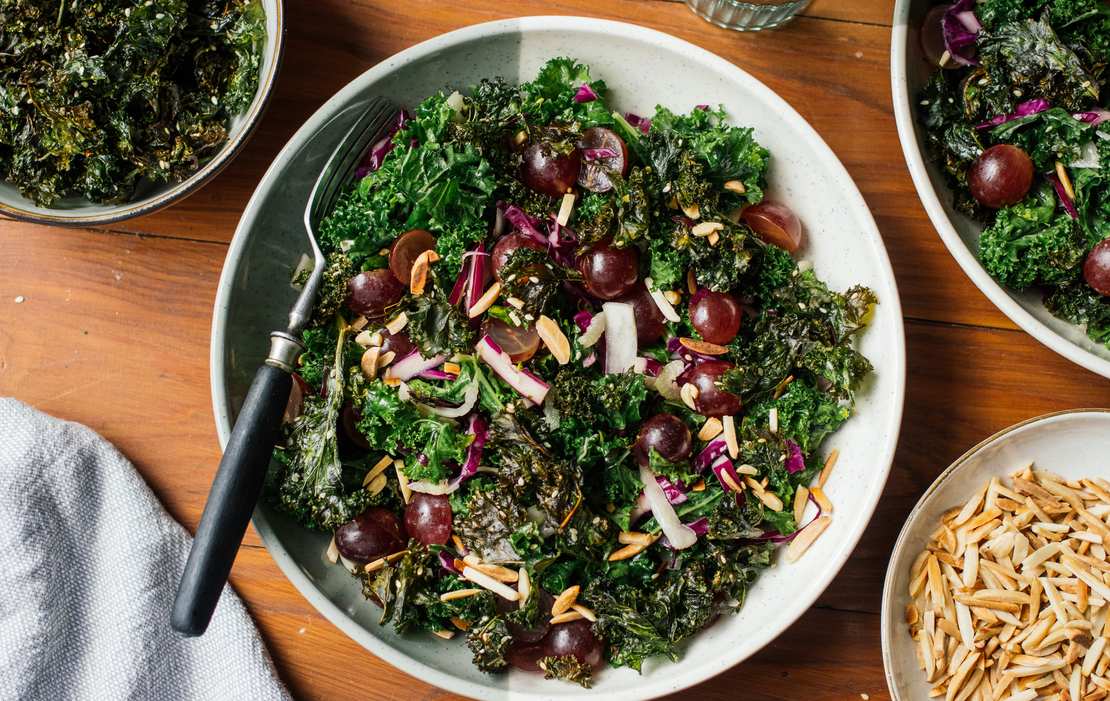 Vegan Kale Salad with Sesame Dressing and Crispy Kale Chips
Wait a minute, kale salad and kale chips? Is this the point where our blog turns into a healthy-vegan-living direction? No, no worries. But contrary to popular belief, we don't just live on carbohydrates but eat a salad every now and then. And when kale season starts in winter, the crispy leaves also end up on our plates. You can already find our recipe for a hearty kale stew here, but today we will prepare something fresh and crunchy.
This salad, which is prepared in less than 30 minutes, even provides you with a double portion of kale – once fresh and once baked as crunchy chips. But massaged both times. Sorry, what? Yes, you read right, we'll open a spa for our kale today because if you eat kale raw, you should usually massage it first.
Kale is quite tough, and that's great for warm dishes like stews, as this means that the leaves won't wilt directly but can simmer for a longer time. But when you want to eat kale raw, this texture can become problematic because kale is then also quite difficult to digest. By massaging the kale leaves, you break up some of the tough fibers, which result in a more tender kale that's easier to digest. Before we get to this step, though, you should first remove the really tough stems. You can do so by either cutting them out with a knife or by grabbing the stem and then pulling the leaves off by hand. Afterward, add the kale leaves and the dressing to a bowl and massage it for about 5 minutes, or until you notice that the leaves soften.
However, there are exceptions to the wellness program: if you prepare this kale salad in advance and let it sit for a few hours, the dressing will soften the leaves on its own. So, in this case, there's no need for massaging.
Last but not least, here are a few last tips on how to adjust this salad to your taste: we love to add grapes here to add a crisp, sweet-ish freshness, but you could also add apple or pear slices. The almonds can of course, be replaced by any other nuts and if desired, kick the garlic powder when seasoning the kale chips and instead use za'atar or any another spice mixture.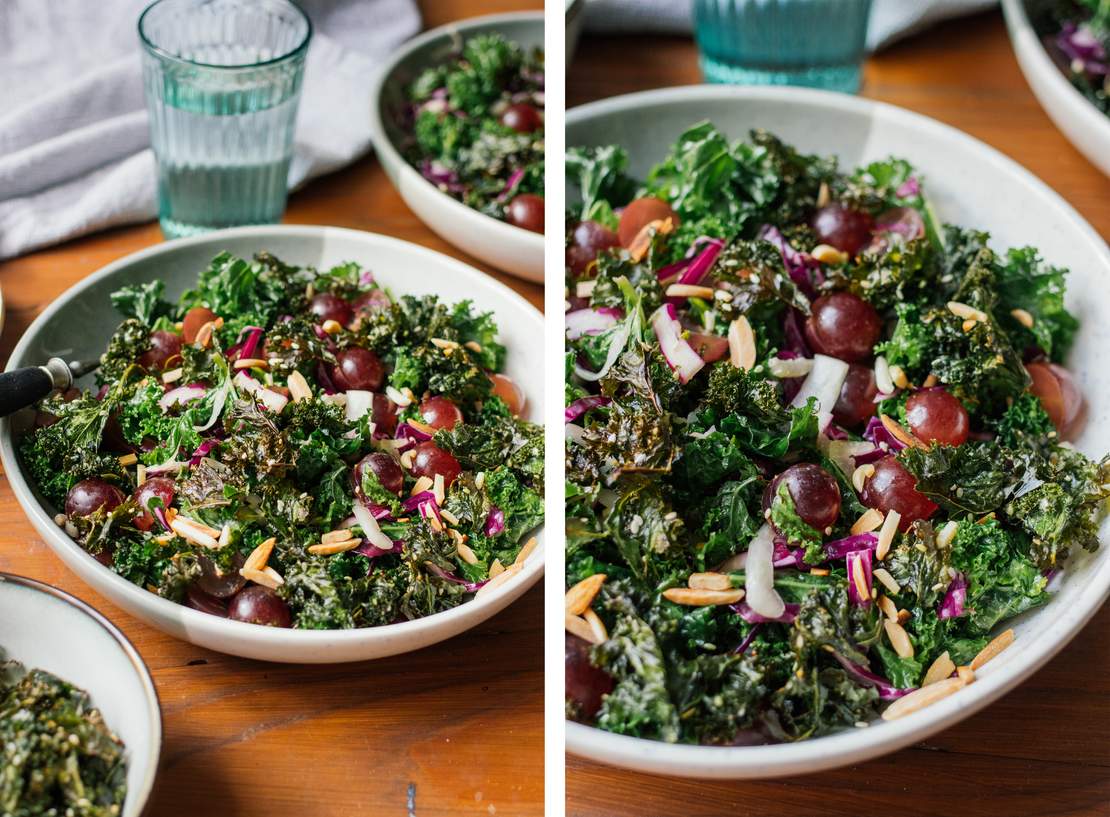 Vegan Kale Salad with Sesame Dressing and Crispy Kale Chips
2 servings (as a main) or 4 servings (as a starter)
30 minutes
Ingredients
For the crispy kale chips:
150 g (5.5 oz) kale
1 tbsp sesame oil (or olive oil)
1 tbsp sesame seeds
0.25 tsp garlic powder
salt
For the salad:
150 g (5.5 oz) kale
200 g (7 oz) red cabbage
100 g (3.5 oz) fennel
150 g (5.5 oz) grapes
50 g (2 oz) almond slices
For the sesame dressing:
3 tbsp olive oil
2 tbsp tahini
1 tbsp apple cider vinegar
1 tsp maple syrup
1 tbsp orange juice
salt
pepper
Instructions
Preheat oven to 150°C/300°F. For the crispy kale chips, remove the tough stems of the kale from the leaves. Tear the leaves into smaller pieces, wash, and thoroughly dry them. Add them to a bowl, drizzle with sesame oil and massage the leaves for approx. 5 minutes until they get soft. Add sesame seeds, garlic powder, and a good pinch of salt, then mix. Transfer the kale leaves to a baking sheet and bake for approx. 15 minutes, or until crispy (flipping them halfway through the baking time).

In the meantime, prepare the salad. Remove the tough stems of the remaining kale to only get the leaves. Tear the leaves into smaller pieces, wash and dry them. Thinly slice red cabbage and fennel. Add all of these three ingredients to a large bowl. Halve grapes and set aside.

Toast almond slices in a fat-free frying pan until golden brown.

For the dressing, mix olive oil, tahini, apple cider vinegar, maple syrup, and orange juice in a small bowl. Season with salt and pepper to taste.

Add dressing to the bowl of kale, red cabbage, and fennel. Massage the dressing into the kale for approx. 5 minutes to soften the leaves. Serve the kale salad on plates and top it with halved grapes, toasted almond slices, and crispy kale chips.