Basic vegan Short-Crust Pastry
There are some basic dough recipes that you should know by heart – or at least know its secrets to avoid bad surprises while baking.
We've already presented basic recipes for vegan sponge cake and yeast dough, but today it's all about short-crust pastry. It is the base for tartes and tartelettes, as well as sheet cakes and quick cookies.
As versatile as he is, he's also feared by some people. Sometimes the dough gets too dense, too crumbly, or it's just a pain in the ass to roll him out (let's be honest here). BUT don't be afraid – these are mistakes that can easily be avoided.
Here are 4 tips for perfect short-crust pastry.
1. The 3-2-1 recipe
Now that we bragged about knowing recipes by heart... this one is really easy. The basic rule is 3 parts flour, 2 parts butter, 1 part sugar. And that's it. If your dough is still too crumbly, you can add a tiny bit of water.
2. Feel the cold
Short-crust pastry loves the cold. This is why you should only use vegan butter from the fridge (and never a warm one). If you need to add water, make sure it's cold as well, and in the best cases, you will knead the dough with cold hands. In addition, it's absolutely necessary to let the dough rest in the fridge before baking. Don't be impatient here; the cookies will thank you later!
3. Plastic wrap for the win
After the dough rested for enough time in the fridge, it's time to roll it out. In our experience, this is easiest if you use two sheets of plastic wrap. Roll out the dough in between those two sheets. This way, the dough won't stick to the table, it will not tear apart on the upper side, and you can easily transfer it into a baking pan afterward.
4. About midnight cookies
Not to forget: Short-crust pastry can be easily stored in the freezer. Simply form it into a disc, wrap in a freezer bag and store it until this one night, when the only thing that helps is baking cookies.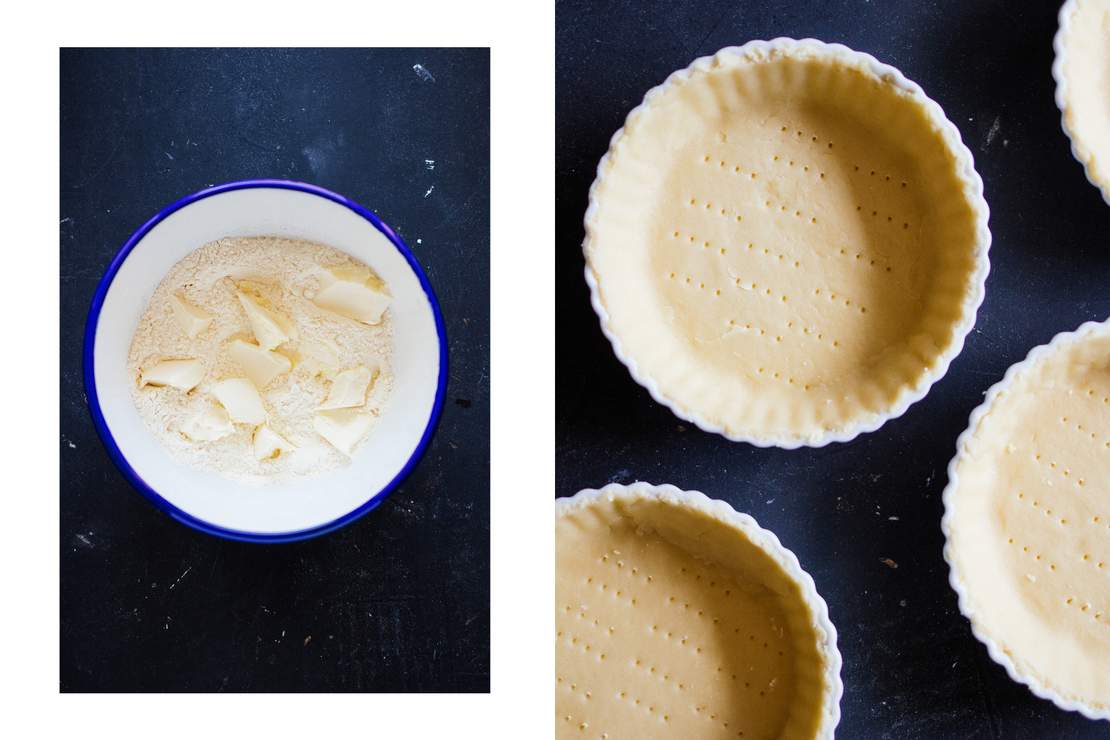 Basic vegan short-crust Pastry
Ingredients
300 g (2.5 cups) flour
200 g (1.75 sticks) vegan butter
100 g (0.5 cup) sugar
if needed, cold water
Instructions
Add flour, sugar and salt to a bowl and stir to combine. Add diced cold butter on top and start kneading with cold hands. Then add ice cold water and knead until a smooth dough forms.

Wrap in plastic wrap and let rest in the fridge for at least 30 minutes.
What to bake now? How about...
VEGAN PIE WITH CARAMELIZED APPLES
Check out the recipe here!
VEGAN SUMMER TARTELETTES
Check out the recipe here!
GLAZED VEGAN APPLE CAKE
Check out the recipe here!