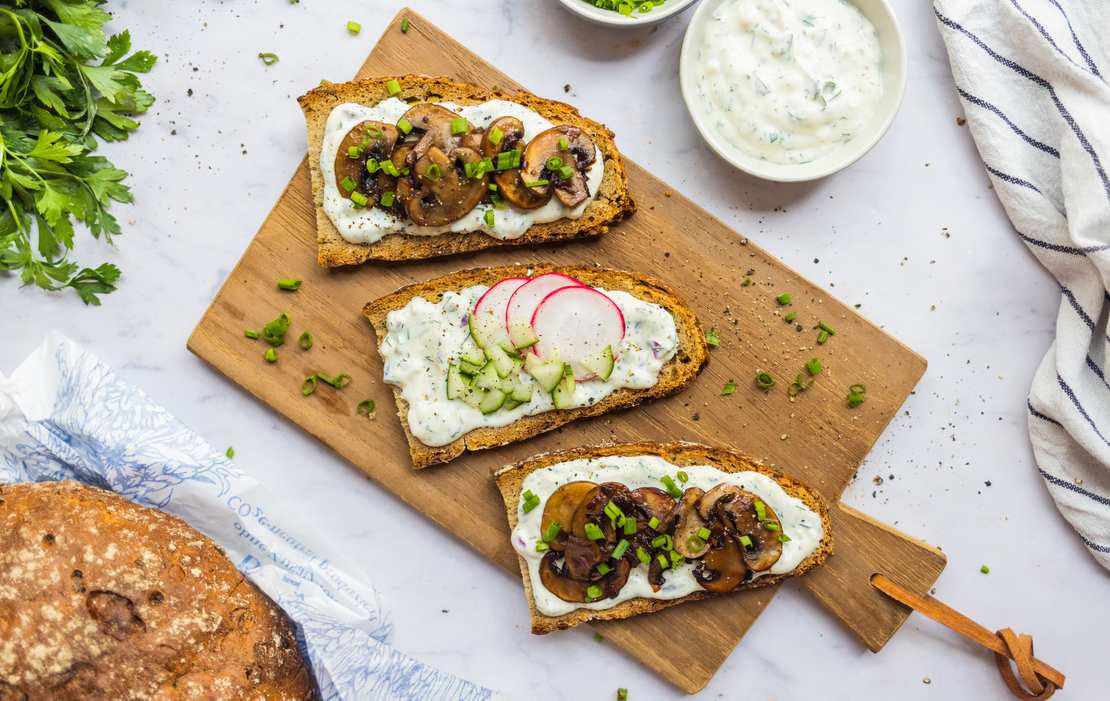 Homemade Vegan Herb Spread and Dip
Due to our affinity for potatoes & quark (as you can see here for example) we have a particular passion for making quark or curd dips. Whether it's with sesame, garlic, or harissa or mashed with herbs – we could serve a curd dip to almost every dish. So it was definitely time to show you our basic recipe for vegan herb quark, which goes great with bread, potatoes, oven vegetables, crudités, and many other dishes.
Which plant-based curd is best?
We like to use plant-based soy curd because it's particularly creamy and only slightly sweetened. In Germany, you can find it in almost every supermarket, often under names like "Skyr". For a certain freshness and a little acidity, we add plant-based soy yogurt. We would advise against using oat or coconut yogurt, as their taste of its own isn't matching super well with the savory herbs. But of course, you're free to choose your favorite brand!
Do you really need fresh herbs?
We prefer to use fresh herbs for our dips, but frozen or dried herbs would also work well. We can recommend a mix of parsley, chives, dill, and mint - but feel free to use whatever you like!
What toppings can we recommend?
When we eat this herb spread on a slice of bread, radishes, cucumbers, and tomatoes are great topping, but our secret tip is fried mushrooms! Their hearty taste is a great contrast to the fresh and slightly sour herb spread.
Of course, you have to get some of the best bread for this spread. Therefore, we are delighted to be supported by the ecological traditional Munich bakery "Hofpfisterei", which has been selling natural sourdough bread from traditional production for over 10 years in Berlin (currently in 12 branches). Originally from Munich, "Hofpfisterei" is an institution for ecologically and sustainably produced farmhouse bread that only uses ingredients from organic farming and works without any artificial or chemical additives. We spread our herb dip on the "Pfister Öko-Edamame-Sonne", which is a moist, mild farmhouse bread made with 23% edamame beans, making it a high-quality source of protein. To match the edamame beans in the bread, we deglazed the fried mushrooms with soy sauce – doesn't that sound lovely? You can use their shop finder to check out the nearest "Hofpfisterei" to you.
Homemade Vegan Herb Spread and Dip
approx. 600 g (1.33 lbs)
20 minutes
Ingredients
For the vegan herb spread and dip:
400 g (1.66 cup) plant-based quark/curd
200 g (0.75 cup) plant-based natural yogurt
0.5 red onion
1 garlic clove
15 g (0.5 oz) fresh herbs (e.g. chives, parsley, basil, ...)
fresh lemon juice
salt
pepper
For the fried mushrooms:
250 g (9 oz) mushrooms
0.5 red onion
2 tbsp soy sauce
vegetable oil for frying
Other toppings:
Instructions
Whish plant-based quark and yogurt in a large bowl until you get a smooth mixture. Peel and finely chop red onion and garlic. Wash and finely chop fresh herbs, then add them to the bowl along with the red onion and garlic. Stir to combine and season the herb spread with lemon juice, salt, and pepper to taste.

As an additional topping, we will pan-fry some mushrooms. Clean the mushrooms with a damp kitchen towel, trim the stems, and slice the mushrooms. Finely dice the red onion. Heat vegetable oil in a large frying pan and fry mushrooms and onions for some minutes until the mushrooms are nicely browned. Then deglaze with some soy sauce and fry for another 2-3 minutes.

For the other toppings, slice radishes, finely dice cucumber and finely chop chives. Spread your herb dip on fresh bread and top it either with radishes and cucumber or with fried mushrooms and chives.