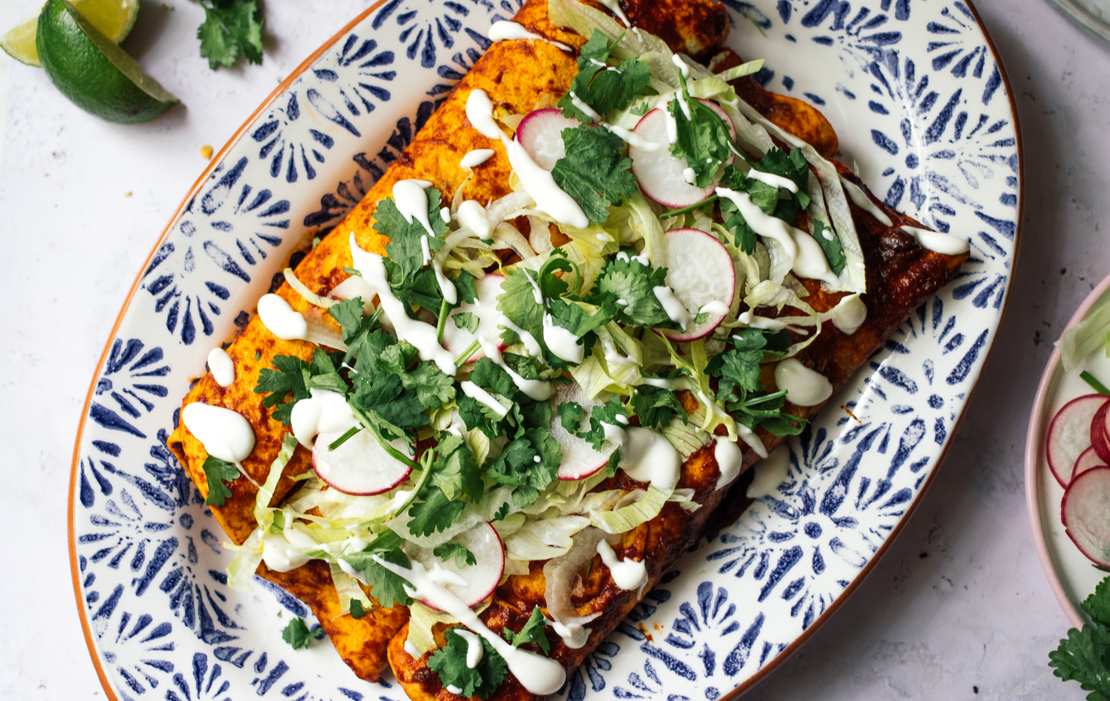 Enchiladas with Vegan "Minced Meat" Filling
Since I became vegan, I mostly used dry soy granules when I wanted to cook something similar to minced meat. They are easy to use, but you always have to soak them first, which takes a bit more time. But when you have a look at the refrigerated shelves of your supermarket, you might notice that there's a "new vegan minced meat" in town and that one is somehow "raw". Today is my premiere, so to speak, to use it in a recipe – and we're cooking enchiladas.
I did quite some research on food blogs and YouTube videos to get a feeling for rather traditional Mexican enchiladas. I think I knew the "American" enchiladas before, which are a bit different. For example, Mexican enchiladas are not baked, made with corn tortillas, and the most important ingredient for it is a homemade enchilada sauce. For the latter, I used dried ancho and guajillo chili peppers, but you could also replace them with other dried chili peppers if you can't get them (just pay attention to their spiciness as you might want to use less then I did in this recipe). Ancho chili peppers are quite mild when it comes to spiciness, and taste almost fruity. Guajillo chili peppers are only a bit spicier, but also taste slightly fruity and smoky.
So the sauce isn't meant to be a super spicy part of this dish that will "burn your mouth". Instead, enchiladas are rather a perfect combination of different flavors that complement each other and work well together as a team (e.g., you probably wouldn't eat the enchilada sauce itself). In this recipe, we combine a simple filling of vegan minced meat and black beans with the flavorful, homemade enchilada sauce, and some fresh and creamy toppings.
We used "No Meat. Just Hack " for the filling of our enchiladas, a raw vegan minced meat you can buy at EDEKA. This has several advantages over other meat substitutions, because as already mentioned, dried soy granules require some preparation time for soaking first that you don't need for this "raw" kind of vegan minced meat. It can be used directly and only needs to be pan-fried for a few minutes - perfect for getting started right away and saving some time.
If you're looking for a plant-based alternative that still comes very close to the look, fibrous texture, and taste of minced meat, you should definitely give it a try. Plus, it probably makes it quite easy for people to adjust to a vegan diet, since you can basically cook all your favorite recipes with the plant-based option without any other adjustments. I can't even remember the taste of minced meat, but my friend who enjoyed these enchiladas confirmed that she wouldn't have noticed the difference. You will also find vegan frozen and fresh burger patties from "No Meat. Just...".
Enchiladas with Vegan "Minced Meat" Filling
Ingredients
For the enchilada sauce:
approx. 100 g (3.5 oz) dried chili (4 ancho chilis, 5 guajillo chilis)
3 garlic cloves
1 red onion
5 canned whole tomatoes
1 liter (4 cups) hot water)
1 tsp dried oregano
0.5 tsp dried marjoram
0.5 tsp ground cumin
salt
pepper
sugar
vegetable oil for frying
For the filling:
6 tortillas
400 g (14 oz) canned black beans
1 red onion
550 g (20 oz) EDEKA "No Meat. Just Hack."
salt
pepper
vegetable oil for frying
For the topping:
iceberg lettuce
radishes
limes
cilantro
For the crema:
100 g vegan crème fraîche
4 tbsp plant-based milk
lime juice to taste
Instructions
For the enchilada sauce, start by cutting off stems of the dried chilis and carefully deseed them as best as possible. Peel garlic and onion, then quarter the latter.

Heat a pot or a deep frying pan over medium heat (without any fat) and toast dried chilis for approx. 1-2 minutes or until fragrant. Make sure not to toast them for too long. Remove chili from the frying pan, then add onion and garlic cloves and roast them until charred. Now add back the dried chilis, add canned whole tomatoes and pour over hot water. Let simmer over low heat for approx. 20-30 minutes.

In the meantime, prepare toppings for serving. For the crema, mix vegan crème fraîche with plant-based milk and lime juice to taste. It should be as liquidy as needed for you to be able to drizzle it on top of the enchiladas for serving. Shred iceberg lettuce and thinly slice radishes. Wash and prepare cilantro leaves and cut limes in wedges. Set everything aside for serving.

Transfer the whole mixture from the deep frying pan or pot to a blender and mix until smooth. Be careful – if you're blender cannot handle hot liquids, make sure to let it cool down first before blending it. Season the sauce with oregano, marjoram, cumin, salt, and pepper to taste. In case the sauce tastes bitter, season sweeten with some sugar.

Strain the sauce through a sieve to remove any solids. Heat vegetable oil in the same frying pan / pot as before, then add back the strained sauce and let it simmer over low heat for approx. 20 minutes, while you prepare the filling. In case the sauce should get too thick, add some water.

For the filling, drain the can of black beans and finely dice the red onion. Heat approx. 3 tbsp vegetable oil in a large frying pan. Fry diced onion until translucent. Then add the vegan raw minced meat and fry for approx. 6-8 minutes or until browned. Use a cooking spoon to chop up the vegan minced meat. Finally, add drained black beans and heat for approx. 3 minutes. Season the filling with salt and pepper to taste.

Once the filling and the sauce are done, we only need one last frying pan. Heat some vegetable oil in it and fry each tortilla for approx. 1 minute per side. The goal is not to get them crispy. Instead, they should soften and slightly brown. Let the tortilla drain a bit, then directly brush with enchilada sauce from both sides, or simply toss it in the sauce directly until it's covered from both sides. Transfer the tortilla to a large plate, add some of the filling to the bottom third of it, and carefully roll it together. Repeat with remaining tortillas, filling, and sauce.

For serving, top enchiladas with shredded iceberg lettuce, radishes, cilantro, and drizzle crema on top. Serve with lime wedges on the side.