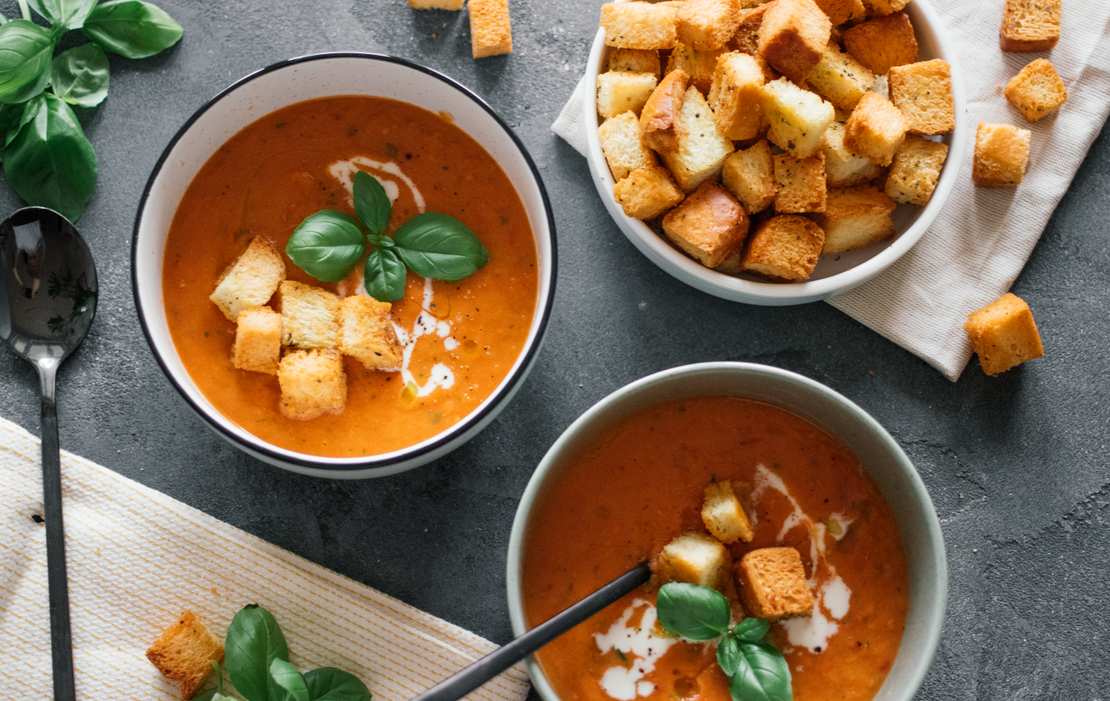 Oven-Roasted Tomato Soup with Crispy Herb Croutons
A steaming, comfortable soup can really do wonders. We love to slurp from soup bowl to soup bowl during the colder season, but especially in autumn it's a wonderful way to appreciate the best produce of late summer and fall.
Last chance now to enjoy the fresh aromatic tomatoes before their season ends. Of course, a basic tomato soup is already a wonderful dish as such, but just think about the flavors that develop when you roast all your soup ingredients in the oven first! It doesn't need much more than some vegetable broth to get the right soup consistency, plus some miso paste to deepen the flavor if desired. If you prefer creamy soups, just add some plantbased heavy cream.
For the final touches, we serve our tomato soup with homemade crispy herby croutons. They are toasted in the oven parallelly to the tomatoes to save some time. We like to add dried herbs to the croutons, but feel free to season them to taste!
So what to do when tomatoes are NOT in season? You might not know it, but you can actually also roast canned whole tomatoes. But before doing so, drain them in a sieve to get rid of as much of the liquid sauce as possible. Afterwards, you can just follow this recipe as you would do with fresh tomatoes.
Oven-roasted Tomato Soup with Crispy Herb Croutons
4 servings
20 minutes (+30 minutes baking time)
Ingredients
1 kg (2.25 pounds) tomatoes
2 onions
3 garlic cloves
3 tbsp olive oil
20 g (1 oz) basil
200 ml (1 cup) vegetable broth
1 tsp miso paste (optional)
salt
pepper
basil for serving
basil infused olive oil for serving
plant-based heavy cream for serving
For the croutons:
4 slices white bread
2 tbsp olive oil
1 tbsp dried oregano
1 tsp dried basil
salt
Instructions
Preheat oven to 180°C/355°F. Wash tomatoes and halve or quarter them (depending on how big your tomatoes are). Peel and quarter onions, then peel and halve the garlic cloves.

Transfer them onto a baking sheet, drizzle with olive oil, and season with salt and pepper. Toss to coat, then roast in the oven at 180°C/355°F for approx. 30 minutes.

In the meantime, dice the white bread and add it to a second sheet pan. Again, drizzle with oil, and season with dried oregano, basil, and some salt. Toss to coat and add it to the oven once there are only 15 minutes left. This should be enough time to turn this white bread into crispy croutons.

Once the tomatoes, onions, and garlic are done, transfer them all to a big pot, but be careful as they are hot! Add fresh basil, vegetable broth, and miso paste (this is very good, but optional). Use an immersion blender to puree this until smooth. You can also use a standing mixer for this if you have one. If desired, add more vegetable broth to make the soup a bit thinner. Season with salt and pepper to taste.

Serve the roasted tomato soup with crispy croutons, a drizzle of basil-infused olive oil, some plant-based heavy cream, and fresh pepper on top!