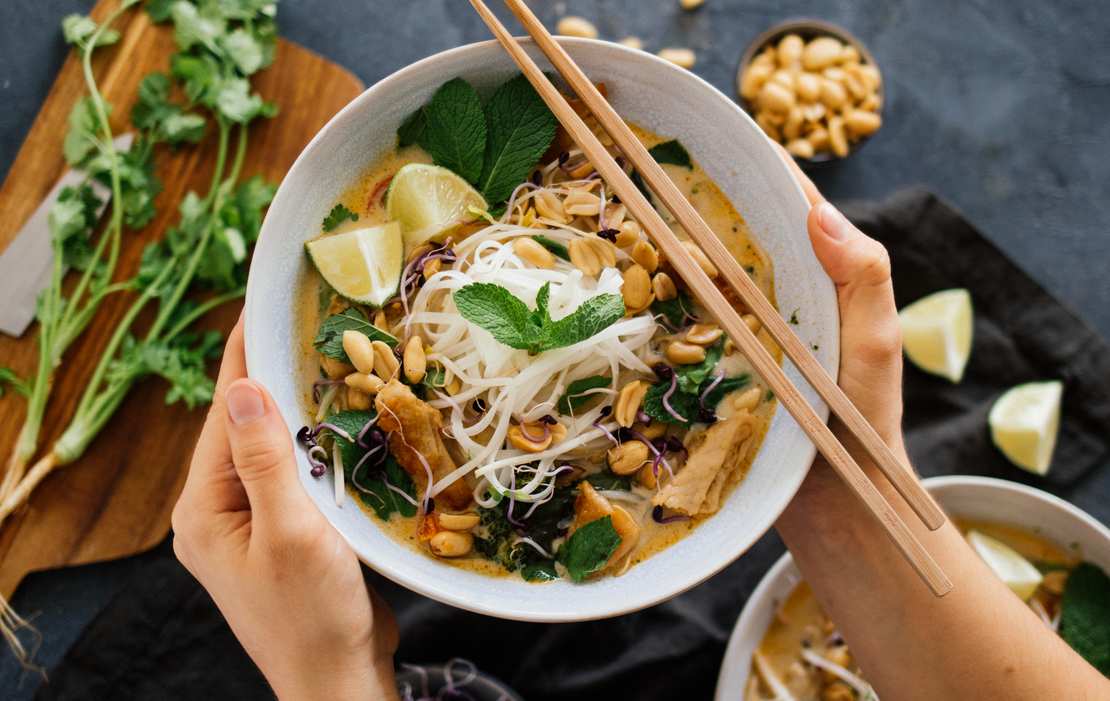 Vegan Thai Coconut Soup with "Chicken"
It's winter, and everyone is talking about feeling sick. Hatschi! The best idea to provide a cold is to eat bowls and bowls of coconut soup. We prepared a quick and easy recipe for you, so you can throw all your leftover veggies in this soup and stay healthy throughout the winter. You can easily replace the vegan "chicken" with tofu or leave it out completely. The same applies, of course, to the cilantro, which some people (for unknown reasons ) don't like. Boost your immune system with this hot coconut soup, then fall and winter are just so much more fun!
Vegan Red Thai Coconut Soup with "Chicken"
Ingredients
soup
1 garlic clove
15 g (0.5 oz) fresh ginger
1 lemongrass
4 (150 g/5.3 oz) mushrooms
1/2 (100 g/3.5 oz) bell pepper
1 (500 g/17.6 oz) broccoli
1/2 (200 g/7 oz) zucchini
3 tbsp peanut or coconut oil
2-3 tsp red curry paste
600 ml (2.5 cips) vegetable broth
800 ml (3.3 cups) coconut milk
100 g (3.5 oz) rice noodles
180 g (6.3 oz) vegan chicken (or tofu)
soy sauce
serving
50 g (1.7 oz) roasted, not salted peanuts
50 g (1.7 oz) mung bean sprouts
1 lime
10 g (0.35 oz) cilantro
10 g (0.35 oz) mint
Instructions
Peel and finely chop the garlic clove and ginger. Wash the lemongrass and bruise with the back of a knife.
Prepare the veggies: Wash and finely chop the zucchini, bell pepper, and broccoli, clean the mushrooms, and cut into quarters.
Heat peanut or coconut oil in a pot or wok.
Add the garlic, ginger, lemongrass and curry paste, and sauté for 2-3 minutes.
Add the veggie stock and bring to a boil. Fill in the coconut milk and stir well.
Prepare the rice noodles according to the package instructions.
Add the broccoli to the soup and let simmer for 3 minutes. Then add the bell pepper, mushrooms, and zucchini and simmer again for 5 minutes.
Fry the vegan chicken in a pan with a little oil.
When the rice noodles and chicken are ready, add both to the soup.
Season the soup with soy sauce and lime juice.
Remove the lemongrass and arrange the soup with mung bean sprouts, peanuts, mint, cilantro and lime wedges.