Pulled Jackfruit Waffle Taco
We have a soft spot for tacos and love to experiment with them. Besides classics such as fish tacos (vegan, of course!), tostadas or taquitos, we also serve Korean tacos, ramen tacos, chanterelles tacos or even chocolate tacos. You can find all our taco recipes here.
Besides tofu, seitan, and soy, jackfruit is one of our favorite meat substitutes. Open the can, marinate the jackfruit and fry until the jackfruit turns soft and tender, so you can shred the jackfruit using two forks. Delicious!
Due to its neutral taste, there are thousands of opportunities to prepare jackfruit. We decided to try a spicy version with one of Julia's favorite ingredients Sriracha. The spicy marinate works superb with our homemade soft waffles and a creamy, sour lime dip. If you're not into hot food, reduce the amount of sriracha and add ketchup or sieved tomatoes instead.
Discover more jackfruit recipes! We already made jackfruit fricassee with rice, homemade pulled jackfruit burger and toastadas with sweet & sour jackfruit.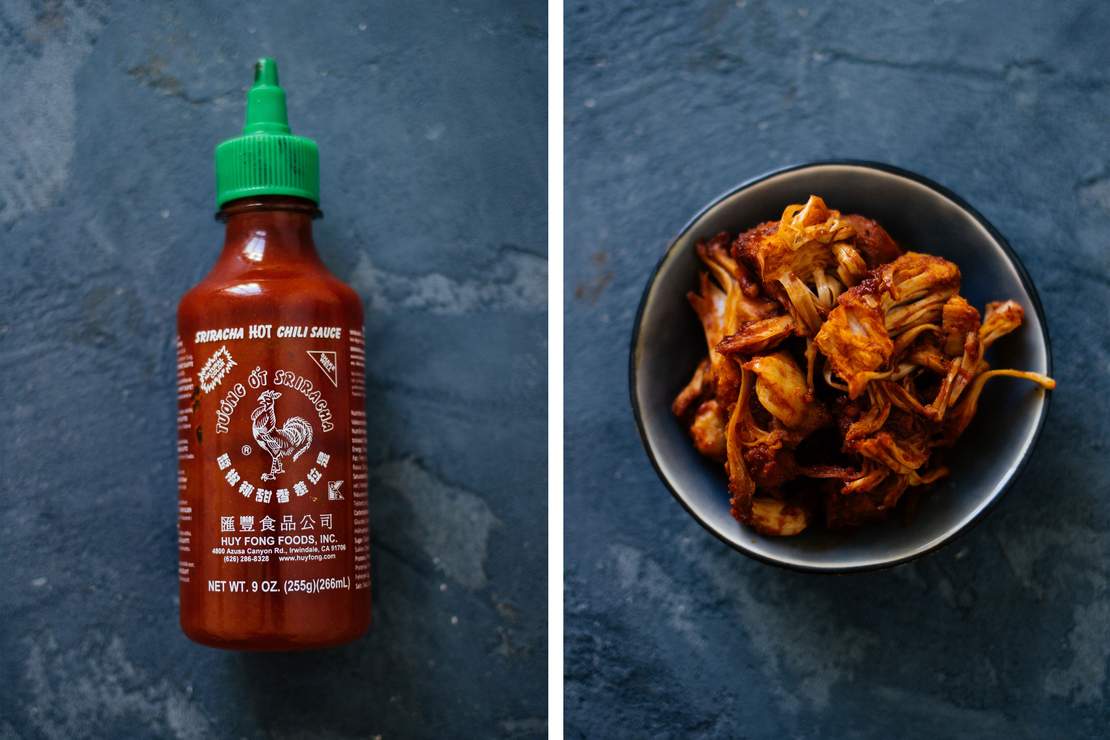 Pulled Jackfruit Waffle Taco
Ingredients
Waffles
200 g (7 oz) flour
200 ml (0.8 cups) plant-based milk
3 tbsp sugar
50 ml (0.2 cups) sparkling water
1 pinch of salt
1 tbsp baking powder
1 tsp vanilla essence
3 tbsp plant-based oil
1 tsp lemon zest
Jackfruit
1 can jackfruit
2 tbsp agave syrup
1 tsp paprika powder
1 tsp cayenne powder
1 tsp garlic powder
salt & pepper
2 tbsp plant-based oil
Marinade
1 tbsp agave syrup
2 tbsp soy sauce
4 tbsp ketchup
3 tbsp sriracha
2 garlic cloves
1 tsp paprika powder
salt & pepper
Dressing
200 g (7 oz) vegan mayonnaise
1/2 avocado
15 g (0.5 oz) fresh cilantro
1/2 lime (juice)
1/2 green chili
salt & pepper
Toppings
10 g (0.35 oz) fresh cilantro
1 lime
1 avocado
Instructions
Jackfruit
Drain a can of jackfruit and transfer jackfruit to a bowl.
Mix agave syrup, paprika powder, cayenne, garlic powder, salt and pepper in a small bowl. Marinate jackfruit with the seasoning.
In another bowl mix all the ingredients for the marinade: agave syrup, soy sauce, ketchup, sriracha, finely chopped garlic cloves, paprika powder, chili powder, salt, and pepper.
Heat plant-based oil in a pan and fry jackfruit for 3-4 minutes. Add the marinate and let bubble for 10-12 minutes.
Season again (if needed). In the end, the jackfruit should be tender enough to shred jackfruit using two forks.
Dressing
Peel and halve avocado and remove the stone. Wash and shake dry cilantro.
Cut the lime in half and squeeze the juice of one half into a high container.
Add the remaining ingredients for the dressing, purée and season to taste.
waffles
Stir together all ingredients needed in a large bowl. Start with dry ingredients and add liquids little by little until batter is smooth.
Preheat waffle maker and spread some neutral oil on it with a pastry brush.
Add one ladleful of batter and bake waffle until golden brown. Repeat until dough is used up.
Serve warm waffles with jackfruit and dressing. Top with fresh lime juice, cilantro, and some avocado slices.