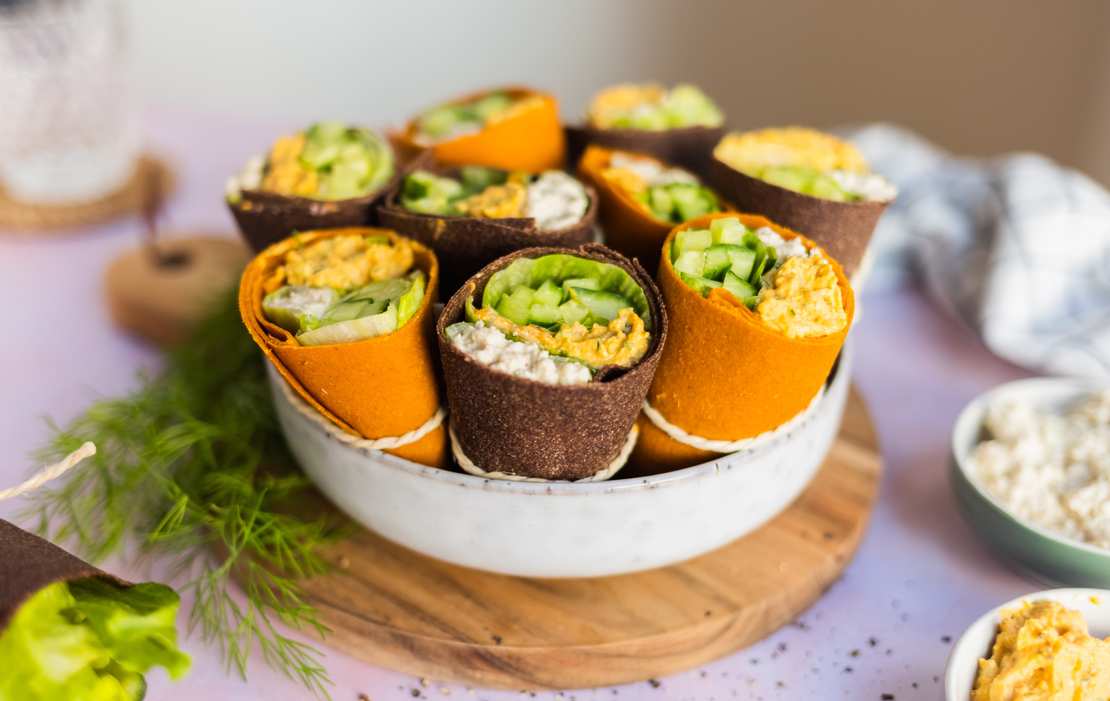 Wraps with Vegan Carrot Lox Spread
Wraps are true all-rounders – whether you're in the mood for something fresh, something baked, or something sweet. They're there for you and can be filled with whatever you feel like. Having already published a few wrap and taco recipes on our blog, it's time for a bit of fresh air today. The wraps are perfect for an extensive brunch, but also for picnics, as finger food on any buffet, or for a healthy lunch at work, university, and school. They're also super easy to prepare and still taste super fresh and crunchy the day after.
For this recipe, we combined a few already existing recipes from our blog in a new way and ended up with wraps with plant-based cottage cheese and a carrot lox cream filling. We added some horseradish to the cottage cheese this time, as it goes wonderfully with the carrot lox. Still, it's best to season the cream filling to your own taste and adjust the amount of horseradish to your liking. We finally found vegan horseradish in organic stores as products from larger supermarkets often contain cream or milk.
For the vegan carrot lox cream, we followed this recipe. To make sure that the cream isn't too dark at the end, we used smoked salt instead of liquid smoke. However, it doesn't matter what you use in terms of taste. To bring the color closer to a real salmon cream, we added a few drops of beetroot juice, but this is just for the look and thus not essential for the taste.
When you decide to eat wraps, you can usually consider buying them made from wheat, spelt or whole grains. That is about to change, because Beetgold has developed wraps made from vegetables. They're made from the vegetable leftovers that result from juice production. These leftovers contain a lot of fiber and minerals, calcium, potassium, and vitamin E. Their wraps have a vegetable content of over 80% and are not only gluten-free but also low carb and of course vegan. There are many more recipes on Beetgold's website – in fact, it's also possible to use the wraps for sweet dishes or even as lasagna plates. We found their wraps in our organic store around the corner, but they are also waiting for you in health food shops and larger supermarkets of Edeka. If you still can't find them, there are several options: Beetgold has activated a store finder, with which you can easily find out where you can buy the vegetable wraps near you. Alternatively, you can easily order them online.
Wraps with Vegan Carrot Lox Spread
8 wraps
35 minuten (+ soaking time for the cashews)
Ingredients
As a base:
For the plant-based cottage cheese:
75 g (2.66 cup) cashews (soaked overnight)
75 ml (0.33 cup) plant-based milk
3 tbsp unsweetened plant-based yogurt
1 tbsp nutritional yeast
2 tbsp apple cider vinegar
2 tsp vegan horseradish
200 g (7 oz) natural tofu
salt
pepper
For the vegan carrot lox cream:
1 tbsp oil
2-3 tsp smoked salt (or 2-3 tbsp liquid smoke)
0.5 nori sheet
3 large carrots
150 g (5.5 oz) vegan cream cheese
0.25 lemon (juice)
10 g (0.33 oz) dill
1 shallot
1-2 tsp beetroot juice for coloring
Instructions
For the plant-based cottage cheese:
Ideally, soak cashews in water overnight which will help to soften them for blending. If you only have a few hours to do this, just let them soak for as long as possible.

Add soaked cashews, plant-based milk, plant-based yogurt, nutritional yeast, and apple cider vinegar, and vegan horseradish to a liquid measuring cup and blend until smooth and creamy. Season generously with salt and pepper to taste.

Crumble tofu with your hands and add it to a bowl. Add the blended cashew mixture little by little, and stir to combine. If you like the texture already before, you may not need all of the cashew mix. If you prefer the cottage cheese to be creamier, add some more plant-based yogurt. Season cottage cheese to taste again and refrigerate until later.
For the vegan carrot lox cream:
For the marinade, whisk together oil and smoked salt (or liquid smoke) in a small bowl. Finely chop the nori sheet with a knife or scissors, then add it as well.

Peel and thinly slice the carrots. Add them to a pot of salted water and cook for approx. 10 minutes. Once they're soft, drain the water and transfer the carrots to a shallow bowl to cool down. Pour the marinade over the carrot slices and make sure that all the slices are covered, then set aside.

Add vegan cottage cheese and lemon juice to a bowl. Wash and finely chop dill, peel and finely dice the shallot. Add both to the vegan cottage cheese and stir until combined.

Add half of the marinated carrots to a liquid measuring cup and blend until smooth. Finely chop the other half and add both to the cottage cheese. Stir until combined, then refrigerate until needed.
Topping the wraps:
Wash iceberg lettuce and tear or cut it into equal-sized pieces. Wash the cucumber and cut it into thin, longish strips.

We need three leaves of iceberg per wrap. Place one lettuce leaf on a plate, add a few cucumber strips of cucumber on top and roll it up. Take a second lettuce leaf and wrap the plant-based cottage cheese in it. Roll up some of the carrot lox cream in the third lettuce leaf.

Place the three iceberg lettuce rolls on a wrap and carefully fold in all sides of the wrap, one by one.