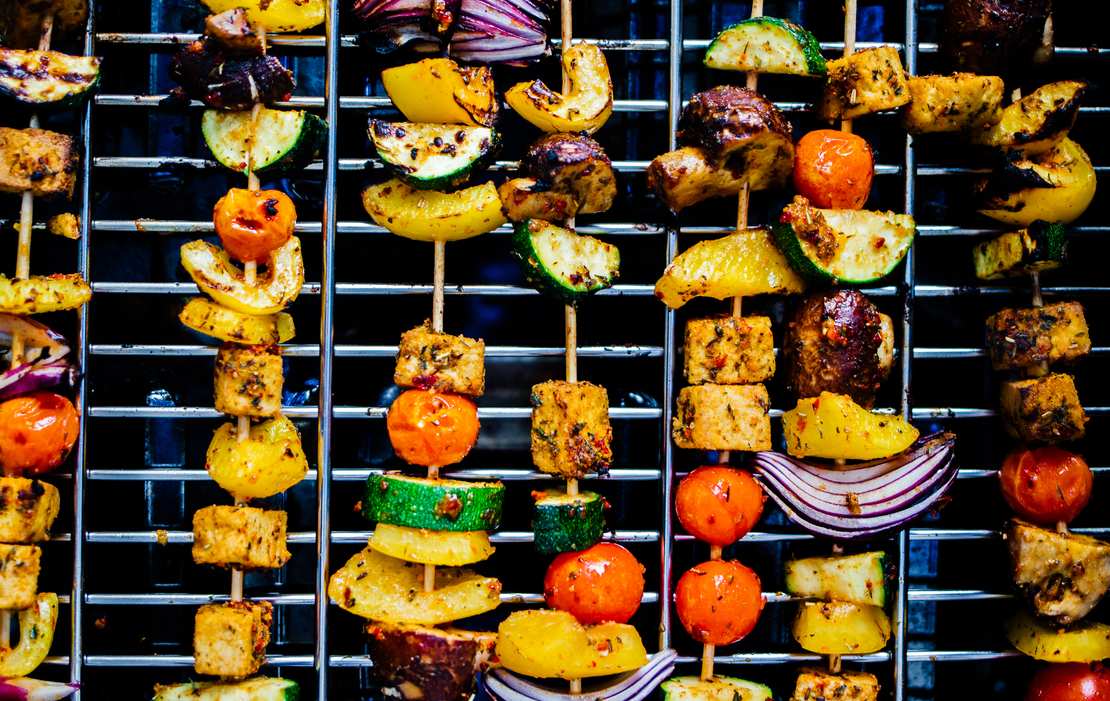 Spicy Grilled Tofu Skewers
Barbecue season is right ahead of us! But before I tell you something about our tofu skewers, I have to elaborate on the background story. Last week, after a lot of research, we finally bought a grill for our little office patio. It's not just any grill, though, but one with gas. And even though none of us have had any experience with it before, we were up for the challenge.
After we managed to set up the grill, there was only one thing missing: the gas bottle. So I ordered an 11 kg (24 lbs) gas bottle from the hardware store and went there by bike to pick it up. When the employee brought me the cylinger and he probably noticed my surprised face about its size and heaviness, despite the mask I was wearing. At this point, however, I was still convinced that I could easily transport it in my bike basket and push my bike back to the office. Well, it all didn't work out so great because I definitely underestimated these 11 kg! So long story short: After I was looked at by many people in amazement and had to take many comments, I got on the subway, along with my bike and the gas bottle. Let's just say that I was really relieved when I finally arrived at the office!
But I can tell you one thing: all the effort was worth it! With the tofu skewers, we've solemnly celebrated our barbecue season opening – but they can also be prepared in a grill pan. It's up to you to decide which vegetables to use, and of course, it depends on the season: tomatoes, bell peppers, mushrooms, eggplants, or corn taste delicious on a skewer. Just make sure that all the vegetables are cut to a similar size and thickness to cooks evenly on the grill.
I decided to marinate the tofu the day before and refrigerated it overnight which results in a more intense flavor. If you don't have that much time, you can marinate the tofu in less time and grill it directly. For marinating, I used olive oil and the Italian Chicken Seasoning from Just Spices. It's a spice classic without added sugar that works well throughout the whole year. The seasoning base are tomato flakes and tomato powder, plus paprika, crystal salt, garlic, onion, thyme, savory, leeks, chili grates, mustard flour, rosemary, celery seeds, and fennel. All ingredients are 100% natural! The spice mixture adds a great flavor to our tofu and vegetables. You can find all kinds of spice blends at REWE and at the online store of Just Spices.
The spice mixture not only ends up in the marinade and dip but also tastes great when sprinkled over the finished grilled skewers. A squeeze of fresh lemon juice gives them an excellent fresh note right before serving.
Spicy vegan Tofu Skewers from the Grill
Ingredients
For the tofu:
3 tbsp olive oil
2 tsp Italian chicken seasoning from Just Spices
300 g (10.66 oz) natural tofu
For the vegetables:
4 tbsp olive oil
3 tsp Italian Chicken Seasoning from Just Spices
250 g (9 oz) yellow pepper
1 red onion
200 g (7 oz) zucchini
200 g (7 oz) mushrooms
200 g (7 oz) cocktail tomatoes
For the curd dip:
400 g (14 oz) plant-based curd
1-2 tsp sweet paprika powder
1-2 tsp dried basil
1 garlic clove
1 lemon (juice)
salt
pepper
Italian chicken seasoning from Just Spices
For the tomato dip:
250 g (9 oz) tomatoes
1 red onion
10 g (0.33 oz) fresh parsley
1 garlic clove
salt
pepper
lemon juice
For serving:
Instructions
For the tofu, mix olive oil and Italian chicken seasoning in a bowl. Cut the tofu into large cubes and toss gently in the marinade. Refrigerate overnight.

For the vegetables, mix some more olive oil and Italian chicken seasoning in a bowl. Chop bell pepper and cut red onion into wedges. Halve zucchini lengthwise, then slice it. Clean and quarter mushrooms. Add cut vegetables and cocktail tomatoes to the bowl with the oil mixture and toss to coat.

For the curd dip, add plant-based curd to a bowl and season with salt, pepper, sweet paprika, dried basil, and Italian chicken seasoning to taste. Peel and finely chop garlic or crush it through a garlic press, then add it to the bowl as well. Season the dip with lemon juice to taste and refrigerate it.

For the tomato dip, finely dice the tomatoes and red onion and chop fresh parsley. Peel and finely chop garlic or crush it through a garlic press. Add everything to a bowl and season with lemon juice, salt, and pepper to taste. Refrigerate the tomato dip as well.

Thread vegetables and tofu onto wooden skewers. Heat the grill and grill the skewers until everything is nicely browned and the vegetables still have a bite. The baguette can also be grilled briefly until it's crispy.

Transfer the skewers to a large platter and sprinkle again with some Italian chicken seasoning. Drizzle with lemon juice if desired.