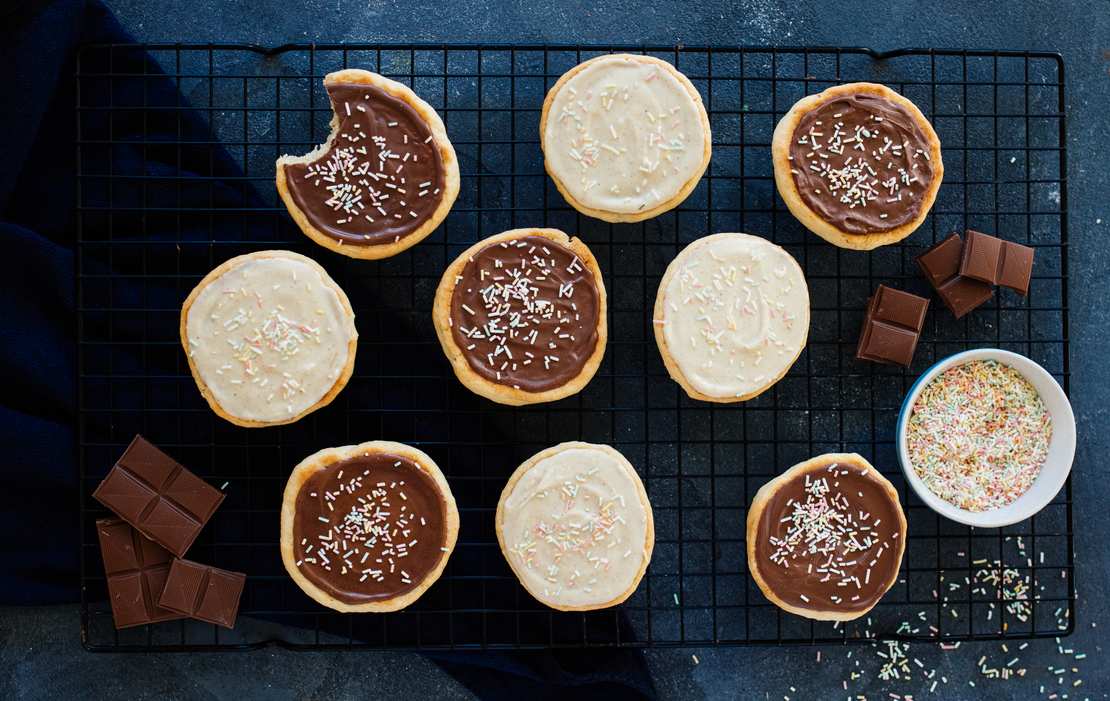 Vegan "Americans" (soft cake-like cookies)
I prepared my first "Americans" in primary school. There was a course called "cooking and baking," which I liked and visited a lot (of course). Every week we prepared a new recipe, and that's how "Americans" came into my life: fluffy dough decorated with chocolate or powdered sugar. They went straight to my heart!
However, if I remember correctly, this was the only time I made "Americans" by myself, cause very often you buy "Americans" from the bakery or supermarket. Such a wrong decision regarding the simple ingredients and preparation. Preparing "Americans" plant-based is very easy. Therefore we replaced the eggs with apple sauce, which brings a natural sweetness into the dough and makes them also fluffy. We also used vanilla pudding powder that adds starch and also vanilla flavor to the dough. Eat the cookies within a day, so they stay fresh and fluffy.
[iChoc] (https://ichoc.de/) is one of our favorite chocolate manufacturers and supported us with this recipe! We used the "[Classic] (https://ichoc.de/vegane-schokoladen/classic/)" and "[White Vanilla] (https://ichoc.de/vegane-schokoladen/white-vanilla/)" flavors to decorate our "Americans", which worked and tasted so well! The "Classic" chocolate is very close to the regular dairy milk chocolate, but made of a rice drink and refined with a hint of bourbon vanilla and sea salt. All of the chocolates from iChoc are packaged as ecologically as possible. Instead of plastic, iChoc uses a [natural alternative] (https://ichoc.de/plastikfrei-verpackung/), which looks like plastic, but is made from sustainably obtained wood fiber and can even be composted at home. The outer paper box is made of wood from sustainable forestry and printed exclusively with mineral oil-free printing inks. You can find iChoc products in a large number of supermarkets and organic markets.
Vegan "Americans" (soft cake-like cookies)
12 cookies
30 minutes (+15 minutes baking time)
Ingredients
100 g (0.9 cups) vegan butter
60 g (0.28 cups) brown sugar
150 g (5.3 oz) applesauce
100 ml (0.4 cups) plant-based milk
300 g (2.5 cups) wheat flour
37 g (1.3 oz) vanilla pudding powder
8 g (0.2 oz) baking powder
decoration
80 g (2.8 oz) vegan chocolate (e.g., iChoc Classic)
80 g (2.8 oz) vegan white chocolate (e.g., iChoc White Vanilla)
50 g (1.7 oz) vegan sprinkles
Instructions
Beat vegan butter in a bowl using a hand mixer and gradually add the sugar.
Now add the applesauce and the plant-based milk.
Also, add the flour, vanilla pudding powder, and baking powder and stir to a smooth dough.
Preheat the oven to 180°C/350°F circulating air and cover 2 baking trays with baking paper.
Take 2 tablespoons of dough per cookie and form into 12 round heaps. Dip your fingers or a spoon in water to get a smooth surface.
Bake cookies on the middle rack (180°C/350°F) for 12-15 minutes. Let them cool down completely.
Decoration
First, heat the white chocolate in a water bath. Spread the underside of 6 cookies with the white chocolate and decorate with sprinkles.
Then heat the dark chocolate in a water bath and spread the underside of the remaining 6 cookies with the dark chocolate and decorate with sprinkles.
Allow the chocolate to dry and eat within a day.