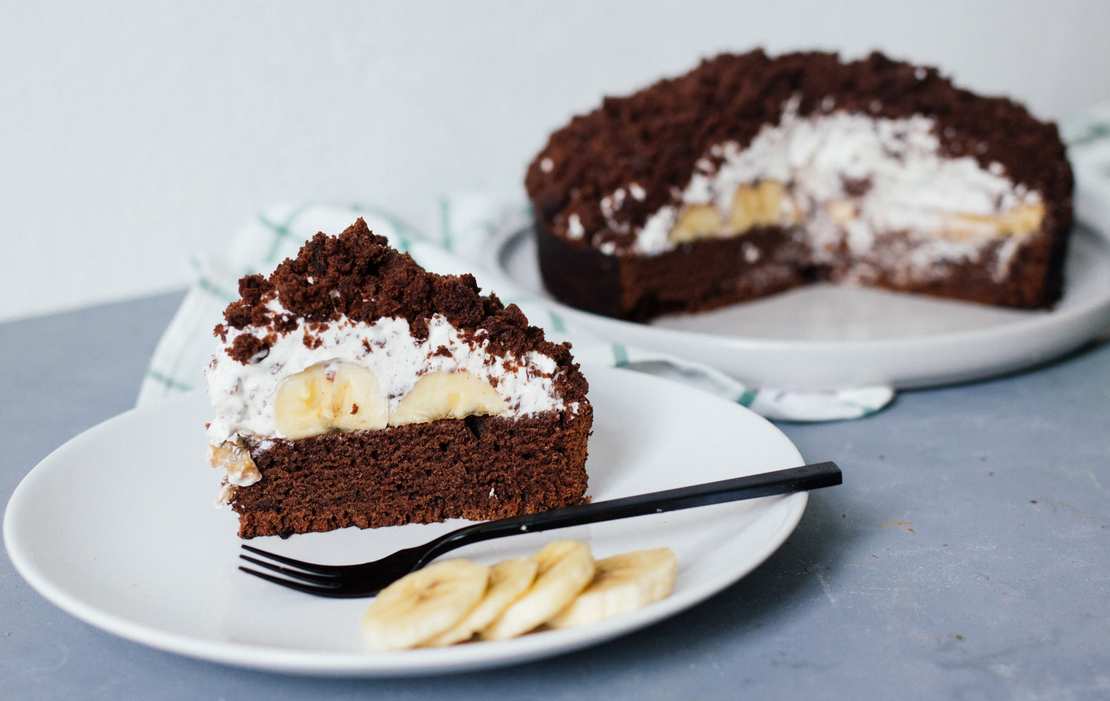 Vegan "Maulwurfkuchen" (German Mole Cake)
"Maulwurfkuchen" is one of the cakes, you can enjoy all year round. Reason one: You don't need special seasonal ingredients. Reason two: the cake suits many occasions (birthday parties, picnic, coffee & cake). Reason three: Grandparents like this cake, just like children and everyone else. Yes, it's an all-rounder!
For a vegan version, you need vegan cream for whipping. The rest of the ingredients are basics you get in every supermarket.
Vegan "Maulwurfkuchen" (German Mole Cake)
12 servings
40 minutes (+ time for baking)
Ingredients
Dough
500 g (4 cups) flour
1 tbsp baking powder
a pinch of salt
200 g (0.9 cups) white sugar
300 ml (1.3 cups) sparkling water
200 ml (0.8 cups) plant-based milk
150 ml (0.6 cups) canola oil
50 g (1.7 oz) cocoa powder
filling
400 ml (1.7 cups) vegan cream for whipping
2-3 tbsp stabilizer for whipping cream
1 tbsp vanilla sugar
100 g (3.5 oz) dark chocolate
2–3 bananas
Instructions
In a big bowl mix flour, salz baking powder, sugar and cocoa powder.
Add plant-based milk, plant-based oil and sparkling water. Combine well.
Grease the cake tin (10") and sprinkle it with some cocoa powder.
Pour the mass into cake tin, bake at 190°C/ 360°F for approx. 60 minutes. Allow to completely cool down.
Beat vegan cream with vanilla sugar and stabilizer for whipping cream till stiff.
Finely chop chocolate and fold in to the whipped cream.
Remove 1/3 of the cake with a sharp knife.
Crumble the removed part of the cake in a bowl. Set aside. You need the crumbs later for the soil topping.
Peel and halve lengthwise bananas. Lay flat side down onto the cake.
Top bananas with the whipped cream. Distribute evenly and form a mount on top like a molehill.