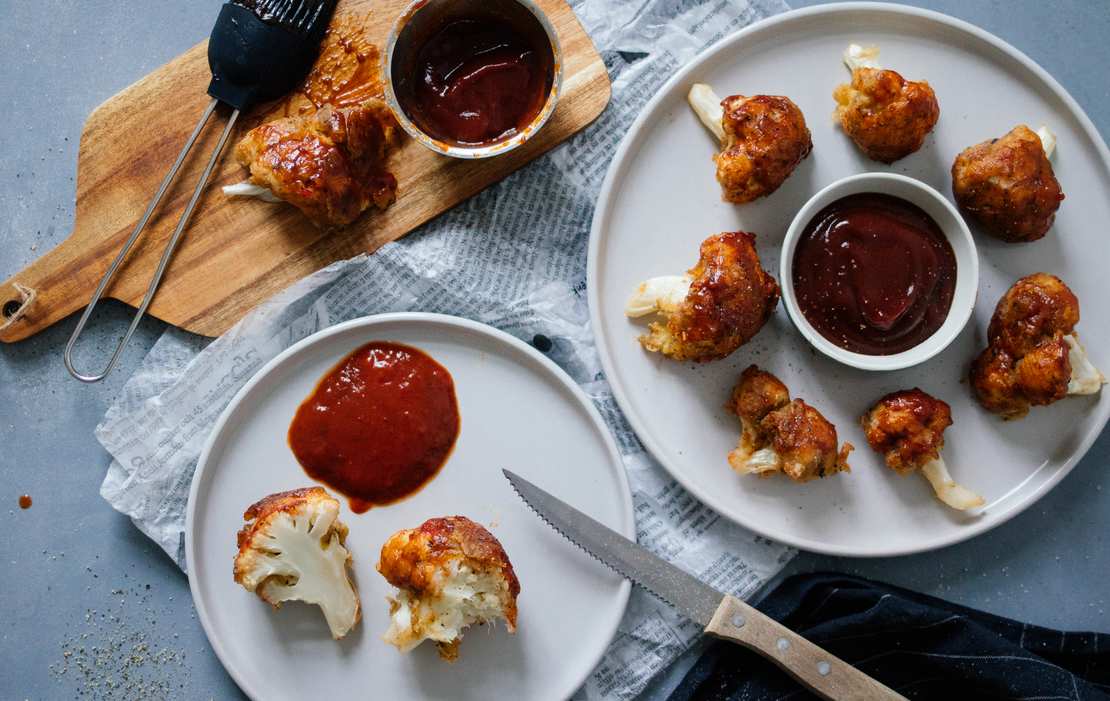 Vegan Buffalo Cauliflower Wings
Crispy, tender and fried. Let's be clear and honest with you from the beginning: we've never been huge fans of chicken wings. Often they are too oily, too complicated to eat and we've never liked bones in our food. So our experiences from the Chicken Wing Business are a one on a scale of 1 to 10. But this week we are talking about party food, so we have to get this thing done.
By the way: there are plenty of versions for vegan chicken wings, for example with jackfruit, tofu or seitan. We decided to try the cauliflower version, cause well, we like the fact that a chicken wing is made of veggies and yes, it's not that unhealthy (especially before frying them haha). Cauliflowers deserve more than just being the sidekick in a veggie pan or the boring partner of potatoes.
Vegan Buffalo Cauliflower Wings
1 big bowl for 3-4 persons
2 hours
Ingredients
MARINADE
500 ml (2 cups) soy milk
175 ml (0.75 cup) chili sauce
salt
pepper
BREADING
250 g (2 cups) flour
2 tbsp salt
1 tsp chili powder
1 tsp garlic powder
1 tsp onion powder
3 tsp paprika powder
1 tsp celery salt
1 tsp dried sage
1 tsp dried basil
1 tsp dried oregano
1 tsp dried marjoram
SERVE
200 ml (0.8 cups) BBQ sauce
1.5 l (6 cups) oil for frying
Instructions
MARINATING
Wash cauliflower and cut into chicken wing like pieces.
Mix all the ingredients for the marinade in a bowl.
Add your cauliflower wings and cover them with the marinade.
Let them soak for one hour. Turn around so every piece can absorb the marinade.
Line baking sheets with parchment paper and preheat your oven to 180°C / 425 F.
Place your Cauliflower Wings on the baking sheets.
Roast cauliflower in the oven for 30 minutes, turn after 15 minutes. Don't throw away the rest of your marinade.
BREADING
Prepare your breading: Mix all the ingredients in a bowl and stir well.
Remove the cauliflower from the oven and let chill for 10 - 15 minutes.
Dredge the cauliflower in the flour mixture, then dip the wings in your marinade and dredge the cauliflower wings again in the flour mixture. Repeat this step with all your chicken wings.
FRYING
Heat a pot to medium heat with the frying oil.
Now gradually fry each piece of cauliflower wing until it turns golden brown.
We double-fried each piece, so they turn out more crispy. Be careful, hot oil is dangerous!
Toss or brush the finished cauliflower wings with BBQ sauce.