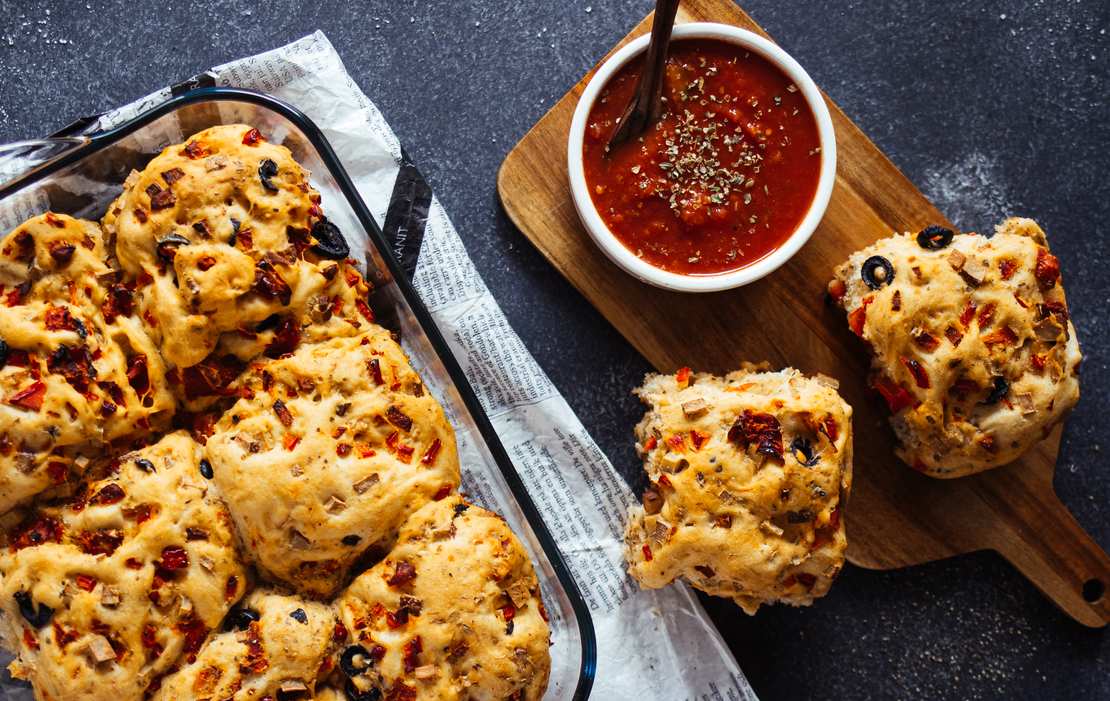 You don't have to order pizza rolls anymore cause they are super simple and easy to make. And yes, they work without any cheese or dairy.
To be honest, we devoured these bites within ten minutes. Really, there is no other way. So the secret of getting these vegan pizza rolls extremely soft and succulent is to add the filling to your dough. Yes, it's that easy! If you don't have a skillet, you can also use any casserole you have in your kitchen. We decided to stuff our vegan pizza rolls with a lot of fresh veggies, but if you want to stuff them with something different, just go for it! In the end, we dipped our tasty pizza rolls in a fruity marinara dip, but we can also recommend our vegan queso dip or creamy onion dip.
Vegan Pizza Rolls
9 pizza rolls
30 Minuten (+waiting time)
Ingredients
Dough
500 g (4 cups) flour
250 ml (1 cup) lukewarm water
21 g (0.7 oz) fresh yeast
1 tsp sugar
1 tsp salt
olive oil
Stuffing
200 g (7 oz) smoked tofu
1 bell pepper
20 g (1 oz) dry or fresh oregano
10 dried tomatoes
10 olives
1 tbsp soy sauce
5 drops liquid smoke (optional)
Also
Instructions
Finely dice all ingredients for the stuffing. In a large pan, heat some oil and roast diced smoked tofu. After approx. 2 minutes, add soy sauce and liquid smoke (which is optional) and keep roasting for 4 – 5 more minutes. Afterward, set aside.
Dissolve the fresh yeast in lukewarm water and add sugar and salt. Add flour to a large bowl and stir in yeast-mix little by little. Knead the dough with hands or a kitchen machine for at least 5 minutes until combined and soft. If the dough sticks to your hand in the beginning, simply grease your hands with some oil.
Add diced stuffing and the oregano to the dough and keep kneading for 2-3 more minutes, until all ingredients are evenly spread.
Part dough in 8-10 equal-sized pieces and roll each one into rolls.
Grease a round casserole dish or iron cast pan with some oil and transfer all pizza rolls into it.
Cover with a kitchen towel and let rise for approx. 30 minutes in a warm spot. Preheat oven to 180°C / 360°F.
When rolls have risen, bake in the oven at 180°C / 360°F for approx. 30 minutes until golden brown.
Serve warm with marinara dip.