Vegan Butter Chicken with Rice
We have to admit that this vegan butter chicken recipe turned out extremely well. Sounds a bit cocky but it really tastes awesome. We once served it to a friend and he told us that it reminded him of his vacation in India.
When cooking Indian dishes, the seasoning is crucial! It's really important to use all the spices as instructed – don't be shy here or skip a spice, because you will taste the difference. We used soy meat as a substitute in this recipe, which has the best texture (in our opinion) for the "chicken" part in the dish. All other magic is happening in only one frying pan, so let's get started.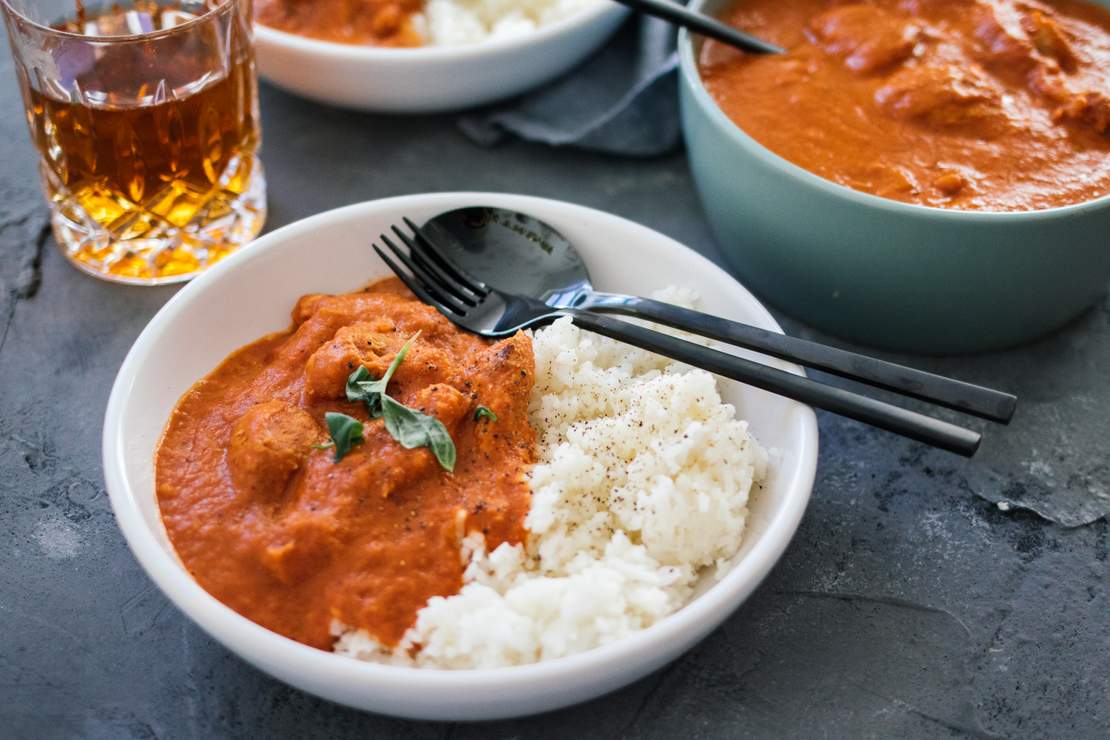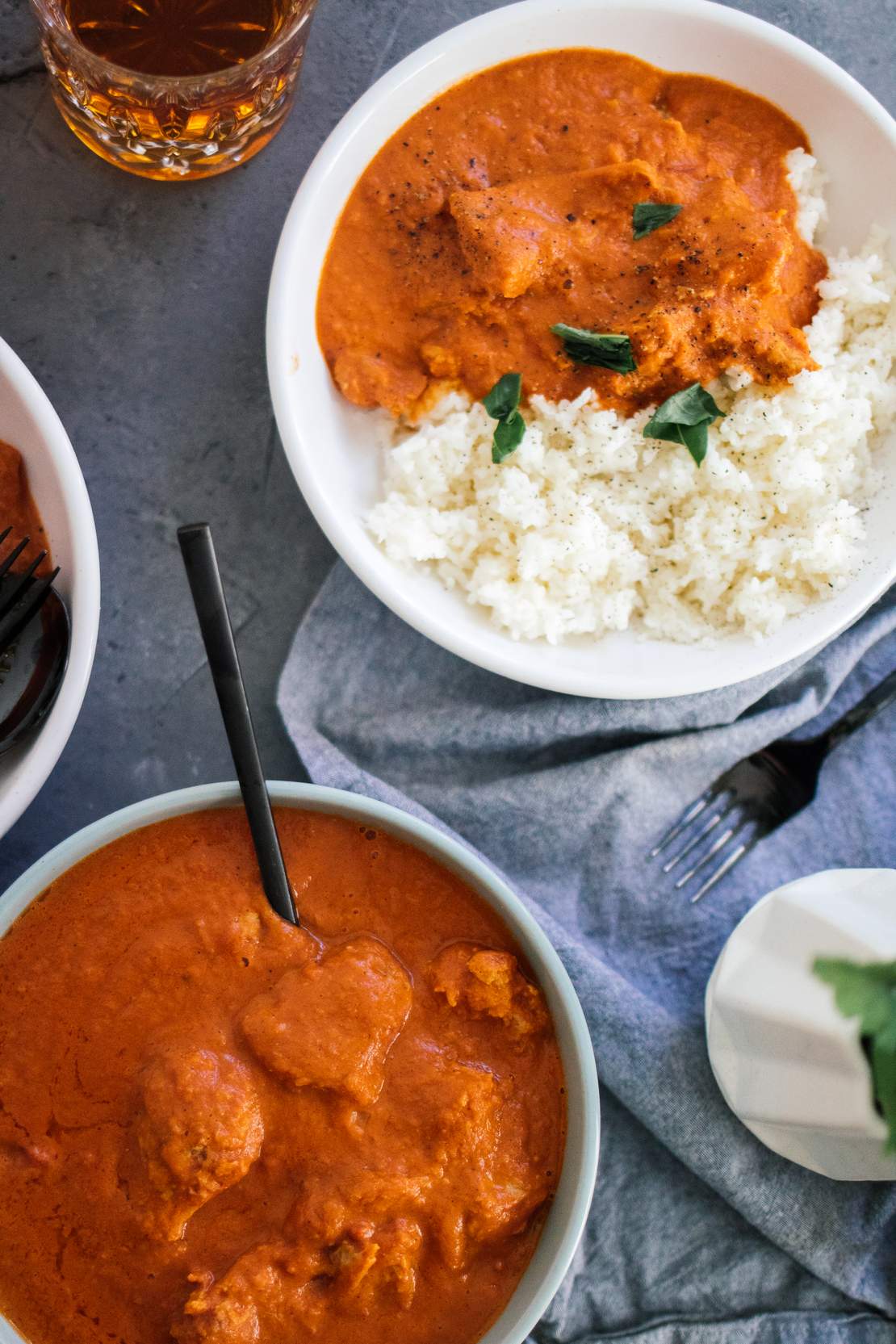 Vegan Butter Chicken with Rice
Ingredients
1 cup rice
2 cups water
salt
2 tbsp vegan butter
FOR THE SOY MEDAILLONS
2 handful of soy medaillons
hot vegetable stock
0.5 tsp salt
0.5 tsp pepper
1 tsp paprika
0.5 tsp chili powder
1 tsp garam masala
0.5 tsp cumin
coconut oil for frying
FOR THE SAUCE
2 onions
1 tsp ginger
1 garlic clove
2 tbsp vegan butter
1 tsp paprika
0.5 tsp cinnamon
1 tsp garam gasala
1 tsp cumin
2 cans chunky tomatoes
250 ml (1 cup) vegan cream
3 tbsp vegan yogurt
2 tbsp vegan butter
salt
pepper
Instructions
Add soy medaillons to a pot and cover with hot vegetable stock. Let soak with the lid on for approx. 15 minutes, then drain and press out as much liquid as possible. Season soy meat from both sides generously with salt, pepper, garam masala, paprika powder and chili powder.
Add rice and salted water to a pot, bring to a boil and then reduce the heat and let it simmer with the lid on for approx. 15 minutes until all liquid is absorbed and the rice is soft. If it's still too firm, add some more water and repeat the cooking for a few minutes. Once the rice is done, add 2 tbsp vegan butter and stir so that the rice gets a nice buttery flavor.
While the rice is cooking, finely chop onions, ginger and garlic and set aside. Heat some coconut oil in a frying pan and fry soy meat for approx. 5 minutes per side until it's browned. Take the soy meat out of the pan, but leave the pan on the stove.
Heat some more coconut oil in the frying pan and add onions, ginger and garlic. Season with garam masala, chili powder, cinnamon and cumin and stir to combine. Fry for approx. 3 - 4 minutes over medium heat until the onion is translucent.
Now add the chopped tomatoes, soy cream and yogurt, stir to combine and let simmer for approx. 10 minutes. Blend with an immersion blender until you have a nice smooth sauce.
Now you can transfer the soy meat back to the pan and rake it from the heat. Stir in 2 tbsp vegan butter and season the sauce to taste. Serve rice, soy meat and sauce.