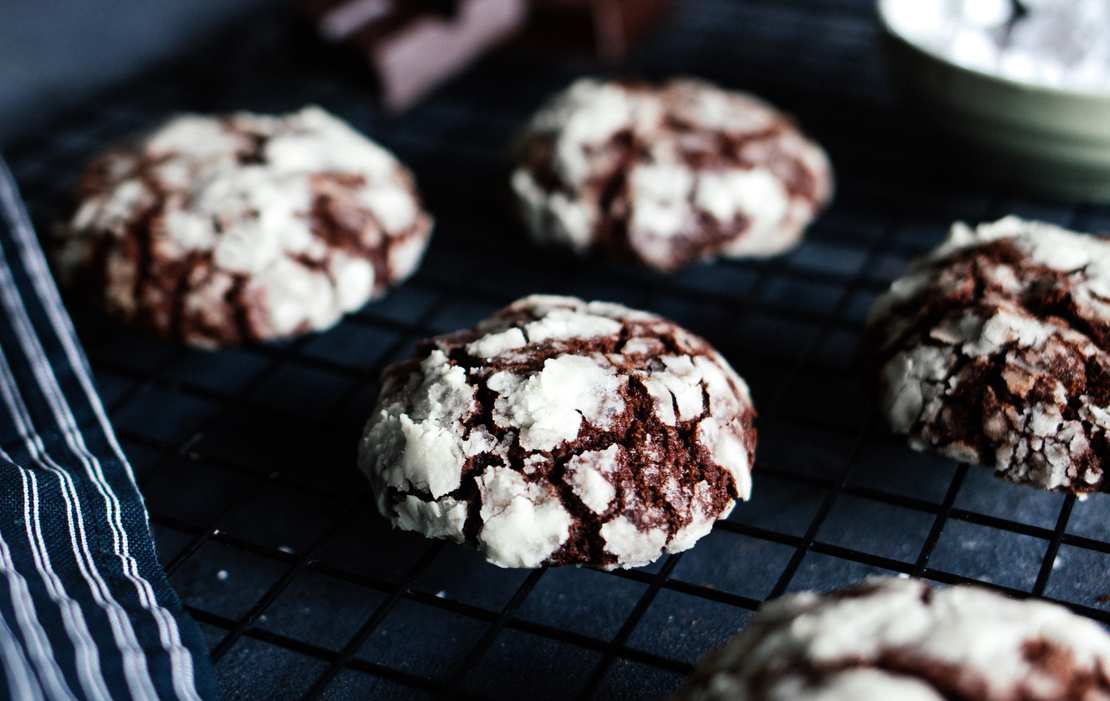 Vegan Chocolate Brownie Crinkle Cookies
Sometimes it only takes a little trick to make a simple recipe an impressive eye-catcher. Rolling raw cookie dough in powdered sugar is one of those tricks to turn your chocolate cookies into these crinkle cookie magic. When the dough rises in the oven, the cracks in the powdered sugar layer forming the special crinkle look. So simple, so special, so good!
When my friends tried the crinkle cookies, the first reaction was: "They don't taste vegan!" By adding applesauce and melted chocolate to the dough, the cookies get a really soft and airy consistency but still have a very intense chocolate aroma. So if you still think of dry and crumbly cookies when it comes to vegan baking, you will definitely be convinced with these cookies! The crinkle cookies taste best fresh from the oven so make sure to eat them in 1-2 days. In addition, we would not recommend transporting the cookies in a container to your family and friends (unless you handle them with care), cause the cookies are losing the powdered sugar on the way. So it's best to eat them asap right at home!
We are very happy that [Vivani] (https://vivani.de/) supported us with this recipe. To get an intense, chocolatey taste, we used Vivani's ["Feine Bitter Couverture"] (https://vivani.de/chocolate/feine-bitter-kuvertuere/) in the batter. The couverture consists of only three ingredients: cocoa paste, raw cane sugar, and cocoa butter (all from organic farming). The cocoa content of the chocolate couverture is at least 70%. Vivani also has very high [ecological standards] (https://vivani.de/unsereverantwortung/nachhaltige-verpackung/) and pays attention to sustainable and fairly traded cocoa and environmentally friendly packaging materials. For example, the packaging of the chocolate is not made of plastic but of NatureFlex™ foil, which is produced from renewable raw materials. You can find Vivani products in many supermarkets and organic markets!
Vegan Chocolate Brownie Crinkle Cookies
15 cookies
30 minutes (+15 minutes baking time)
Ingredients
batter
200 g vegan chocolate couverture (e.g., from Vivani)
125 g vegan butter
160 g spelled flour
115 g brown sugar
2 tbsp (15 g) cocoa powder
1 tsp (5 g) baking soda
1 pinch of salt
100 g applesauce
Instructions
Melt the chocolate and butter in a water bath. Let it cool down afterward.
Mix the flour, sugar, cocoa powder, baking powder, and salt in a large bowl.
Mix in applesauce and melted chocolate and stir to a smooth dough.
Heat the oven to 180°C, circulating air and cover two baking trays with baking paper.
Form 15 balls out of the dough, roll them in powdered sugar and place them on the baking sheets.
Bake the biscuits on medium heat for 12-15 minutes and let them cool on the trays before moving to a cooling rack.