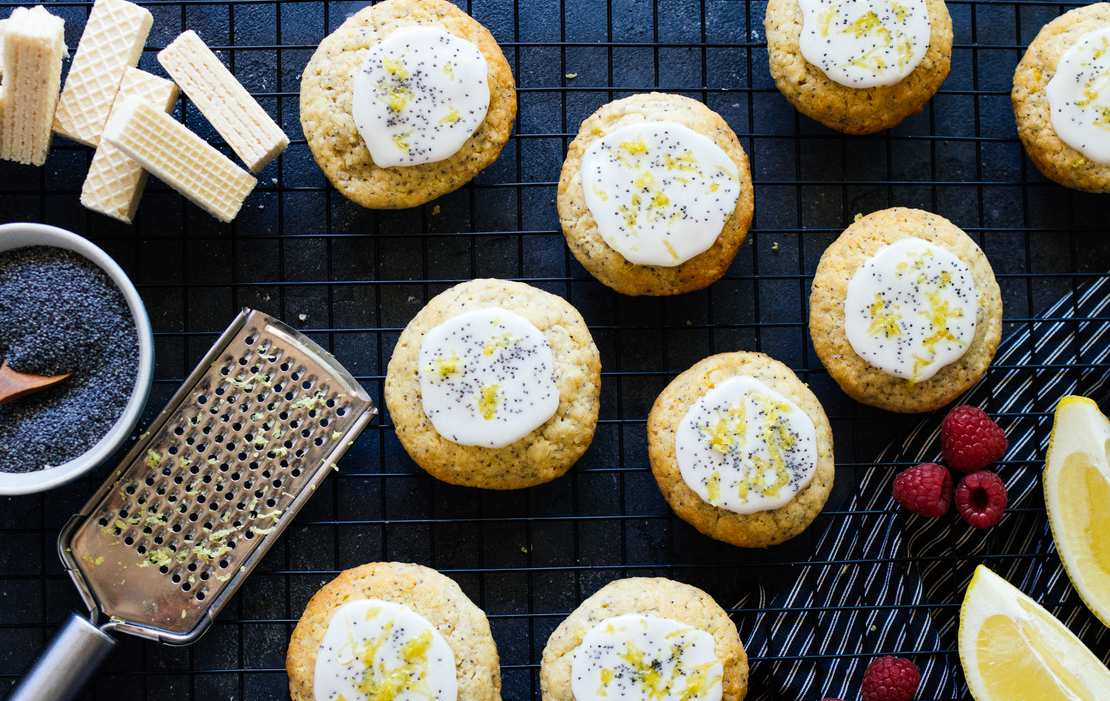 Vegan Lemon Poppy Seed Cookies
In summer, we try to avoid using our oven. When the temperatures reach 90°F, we just want to eat ice cream from 9 to 5. For a handful of recipes, however, we make an exception, like for these vegan lemon poppy seed cookies. They are the perfect little summer dessert: simple, quick, and refreshing. They are also perfect for taking away because you can easily store them in a box, and they won't melt on the way to the lake.
So if you plan to bake these cookies, bake them in the morning when the temperatures are still low. You just need to turn on the oven for 10 minutes, which is totally fine even in summer. Of course, you can also vary the decoration and use chocolate or whatever fits best for you. Even without icing, the cookies taste great!
We are very happy that Manner supports us with this recipe. Manner produces probably the most delicious wafers in the world, and we are therefore very happy that many of them are vegan. Manner is (mostly) still family-owned and produces all products in Austria, which is great. We used the Lemon Cream Wafers for our cookies, which are made with natural lemon aroma and real lemon fruit powder. For the recipe, we put the Lemon Cream Wafers in a mixer and processed them into flakes for our cookie dough. This gives the dough a great, soft, and yet crispy consistency. It tastes amazing!
Vegan Lemon Poppy Seed Cookies
Ingredients
150 g Manner lemon cream wafers
160 g flour
65 g sugar
10 g poppy seeds (whole seeds)
8 g baking powder
180 g vegan butter
60 g applesauce
1 lemon (zest)
decoration
125 g powdered sugar
plant-based milk
10 g poppy seeds (whole seeds)
1 lemon (zest)
Instructions
Mix the Manner lemon cream wafers in a mixer/blender until only fine flakes are visible.
In a large bowl, knead the lemon cream flakes, flour, sugar, poppy seeds, baking powder, vegan butter, apple sauce, and the zest of a lemon.
Preheat the oven to 180°C/350°F, circulating air.
Form 18 balls (approx. 35 - 40 g dough per biscuit) and place on two baking sheets covered with baking paper.
Bake the cookies for 10 minutes until they have brown edges. Let the cookies cool down completely on the baking sheets. The cookies have to cool down to get firm, so don't remove them from the baking sheet before.
Mix the powdered sugar with plant-based milk for the icing. Start with about 1-2 tablespoons of plant-based milk and stir until you get a thick, white cream.
Place the cookies on a cooling rack and spread the icing on the cookies. Decorate with poppy seeds and lemon zest.