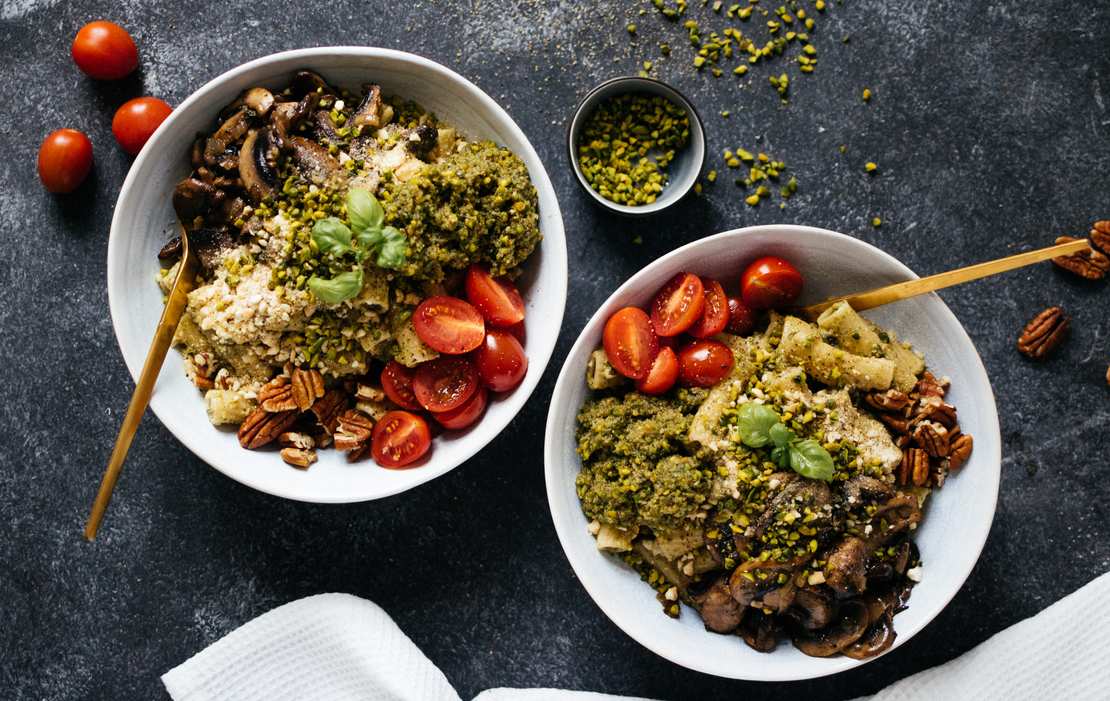 Vegan Pasta with Pistachio Pesto & Mushrooms
Pasta dishes will probably be one of our favorite dishes forever. You can vary them however you like, you're always full and happy afterward, and usually, they are ready in under 30 minutes. Win, Win, Win, if you're asking us!
Today, we're going to show you another simple pasta dish with pesto, which we made special with a few tricks. On the one hand, we've mixed pistachios into the pesto, which are a bit more expensive than other nuts but bring a great taste to the dish. We also sautéed fresh mushrooms and topped it with [vegan parmesan] (https://www.zuckerjagdwurst.com/en/recipes/vegan-parmesan-cheese), so you will get a propper-filled bowl of fresh ingredients and many flavors. Check more of our pasta dishes.
Vegan Pasta with Pistachio Pesto & Mushrooms
Ingredients
pistachio cream
125 ml olive oil
75 g pistachios (without shell, chopped)
15 g fresh basil
15 g nutritional yeast
50 g pecans
1 clove of garlic
1/2 lemon (juice)
salt & pepper
mushrooms
2 tbsp olive oil
1 onion
1 clove of garlic
200 g fresh mushroom
100 g of fresh shiitake
salt & pepper
optional: 2 sprigs of thyme
Additional
fresh tomatoes
olive oil
pecans
vegan parmesan cheese (recipe on the blog)
Instructions
Preparing the Pistachio Pesto
Peel the garlic clove, wash the basil, halve the lemon and squeeze out the juice.
Put all ingredients for pistachio pesto in a blender and process to a pesto. Season to taste and add more olive oil if needed.
Bring a pot of salted water to a boil and cook the pasta according to the packaging instruction. Store some pasta water and then mix the pesto with the pasta. Whisk with olive oil and pasta water until creamy.
Roasting the mushrooms
Clean the mushrooms with a damp cloth and cut back the stems as needed.
Peel and dice the onion and garlic.
Heat a pan with olive oil and sauté the onion and garlic. Add mushrooms until they roast nicely.
Season with salt and pepper and add thyme sprigs (optional)
Serve the pasta with mushrooms, fresh tomatoes, pecans, chopped pistachios, and vegan parmesan.
Vegan Parmesan Cheese
Ingredients
100 g (3.5 oz) cashews
50 g (2 oz) chopped almonds
3 tbsp nutritional yeast
1 tsp sea salt
0.5 tsp garlic powder
Instructions
Add all ingredients to a food processor and mix until you get fine crumbles. No worries, in case there should be bigger chunks left, that just makes your vegan parmesan a bit crunchy.

Store in an airtight container or jar and sprinkle on top of your pasta dishes or mix it into your pesto.