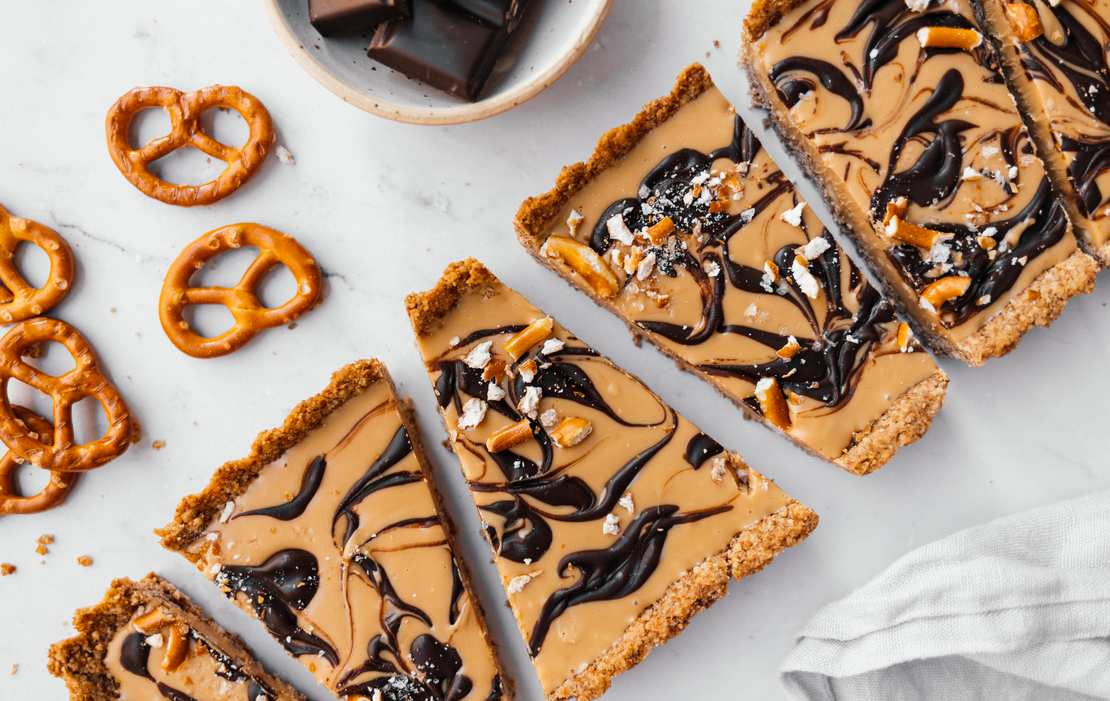 Vegan Peanut Butter Pretzel Tart (with 5 Ingredients)
When it comes to vegan desserts, some people are super skeptical: They can't imagine desserts tasting good without eggs, milk, butter, and the like. If you have followed our vegan food journey for a while now, you know better. Today, however, we have taken it to another level and prepared a melt-in-the-mouth tart using only five ingredients that you probably have at home already.
Whether it's game night, a flat-sharing party, or a children's birthday, you usually end up with loads of leftover snacks. And even if there is nothing to celebrate, you probably have them in your cupboard right now. Half a bag of pretzels, a few pieces of chocolate, and a jar of peanut mousse? Perfect! Leftovers never tasted better!
Here are the 5 ingredients of this recipe:
Mini pretzels: You probably know those tasty, tiny snack pretzels. Today, we're chopping them up to create a sweet and salty pretzel crust. If you can't find any mini pretzels, you can, of course, use pretzel sticks or any biscuits you like.. Best of all, we don't even need a whole pack of the mini pretzels, so there's plenty left over to snack on.
Vegan butter: You can find vegan butter at most organic food stores or regular supermarkets. You can use any plant-based butter for this recipe, whether it's soy-, sunflower-, or oat-based. If you don't have vegan butter at hand, use margarine. I wouldn't recommend using vegetable oil because it's too liquid, and the crust wouldn't get firm enough in the fridge.
Vegan cream: We need plant-based cream for our chocolate ganache and the pretzel base. Any neutral oat cream or soy-based cream works. The cream doesn't need to be suitable for whipping or have a specific fat percentage. It's only required to help the pretzel crumbs stick together and prevent the chocolate from getting too solid, so you end up with a creamy, tasty chocolate ganache.
Peanut mousse: The filling of our tart is made entirely of peanut mousse. We recommend using peanut mousse over peanut butter as it's less firm, and the filling will end up much creamier. Don't worry if your filling seems too liquid: the peanut mousse will, of course, become more solid in the fridge.
Dark chocolate: Dark chocolate provides a tart sweetness. But you can, of course, also use vegan "milk chocolate" if you have some at home. We melted it in a double boiler,stirred in some plant-based cream, and spread it over the peanut mousse with a teaspoon. Then, use a toothpick or fork to create some swirls. Your guests will be blown away!
Vegan Peanut Butter Pretzel Tart (with 5 Ingredients)
1 tart (35 x 11 x 2.7 cm) (14 x 4,5 x 1 inch)
60 minutes
Ingredients
For the pretzel base:
150 g (1.33 stick) vegan butter
200 g (7 oz) mini pretzels
5 tbsp plant-based cream
For the filling & ganache:
350 g (12.5 oz) peanut mousse
30 g (1 oz) dark chocolate
20 ml (0.1 cups) plant-based cream
Also:
vegan butter for greasing
mini pretzels for garnish
Instructions
Preheat the oven to 160°C/320°F (convection heat). For the pretzel base, melt the vegan butter and add it to a food processor along with mini pretzels and plant-based cream. Pulse until the mix gets a fine, crumbly texture. . Grease a tart tin (35 x 11 x 2.7 cm) (13,8 x 4,4 x 1 inch) with vegan butter, add the pretzel base, and press it down do create a tart crust. Prick the dough several times with a fork, then bake the tart crust in the preheated oven for approx 10-12 minutes. Afterward, let it cool out completely.

Spread the peanut mousse over the cooled pretzel crust and smooth it out. Then refrigerate the tart until you're ready for decorating.

In the meantime, melt the dark chocolate in a double boiler and stir in the plant-based cream. Drizzle the chocolate ganache over the peanut butter layer with a teaspoon and create swirls using a toothpick. Garnish with more mini pretzels and chill until serving.
Tip: Depending on how liquid your peanut butter is, it makes sense to let the tart chill in the fridge or freezer before serving. If your peanut mousse is very runny, we recommend freezing it. Just remember to remove it from the freezer approx. 10-20 minutes before serving.