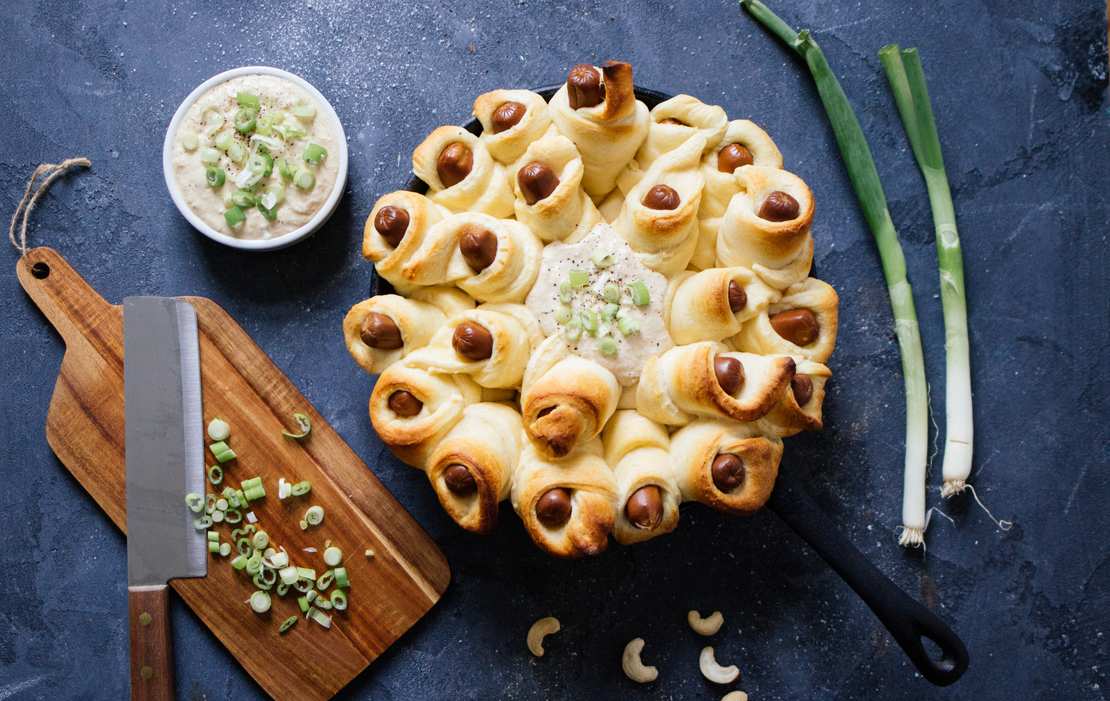 The easiest and fastest party snack ever. If your are planning to have a party with a huge amount of people and your searching for a dish that is somewhere in between "5 bags of crisps" and "too much work", these vegan pigs in a blanket are a goof choice. We really love cooking, but sometimes we need something really, really easy and quick. So this dish is completely vegan, hearty and comes fresh from the oven. You can add your favorite dip in the middle of your skillet, so we made our creamy onion dip. Whatever, this dish works also perfect for your comfy food sunday (btw: so you got the whole skillet for yourself, haha!).
Vegan pigs in a blanket
Ingredients
4 packages ready-made dough for dough croissants (each 6 pieces)
4 packages small vegan sausages (each 6 mini sausages)
0.5 bunch green onions
Instructions
Preheat oven to 190°C/374°F. Roll out the ready-made dough and cut each piece apart. Add one vegan sausage on the end and roll up towards the tip.
Grease a round casserole dish or iron cast pan with some oil. Place all sausages in dough in there. Make sure to arrange them standing next to each other instead of laying them flat on top of each other.
Bake in the oven at 190°C/374°F for approx. 12 – 15 minutes until golden brown. Cover with aluminum foil and bake for another 10-15 minutes. Serve warm with our vegan onion dip!
Vegan onion dip
Ingredients
4 large, yellow onions
2 garlic cloves
1 tbsp plant-based oil
1 tbsp vegan butter
2 tbsp agave syrup
400 g (14.1 oz) silken tofu
100 ml (0.4 cup) plant-based cream for cooking
50 g cashews (1.7 oz), soaked in warm water for at least 30 minutes
1 tbsp cider vinegar
2 slices of jalapenos
3 tbsp nutritional yeast
1 tsp paprika powder
1 tsp cayenne
salt & pepper
Instructions
Peel onions and garlic. Cut onions in thin rings and slightly press garlic with the back of a knife but keep it like this as a "whole" clove. Heat 1 tbsp oil and 1 tbsp vegan butter in a large pan and sauté onions and garlic until they are glazed.
As soon as they turn glazed, add a shot of agave nectar and let it caramelize for some minutes. They should NOT get dark but stay light.
Take a mixer and throw in soft tofu, cashews, vegan sour cream or soy cream, nutritional yeast, jalapenos and cider vinegar. Mix it until it's a smooth unity.
Now add about 3/4 of your onion-garlic-mix (put the rest beside for later). Start mixing again until everything is a delicious mash.
Season with salt, pepper, paprika and cayenne and top with the remaining fried onions.
*This is an affiliate link.