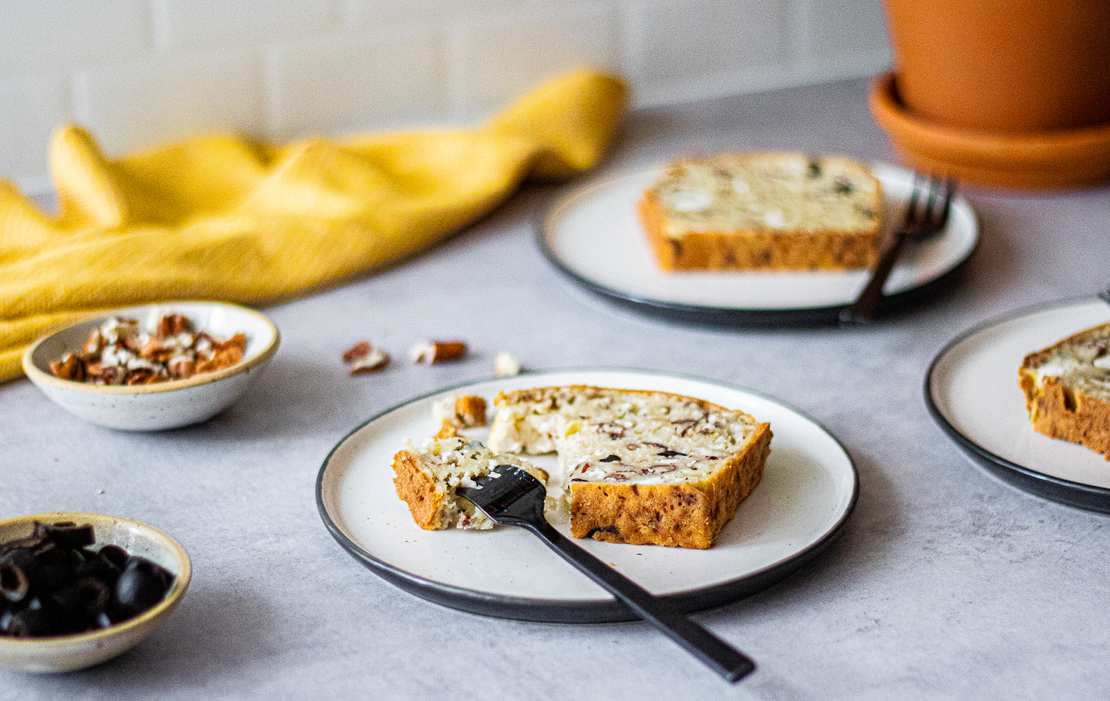 Vegan Zucchini Bread with Plant-Based Feta and Pecans
A zucchini recipe in our pumpkin theme week? Yes, you read correctly! Zucchini is a subspecies of the garden squash and belongs to the pumpkin family of plants, which is why they fit perfectly into our week.
This recipe is perfect for many occasions: a leisurely Sunday brunch, a Sunday picnic, or during your afternoon as a hearty snack. This zucchini bread just always fits! You can vary the ingredients as you want. If you don't like pecans or can't tolerate them, you can use walnuts, almonds, or other nuts instead. The black olives can also be replaced with green ones or omitted altogether. Only when it comes to the vegan feta, it's super important to use a nut-based one, not one based on coconut oil. The latter melts when it gets hot, making your bread mushy inside. Therefore, be sure to take a look at the ingredient list beforehand!
The preparation is otherwise really easy. First, the zucchini are coarsely grated and mixed with the remaining ingredients. Then, the batter is baked, and you can enjoy the bread. As a form, we have used a 25 cm (10 inches) long loaf pan. It will also work if you have a smaller or round baking pan, but the baking times will change. If you tried out this recipe with other baking pans, we're always curious to hear about your experiences in the comments below.
The bread tastes best when it's fresh out of the oven and still warm, crispy on the outside, and soft on the inside – GLORIOUS! But of course, it still tastes good the next day. You can also put it back into a contact grill, the toaster, or the oven to warm it again. And it also tastes delicious with a topping like vegan cream cheese or another plant-based spread. There are no limits to your creativity!
We also have other bread recipes on the blog – for example, if you prefer a classic bread such as sunflower bread with chia and onion bread. And suppose you are now in an absolute pumpkin fever like us, we also have an excellent recipe selection for you: we published brand new recipes for a vegan pasta pumpkin casserole with rigatoni and vegan pumpkin whoopies in the last days.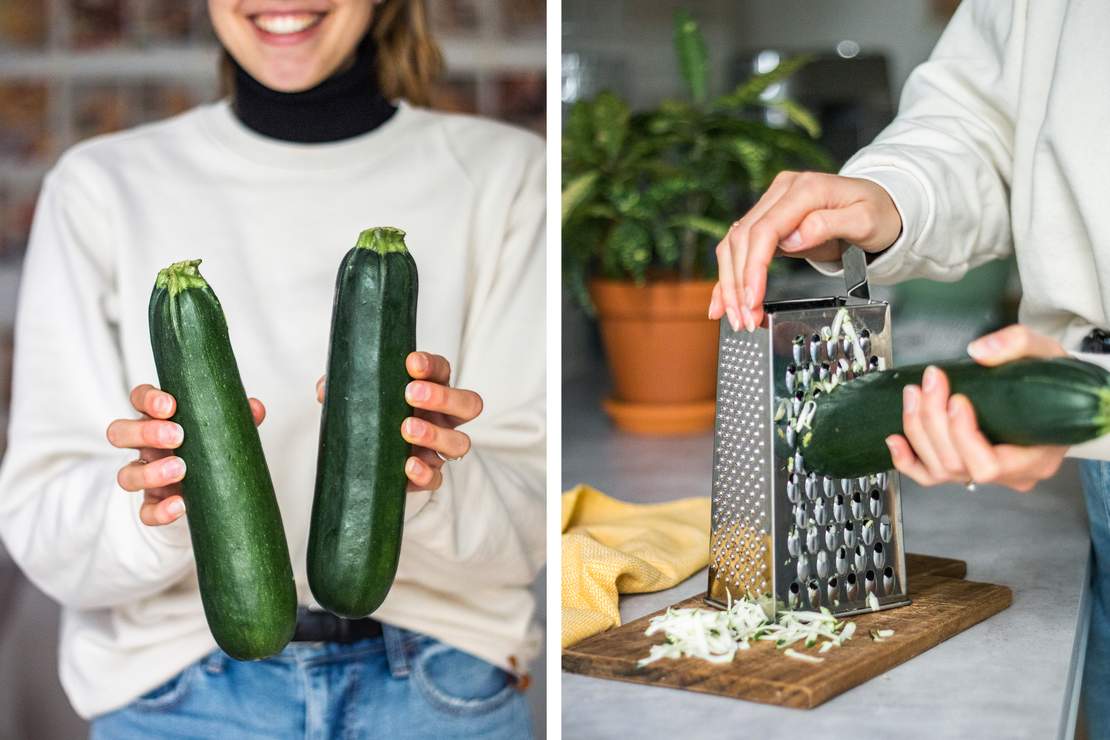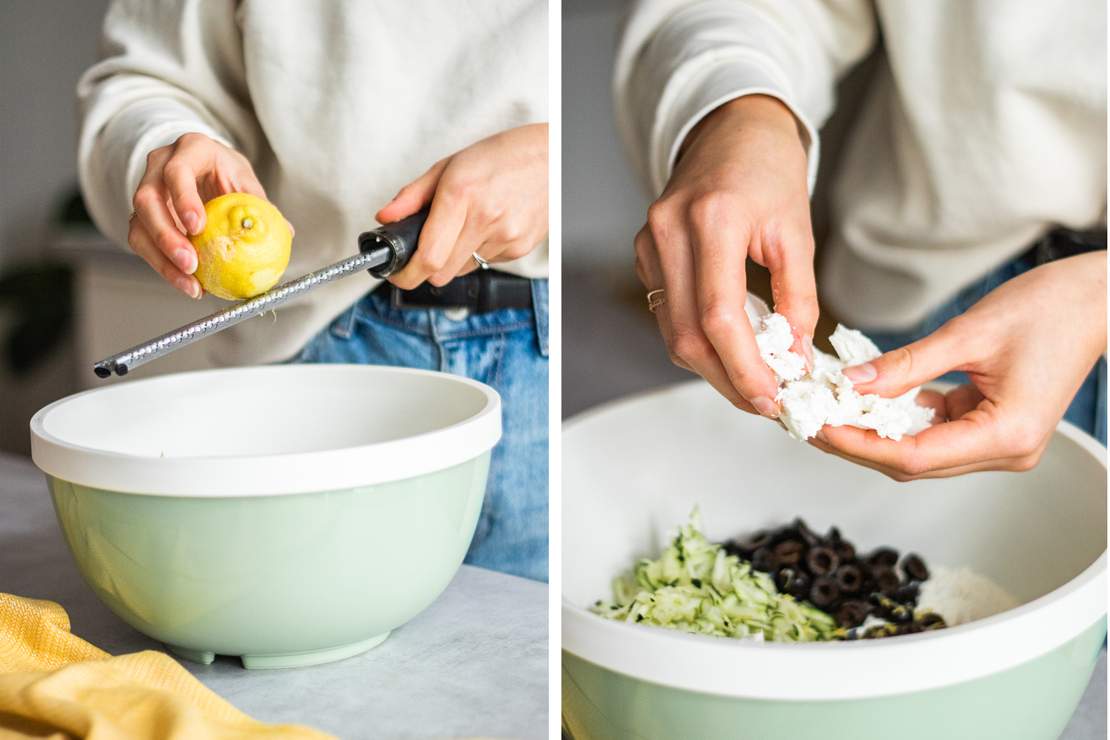 Vegan Zucchini Bread with Plant-Based Feta and Pecans
1 loaf pan (25 cm / 10 inches)
15 minutes (+ 70 minutes baking time)
Ingredients
400 g (3.25 cups) wheat flour (type 405) or spet flour (type 603)
10 g (2 tsp) baking powder
2 tsp salt
100 g (3.5 oz) pecans
50 g (1.66 oz) black olives
200 g (7 oz) zucchini
0.5 lemon (zest)
400 ml (1.75 cups) plant-based milk
1 tbsp olive oil
300 g (10.5 oz) vegan nut-based feta cheese
Instructions
Preheat the oven to 180°C/355°F (convection heat). Add flour, baking powder, and salt to a large bowl. Chop pecans and add them to the dry mixture.

Halve olives, coarsely grate the zucchini, finely grate lemon zest, and add them to the bowl along with the plant-based milk and olive oil. Mix well until combined.

Lastly, cut the plant-based feta into small pieces or crumble it with your hands. Add it to the other ingredients and gently fold in.

Transfer the batter to a greased baking pan and bake for about 70 minutes at 180°C/355°F (convection heat). Test the doneness of your zucchini bread with a wooden skewer. To do so, insert a skewer into the cake at an angle and pull it out. If there's no batter sticking to it, the bread is done. Be aware that the plant-based feta may leave some "residue" on the skewer. Remove the bread from the oven and let it cool out completely.