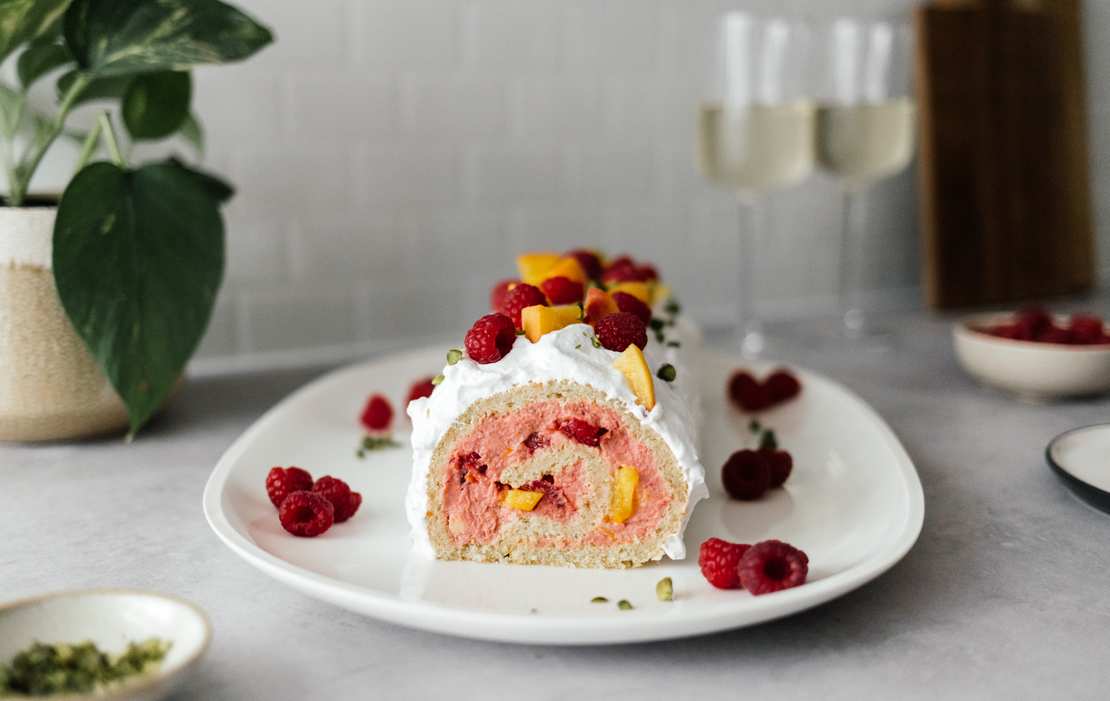 Vegan Raspberry and Peach Melba Swiss Roll
I must admit that I was a bit afraid of this recipe because I've never baked a Swiss roll and certainly not a vegan one. Usually, this isn't a problem because most cakes and recipes can be veganized very easily. However, the unique detail about a Swiss roll is that the cake must be particularly elastic and must not be baked too short or too long so that it doesn't break during the rolling process. This elasticity is usually easily achieved by adding eggs – without them, this seemed to be a rather difficult task.
But after quite a few test attempts, many cracked Swiss rolls, and a bit of research, it turned out great – a delicious, fruity Swiss roll, easy to roll, stable, and most importantly, easy and quick to prepare. The only prerequisite is to follow the recipe exactly and roll your Swiss roll carefully with a bit of an intuitive feeling.
The basis for your Swiss roll is a dense, vegan sponge cake that bakes in the oven for about 15-20 minutes. Perfect timing is essential here, as your sponge cake base shouldn't be too dry but also not too soft – otherwise, it won't roll well. It's best to remove it from the oven when it's still very light in color but starts to develop a light tan. The "towel trick" is also helpful for the perfect Swiss roll, which I will describe to you in more detail during the preparation below.
For the filling, I opted for summery, fruity peaches and raspberries. To avoid it becoming too liquid, I thickened it with agartine. There's also a bit of prosecco in the filling, making it taste even lighter and just deliciously summery! We like to use the vegan Prosecco Spumante by La Gioiosa because it's not only great for drinking a toast to somebody but also pairs well with food. "La Gioiosa" has been specializing in high-quality sparkling wines for many years and pays a lot of attention to sustainability in the cultivation, production, and packaging of their wines. In addition, they don't use any additives of animal origin in the production of their Proseccos, such as chicken protein, gelatine, or casein, which means that their Proseccos are all vegan certified. You can find their Prosecco Spumante and other wines here.
But back to the Swiss roll. I garnished it with some more vegan whipped cream, fresh fruit as well as chopped pistachios. Afterward it went straight to the buffet of our "Zucker&Jagdwurst" birthday party, where it (and the leftover Spumante) sweetened our evening. If you don't have as many busy eaters at the cake table, your dessert roll will keep for several days in the fridge.
By the way, if you've looked at the ingredient list and are wondering what xanthan gum is, let me explain it briefly here. Xanthan gum is a naturally occurring fiber used as a thickening and gelling agent and was actually the key ingredient that kept the vegan Swiss roll from breaking in the end. You can find it in organic food stores, pharmacies, drugstores, and larger supermarkets.
Vegan Raspberry and Peach Melba Swiss Roll
Ingredients
For the batter:
160 g (1.25 cups) wheat flour type 405
90 g (0.5 cup) sugar
50 g (0.5 cup) cornstarch
230 ml (1 cup) plant-based milk
50 ml (0.25 cup) vegetable oil
1 tbsp apple cider vinegar
1.5 tbsp baking powder
0.5 tsp xanthan gum
0.5 tsp ground vanilla
For the filling:
350 g (12.5 oz) canned peaches
300 g (10.5 oz) plant-based cream cheese
40 g (0.25 cup) sugar
30 g (1 oz) agartine (30 % agar-agar)
100 ml (0.5 cup) Prosecco (e.g. from la Gioiosa)
100 ml (0.5 cup) whippable plant-based heavy cream
4 g (1 tsp) cream stiffener
4 g (1 tsp) vanilla sugar
200 g (7 oz) raspberries
1 peach
30 g (1 oz) freeze-dried raspberries
40 g (0.33 cup) confectioner's sugar
For the topping:
100 ml (0.5 cup) whippable plant-based heavy cream
4 g (1 tsp) cream stiffener
4 g (1 tsp) vanilla sugar
50 g (2 oz) raspberries
1 peach
1 tbsp chopped pistachios
Instructions
Start by preparing the filling. Drain canned peaches and blend them with plant-based cream cheese and sugar in a bowl. Mix prosecco with agartine and heat in a pot until it thickens a bit. Then gradually add the blended peach and cream cheese mixture to the pot and let it simmer for at least 2 minutes, constantly stirring to avoid any burning or clumps. Remove the pot from heat and let the mixture cool down completely.

For the cake, preheat the oven to 180°C/355°F (top and bottom heat). Add flour, sugar, cornstarch, baking powder, xanthan gum, and ground vanilla to a large bowl and mix thoroughly. Add plant-based milk, vegetable oil, and apple cider vinegar and mix until there's no dry flour visible anymore. Spread the batter on a lined baking sheet into a large rectangle. It's usual for the batter to be relatively thick. Bake for approx. 15-20 minutes, or until the dough is starting to brown. Then remove the cake from the oven and let it cool down.
Tip: As soon as the cake comes out of the oven, wrap it with two damp kitchen towels. To do this, lay one of the towels on your work surface, flip the baked cake on the towel and cover it with the second towel. Next, gently roll up the dough with the towels and let it cool for about 10 minutes until it's almost at room temperature.
While the cake is baking in the oven, beat the vegan heavy cream for the filling and topping with cream stiffener and vanilla sugar until stiff. Wash and chop raspberries and peaches and finely chop pistachios.

Once the peach and prosecco cream has cooled completely, blend it until smooth. Next, fold in half of the whipped cream, confectioner's sugar, and freeze-dried raspberries.

Once the cake base is cooled down slightly, carefully unroll it, remove the kitchen towels, and spread the peach and raspberry filling on top of the cake base. Leave a wide rim free on one short side, as the cream will be pushed out a bit when you roll up the cake anyway. Arrange the raspberries and peaches on top of the cream. It looks best to arrange them in strips parallel to the side from which you are rolling up the cake base.

Finally, roll up the cake base, starting from the short side that's completely covered with cream and berries up to the edge.

Spread the remaining vegan whipped cream on the Swiss roll and garnish it with fresh raspberries, peaches, and chopped pistachios. Refrigerate until serving. The Swiss roll will keep for several days in the fridge.