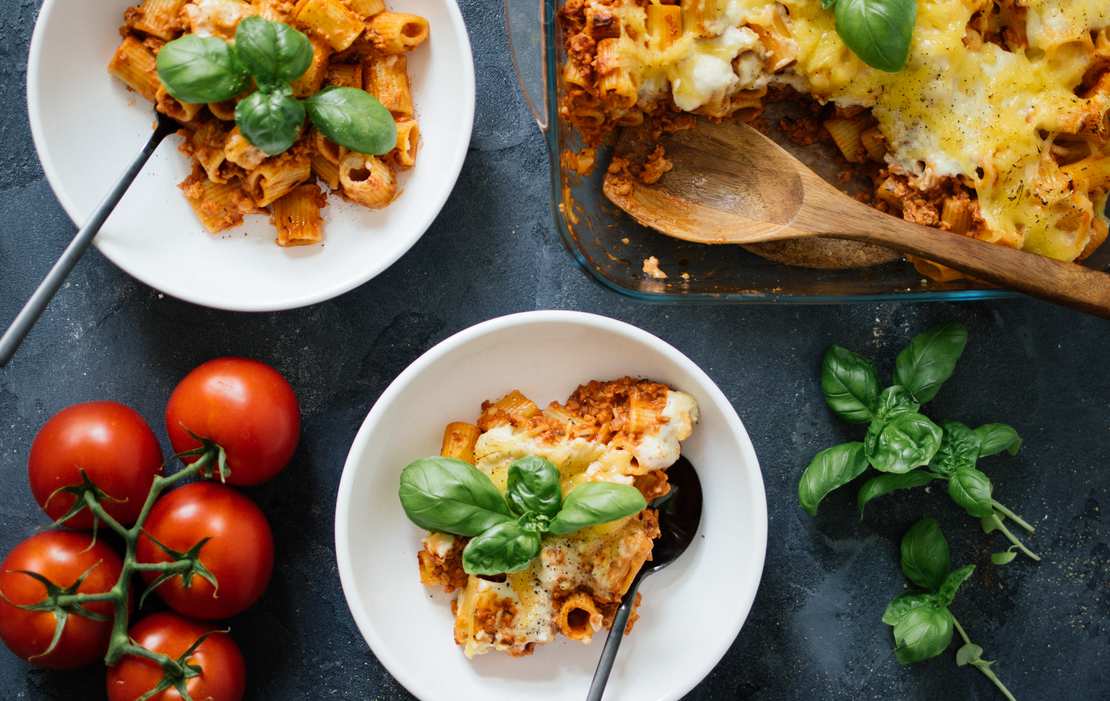 Vegan Rigatoni Al Forno (Italian Pasta Bake)
It would be a beautiful story if I discovered 'Rigatoni A Forno' on my last vacation in Italy. But unfortunately, the truth isn't as romantic as that: When I was a kid, I loved to order this Italian casserole from our pizza delivery service. I did this quite often and loved to eat the pasta directly out of the aluminum box. Like I said, not that glamorous.
I always liked the idea of the dish: pasta, meat sauce, and mozzarella cheese. So simple and so good! So I was surprised, that I've never made Rigatoni Al Forno completely plant-based yet. And it's even so easy to veganize! We used soy granulate instead of meat and a vegan cheese sauce (optional you can add plant-based grated cheese on top) instead of the mozzarella cheese. That's it!
Additionally, we used tapioca starch for a chewy texture of the cheese sauce. Tapioca is entirely tasteless, made of cassava and thickens sauces so they become super gooey. So let the magic begin, friends!
Vegan Rigatoni Al Forno
Ingredients
500 g (17.6 oz) rigatoni pasta
oil for greasing the casserole
fresh basil leaves for serving
vegan meat sauce
150 g (5.5 oz) fine soy granules
1 tbsp powdered veggie stock
3 tbsp vegetable oil
1 onion
1 garlic clove
1 tbsp agave syrup
2 tbsp tomato paste
a sip of vegan red wine
1 tsp dried oregano
0.5 tsp dried thyme
0.5 tsp paprika
500 ml (2 cups) sieved tomatoes
250 ml (1 cup) plant-based cream for cooking
salt
pepper
plant-based cheese sauce
3 tbsp flour
3 tbsp plant-based butter
250 ml (1 cup) plant-based cream for cooking
1-2 tbsp nutritional yeast
2 tsp tapioca starch
100 g (3.5 oz) vegan grated cheese
2 tbsp vegetable oil
2 tbsp water
salt
pepper
Instructions
vegan meat sauce
Soak soy granules in boiling water, add powdered veggie stock and wait for 5-10 minutes or until the granules are soft. Stirring occasionally. Afterwards, squeeze as much water out of the soy granules as possible.
In the meantime, peel and finely dice garlic clove and onion.
Heat vegetable oil is a large frying pan and fry garlic and onion for approx. 3 minutes or until translucent. Now add soy granules and roast for another 10 minutes, until soy granules is browned.
In the meantime, cook pasta according to package instructions.
Add agave syrup, a splash off red wine and tomato paste to the soy meat in the frying oan and let simmer for 2 minutes. Now add sieved tomatoes and vegan cream and mix everything. Season with salt, pepper, thyme, and oregano to taste.
Add the cooked pasta into the pan, mix well and season to taste again.
vegan cheese sauce
Melt plant-based butter in a small pot. Now add flour and keep stirring all the time.
Mix in the vegan cream to get a smooth, white sauce.
Add tapioca starch, nutritional yeast, salt, and pepper. Stir to combine and set aside.
In a small bowl, mix the plant-based grated cheese with oil and water. This way, the vegan cheese melts much better.
Baking
Grease the casserole with vegetable oil. Add the pasta-sauce-mixture and spread the vegan cheese sauce evenly on top of the pasta. If used, sprinkle vegan grated cheese on top.
Bake casserole at 180°C/350°F for 20 - 25 minutes until the vegan cheese crust is golden brown.
When the casserole is done, remove from the oven and let it rest for ten more minutes to cool down a little bit. Serve with fresh basil.