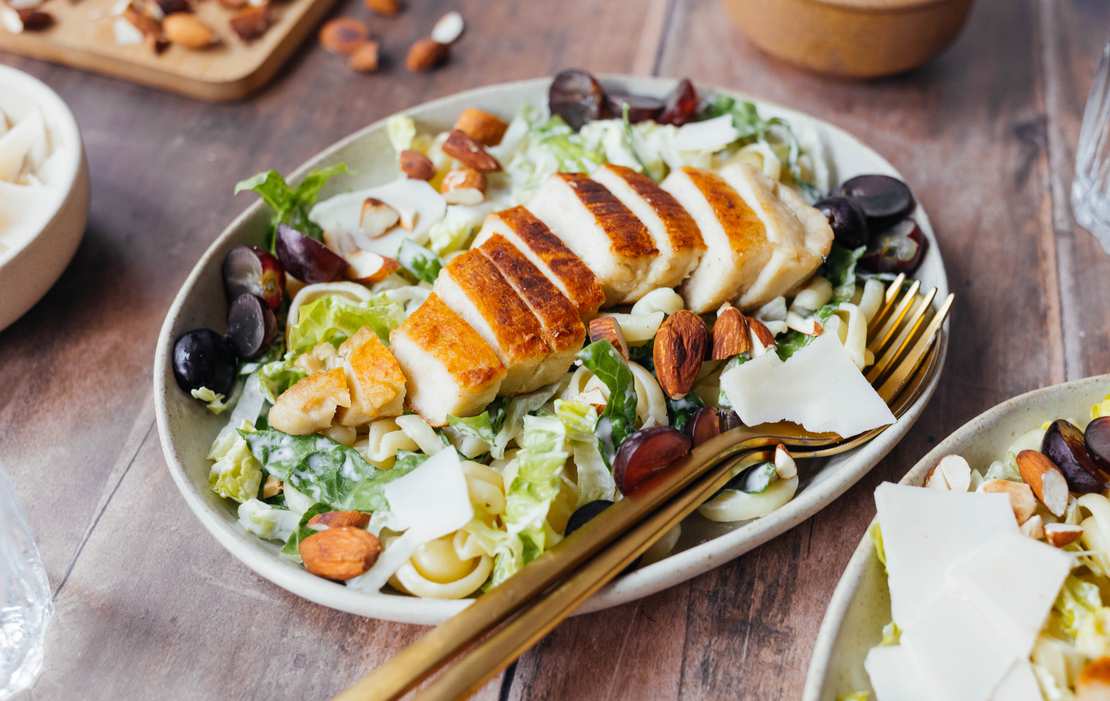 When it comes to food, spring is a confusing time. We still hang on to comforting dishes like casseroles, pasta and stews; on the other hand, fresh salads and soups are fighting for our attention. Especially in February and March, we can't decide whether to trust the first sunny days and pack up our casserole dish or plan another vegetable stew with potatoes for the next week. Relationship status: complicated!
Buuuut obviously, we found a solution for the mess, and it's called "combining, combining and combining". Why choose between salads and warm, comforting dishes when we can have both? This lukewarm caesar salad pasta is the best proof. It combines crunchy lettuce, toasted nuts, sweet grapes, crunchy croutons, a creamy dressing and pasta. Is it a pasta salad? Is it a pasta dish? You decide!
We used the "Volanti Emmer Pasta", red wine vinegar and plant-based mayonnaise from byodo (https://www.byodo.de/index/?mtm_campaign=kooperation&mtm_kwd=zj-pasta-feb-23-homepage&mtm_source=zuckerjagdwurst&mtm_medium=rezept&mtm_content=homepage) for the pasta salad. If you've never tried volanti pasta (https://shop.byodo.de/search?search=volanti), we highly recommend you to. It's great for casseroles, salads, and dishes with lots of sauce. Due to the unique shape of a "flying saucer" (ital.: volanti), it absorbs a lot of sauce. Furthermore, it is made from 100 % organic ingredients and packaged in paper, which we find particularly great. By the way, the name of the pasta comes from the Italian emmer semolina, which is actually also the only ingredient of the pasta. By the way, you can find all pasta varieties from byodo here (https://shop.byodo.de/Italienische-Pasta).
Vegan Caesar Salad Pasta
Ingredients
For the pasta:
400 g (1 lb) short pasta (e.g. Volanti Emmer from byodo)
1–2 hearts of romaine lettuce
150 g (0.33 lb) plant-based parmesan block
400 g (1 lb) vegan chicken filets
100 g (0.25 lb) almonds
250 g (0.5 lb) red grapes
For the croutons:
5 tbsp garlic oil
4 slices of white bread or toast
For the dressing:
200 g (0.5 lb) plant-based mayonnaise (e.g. from byodo)
150 g (0.33 lb) plant-based sour cream
1 tsp Worcestershire Sauce
1 tsp mustard
1 clove of garlic
2–3 tbsp red wine vinegar (e.g. from byodo)
0.5 lemon
water
salt
pepper
Instructions
Prepare the pasta according to the package instructions. While you bring the water to a boil and the pasta is cooking, finely slice the romaine lettuce, coarsely grate the Parmesan and halve the grapes.

Toast the almonds in a grease-free pan and chop them coarsely. Next, add some vegetable oil to the pan and fry the vegan chicken filets until crispy, then cut into slices.

To prepare the croutons, heat garlic oil in a pan. Cut the bread into cubes and sear. Afterward, drain on a paper towel.

For the dressing, finely chop the garlic clove and squeeze the juice of one lemon. Mix the plant-based mayonnaise, plant-based sour cream, Worcestershire Sauce, mustard, garlic, lemon juice, salt and pepper. Add a little water at the end, so the dressing pours easily over the salad.

Serve pasta in a large bowl with romaine lettuce, parmesan cheese, red grapes, vegan chicken, almonds, croutons and the dressing.