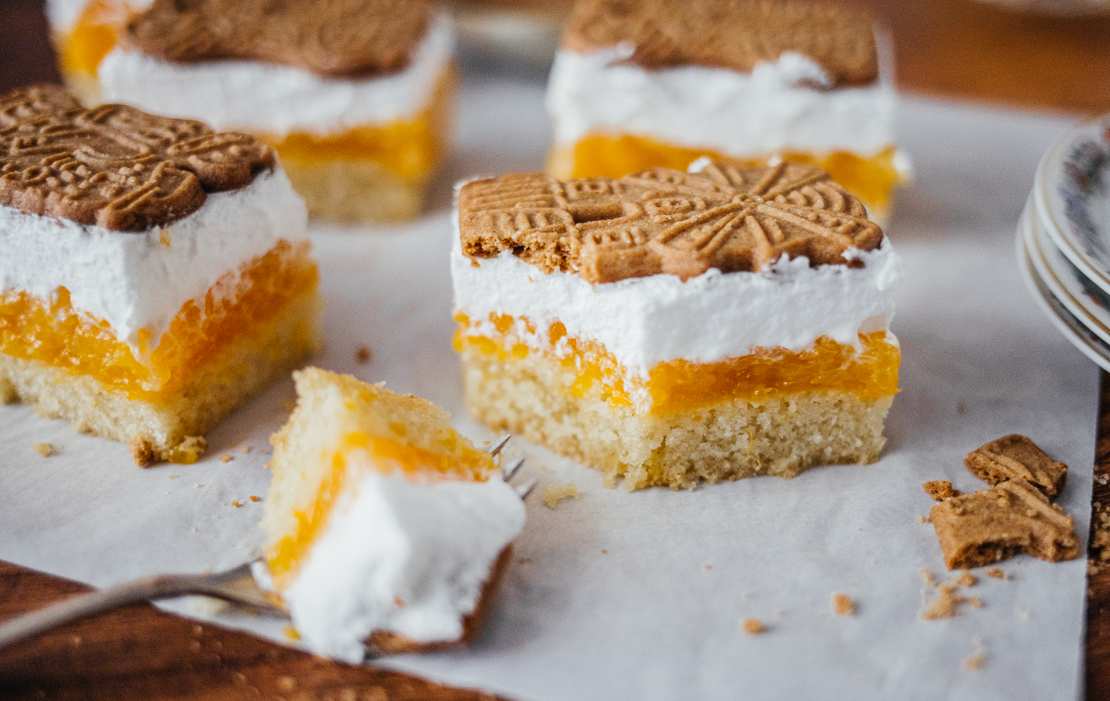 Vegan Speculoos Tangerine Cake
When I think of Christmas cakes, not so many come to mind. Is Christstollen even a cake? And isn't gingerbread more of a cookie? Even in our own Christmas recipe section, there are only two recipes: Spice Cake and Speculoos Cake, a rather sad collection. But that's history! Our latest addition is wonderfully fruity, light and fluffy.
Tangerine speculoos cake is a cake I did not know existed. But when I saw pictures on the Internet, I knew I had to make a vegan version. There were so many versions that I was nothing but astonished as I had never seen it before. But now, after making it several times, I'm equipped to say it is a delicious and simple cake for the Christmas season. But let's take it step by step:
The sponge cake batter: a soft bed for our layers. I prepared a basic sponge cake batter. It's supposed to give the cake stability, so it's easier to cut into slices later. Of course, you could also make yeast dough instead. For baking, I used a square pan (22 x 28 cm/8,5 inch x 11 inches). You can also use a small springform pan instead.
The tangerine layer: I used canned tangerines for this recipe, but you can also use fresh ones. To turn the tangerines into a creamy and gooey fruit layer, we boiled them down with the brand new Hygge Punsch Apple Tangerine from Voelkel. By using this flavorful punch, we didn't need to buy extra spices. The punch contains cinnamon, coriander, anise, cloves, cardamom, ginger, and the like. So instead of buying a lot of spices and taking a long time seasoning, we boil the tangerines and the punch briefly and end up with a Christmassy fruit layer, free of artificial flavors or dyes. Incidentally, the tangerines for the punch come from a project that buys explicitly from small family farms and harvests the fruit at the peak of its flavor expression. They are pressed on-site and transported to Germany by ship in an environmentally friendly manner.
The cinnamon cream: When developing the recipe, I tried two different kinds of cream topping – one with cinnamon and the other one without it. As a result, the office split into two opposing groups: Those who loved the cinnamon and those who thought it was "too Christmassy". So feel free to decide whether to add cinnamon to the whipped cream or not. I was also a big fan of the cinnamon whipped cream.
The speculoos layer: The most simple layer, because at the end all you have to do is to putspeculoos cookies on your vegan cream layer, that's it! When shopping, make sure to buy vegan speculoos because they often contain butter or milk. With spiced speculoos, it's often easier, but better recheck the ingredient list to be on the safe side.
After you have prepared all the layers, you can quickly assemble them. We used a square baking frame and let the cake sit in the fridge overnight. It helps soften the speculoos cookies, so you can quickly go through them with your cake fork. If you don't have a square baking frame at home, you can layer your cake in a baking dish.
Vegan Speculoos Tangerine Slices
18 slices
45 minutes (+ 20 minutes baking time + 60 minutes cooling time)
Ingredients
For the sponge cake::
225 g (1.75 cups) wheat flour type 405
150 g (0.75 cup) sugar
8 g (1,5 tsp) vanilla sugar
5 g (1 tsp) baking powder
50 ml (0.25) neutral plant oil (rapeseed or sunflower oil)
250 ml (1 cup) sparkling water
For the tangerine layer:
500 g (1 lb) canned tangerines (drained weight)
400 ml (1.75 cups) Hygge Punsch Apple Tangerine (e.g. from Voelkel)
3 tbsp cornstarch
For the whipped cream:
400 ml (1.75 cups) vegan cream for whipping
optional: 2 tsp. cinnamon
16 g (1.5 tbsp) vanilla sugar
16 g (2 tbsp) cream stiffener
Also:
approx. 20 speculoos cookies
Instructions
Preheat oven to 180 °C (convection heat). Add wheat flour, sugar, vanilla sugar and baking powder to a bowl for the sponge cake and mix well with a whisk. Add vegetable oil and sparkling water and mix briefly until combined. Pour the batter into a greased pan (22 x 28 cm/8,5 inch x 11 inches) and bake for about 20 minutes. Then let cool completely.

For the tangerine layer, drain the tangerines and boil with the punch in a saucepan. Mix the cornstarch with a bit of liquid until smooth and add it to the pot. Simmer for about 5 minutes until the tangerines break down and the mixture thickens. Allow cooling completely.

Whip the plant-based cream with cinnamon (optional), vanilla sugar, and cream stiffener, and store in the refrigerator until you are ready to layer.
Tip: If you want to work extra clean, it's best to remove the edges of the sponge dough. However, this is optional, it just looks a little prettier.
Place the sponge cake in a baking frame and spread the tangerine layer evenly on top. Next, add the whipped cream and smooth it out as well. At last, place the speculoos cookies on top of the cream, side by side.

Let the cake sit in the refrigerator overnight and serve it the next day. This way, the speculoos cookies will be a little softer, making the cake easier to eat.