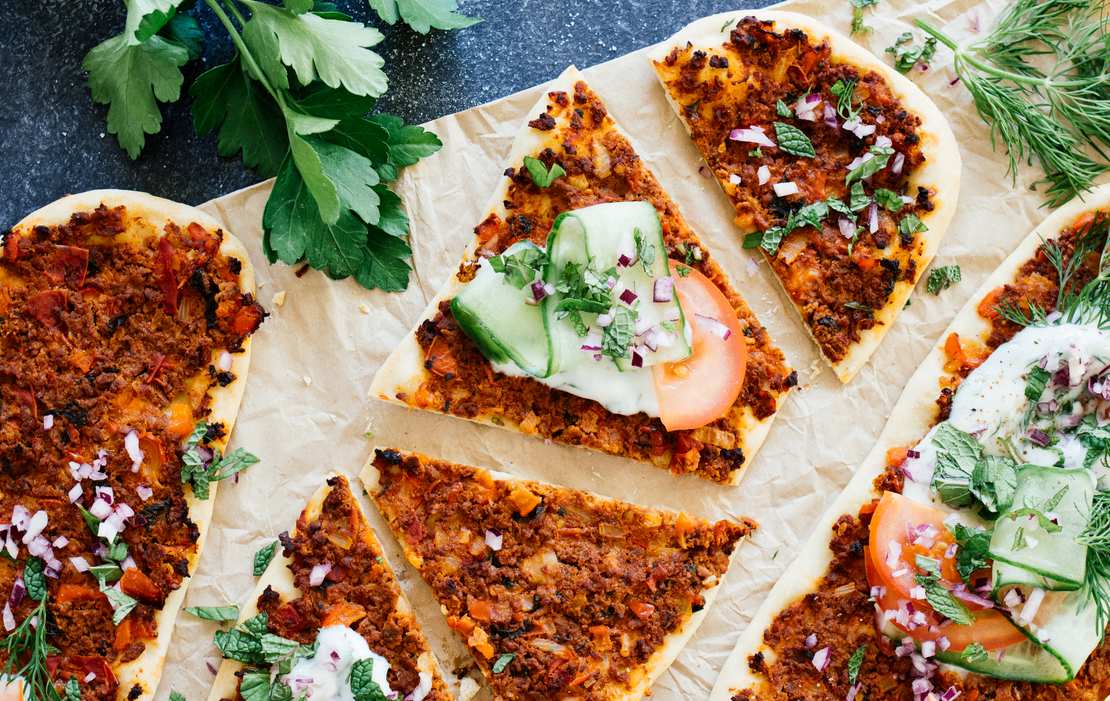 Vegan Turkish Pizza with herb yogurt sauce
When I was young, Turkish pizza was one of my favorite take-away-foods when I was alone at home, or spend Saturday nights with my friends in Berlin. However, I never came across a meat-free version, so we developed a plant-based recipe for a pizza that is actually no classic kind of pizza. It takes a little longer than the to-go version but tastes twice as good!
Our recipe is perfect for sharing with family and friends or for a lazy evening on the couch. We recommend 1-2 Turkish pizzas per person. You can prepare the dough and the filling the evening before (or a few hours in advance) and simply spread the filling on the dough right before baking. The baking time is only 15 minutes, and after that, you just top the pizzas with sliced cucumber, tomatoes, and a homemade herb yogurt sauce. For the "meat" sauce you can either use vegan (read to use) "minced meat", which you only have to fry or fine soy granulates, which you soak in hot vegetable broth. Both products work fine, but you have to plan a little more time with the soy granulates and make sure that you press out the liquid very well before frying. If you want a soy free version, you can leave out the meat substitute and simply coat your dough with a tomato and bell pepper filling. Simply replace the "meat" with more veggies.
LUVE supported us with this recipe. We made a delicious and simple herb yogurt sauce based on lupine yogurt, which has a wonderfully mild taste and is super creamy. Like all LUVE products, the Lughurt is made from local lupines (from Mecklenburg-Western Pomerania) and thus supports regional agriculture. It is also lactose, soy, and GMO-free! You can find LUVE products e.g. at EDEKA, real, Kaufland, Aldi Nord, Veganz, or online delivery services.
Vegan Turkish Pizza with herb yogurt sauce
Ingredients
dough
125 ml warm water
0.5 tsp sugar
21 g fresh yeast
250 g flour
0.5 tsp salt
1 tbsp olive oil
soy mixture
1 onion
1 garlic clove
2 big tomatoes
0.5 bell pepper
5 g fresh parsley
vegetable oil
300 g vegan minced meat
3 tbsp tomato paste
1 tsp mustard
1 tsp sweet paprika powder
1 tsp thyme
1 tsp ground cumin
salt & pepper
herb yogurt sauce
5 g fresh parsley
5 g fresh dill
5 g fresh mint
2 garlic cloves
200 g plant-based yogurt (e.g., LUVE Lughurt)
1-2 tsp of fresh lemon juice
salt & pepper
toppings
1 tomato
0.25 cucumber
0.5 red onion
1 lemon
fresh herbs for topping (parsley, mint, dill)
Instructions
dough
Put the lukewarm water and sugar in a bowl and crumble the fresh yeast into the water. Set aside for 10 minutes.
Gradually add the flour, salt and oil and knead well. Cover the bowl with a damp cloth and let rise for 30 minutes in a warm place.
soy mixture
In the meantime, prepare the soy mixture. Peel and chop the onion and garlic. Wash the bell pepper and tomatoes and cut them into small pieces. Wash and chop the parsley.
Heat vegetable oil in a large pan and sauté onion and garlic for 2-3 minutes.
Add the vegan "minced meat" and fry for 3-4 minutes. Add the bell pepper and tomatoes and fry for another 2-3 minutes.
Now add the tomato paste and mustard and add all the seasonings. Also add the chopped parsley.
Herb yogurt sauce
Wash and finely chop herbs. Peel the garlic cloves.
In a small bowl, mix the plant-based yogurt with fresh herbs and add garlic cloves using a garlic press.
Season with salt, pepper, and fresh lemon juice.
Topping & Baking
Preheat the oven to 180°C/350°F (air circulation). Knead the dough again on a floured surface and roll out to 4 flatbreads (5 mm thick).
Spread 2-3 tablespoons of the soy mixture on each flatbread and bake at 180°C/350°F for 10-15 minutes.
Prepare the toppings during the baking time. Wash and slice the tomato and cucumber and peel and dice the onion. Top with fresh herbs, fresh lemon juice and herb yogurt sauce.