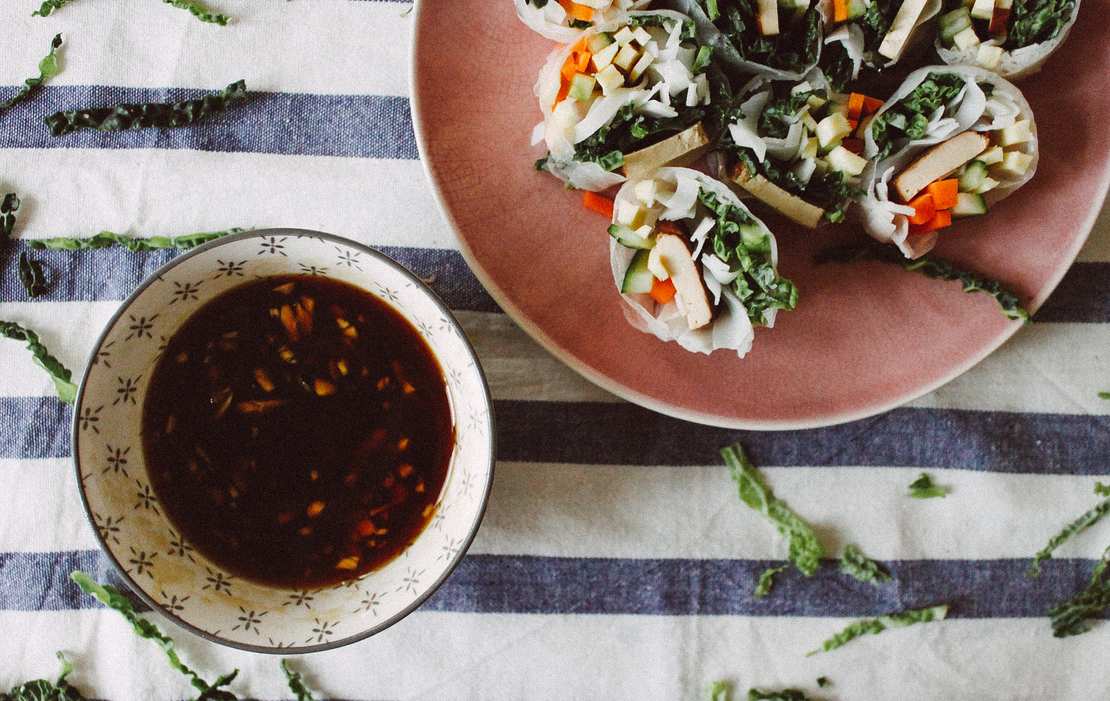 Vegan Winter Rolls with Quince Dip
Summer rolls are some of our golden oldies! They are light, fresh but still fill you in a nice way. The often get punished by served only as starters. But hey, dear rolls, we truly love you, in summer and in winter. We serve you on a golden plate – most likely with several dips to make you feel welcome.
And to appreciate you, we want to dress you in a nice winterly coat. We stuff it with all veggies in season, e.g. savoy, carrots and parsnips. Just look what you get, because rice paper can be stuffed with nearly everything. By the way, you can get rice paper and rice noodles nowadays in supermarkets but we can only recommend to visit your local Asian supermarket. You'll be surprised what they offer and get out with a lot more food that you wanted. And of course you can also use glass noodles and choose whether you want thick or thin ones.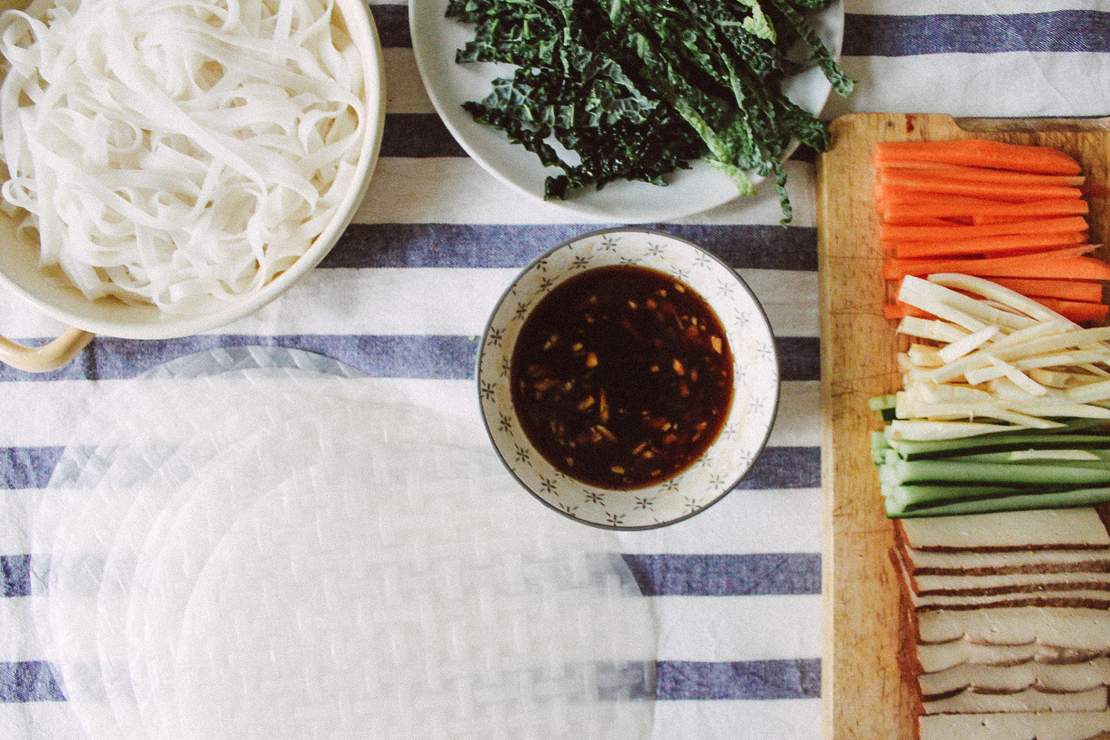 Vegan Winter Rolls with Quince Dip
Ingredients
8 sheets rice paper
200g (7 oz) rice noodles
3 large leaves of savoy
200 g (7 oz) tofu (e.g. smoked tofu)
1/2 cucumber
3 carrots
3 parsnips
1 tbsp sesame oil
FOR THE DIP
2 tbsp quince marmelade
1 tbsp soy sauce
1 small piece of ginger
1 tsp rice vinegar
1 tsp lime juice
Instructions
Preparation is the most important thing with summer or winter rolls, so start by washing, and cutting all veggies into thin stripes. If desired, peel carrots and parsnips.
To get even rolls in the end, you should mind cutting all veggies similar sized. The easiest way is to orient this around the length of the tofu. Which, by the way, you should also cut into thick stripes.
Prepare noodles according to their type and instruction. If you also use rice noodles, place them in a pot, pour over boiling water and let them stand aside for 8-10 minutes until they are done. Afterwards, pour off water and add a little sesame oil so they won't stick together.
Time to roll! Take out a large pan or bowl that's big enough for the rice paper. Pour in hot water and place a rice paper in it for about 30 seconds until it's soft. It should not be too soft, so it does not rip later.
Put your soft rice paper on a nice underlay and place tofu, noodles and veggies in the middle of the low third part of the paper.
Fold both sides to the middle and roll up the winter roll, starting at the bottom. Make sure to roll it nice and tight, so it won't fall apart in the end. The more summer or winter rolls you eat and prepare, the better you'll get and if there's a small rip, whatever! They will still taste great!
For the dip, peel und finely dice ginger. Mix together all ingredients and add ginger.
Serve winter rolls together with dip.