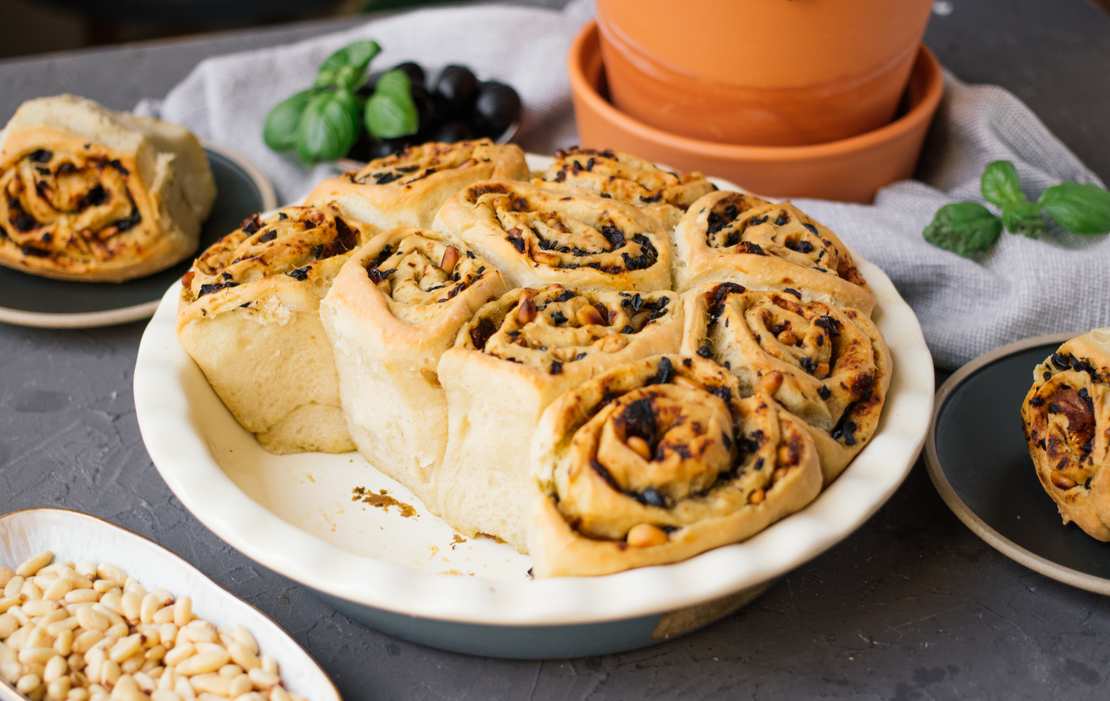 Your not a big fan of sweets for breakfast, and you can't go without cheese and sausages? Uh, yay. We can feel that. So here is a recipe for all the dough-rolling-sporties, who love it hearty. When it's all about preparing finger food for a party, we often forget the hearty part of it. Cakes, muffins, and donuts all over the buffet (We love you all, don't worry!). So fill your rolls with the ingredients you love. Therefore you need a good working yeast dough. You need instruction for that? No problem. You can find everything you need for the yeast dough here and below.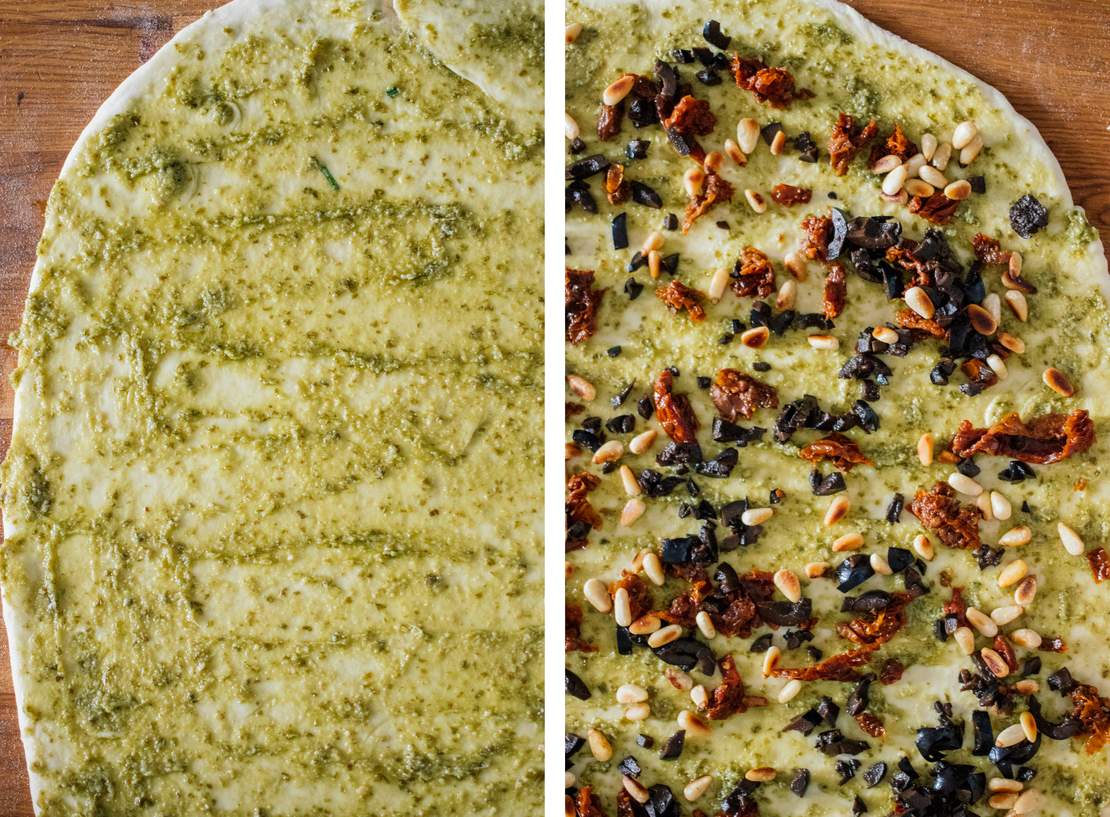 Vegan Yeast Dough
1 serving
30 minutes (+ at least 2 hours to rest)
Ingredients
15 g (0.5 oz) fresh yeast
375 ml (1.5 cups) lukewarm water
1 tbsp brown sugar
550 - 600 g (19 - 21 oz) flour
1 tsp salt
40 g (1.5 oz) coconut oil
Instructions
Dissolve the fresh yeast in warm water with brown sugar in a large mixing bowl. Wait for ten minutes. The yeast should swell and rise to the water surface.
Heat coconut oil, wait until lukewarm and add it to the bowl.
Gradually add 400 g (14 oz) flour, mix well and add salt. The dough should be very sticky.
Cover bowl with a damp kitchen towel and let rise for at least one hour. After this time you should see small bubbles on the surface, and your dough should be doubled in size.
Now add the rest of the flour until you can form a big ball out of dough. Knead the dough for some more minutes and let rise for another hour on a warm and dry place. The dough should rise for the second time. Now use the vegan yeast dough as desired.
Warm Pesto & Olive Rolls
Ingredients
1 yeast dough (recipe on the blog)
FOR TOPPING:
100 g (3.5 oz) black olives
100 g (3.5 oz) sun-dried tomatoes in oil
50 g (2 oz) pine nuts
150 g (5.5 oz) vegan pesto of choice
Instructions
Start by preparing the yeast dough, but for this recipe, feel free to increase the salt amount from 1 tsp to 2 tsp.  

  While the yeast dough is rising for the second time, prepare the toppings. Slice black olives and finely chop sun-dried tomatoes. Toast pine nuts in a fat-free frying pan.
 

  Roll out yeast dough into a large rectangle, approx. 0.5-cm thick. Spread vegan pesto all over the yeast dough and sprinkle with olives, sun-dried tomatoes, and pine nuts.

Start rolling up the dough quite tightly from the longer side, to form it into a large log. Cut into approx. 8-10 pieces that should be equally thick.
 

Grease a baking dish with oil and transfer the pesto buns into the dish, making sure that an "open" side is showing upwards. Let rest and rise one more time at a warm place for approx. 30 minutes.

Preheat oven to 180°C/355°F. Bake pesto buns for approx. 25-30 minutes, or until golden brown. These pesto buns taste the best when you serve them warm, but you can definitely also enjoy them at room temperature. Serve with a dip of your choice, e.g., vegan aioli, ranch dip, or a tomato-based dip.