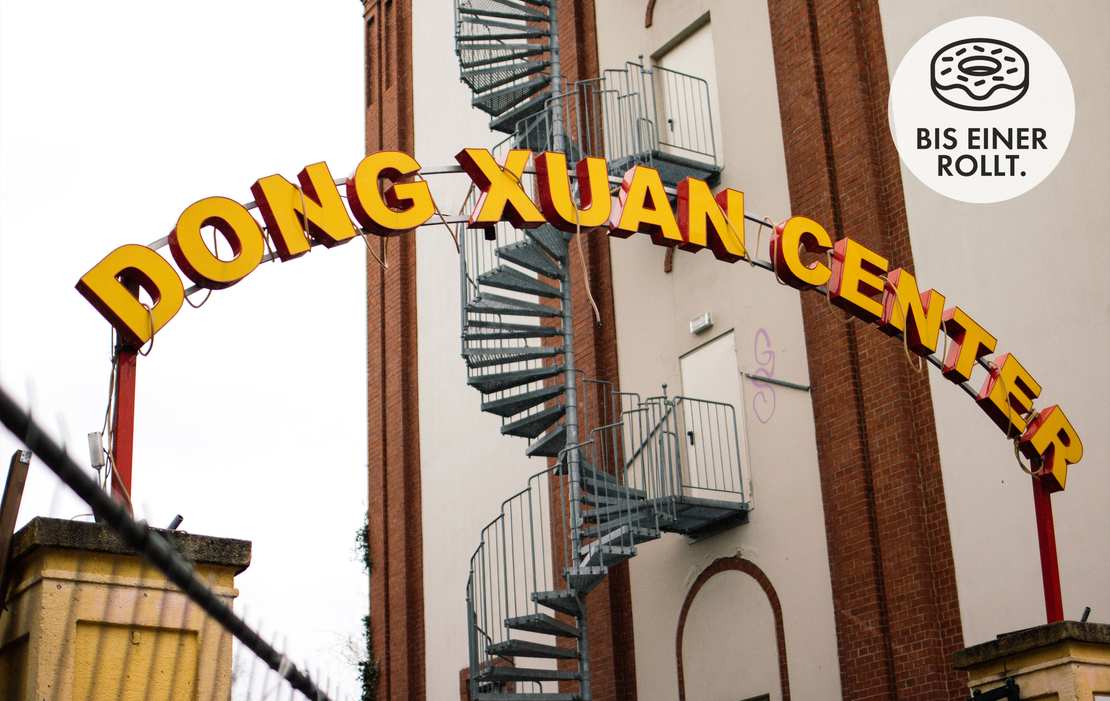 In our series "Food Feast" we regularly visit places, streets or food events to try and eat as much vegan food as possible there - until we roll home. Amongst others, we've already been to the Don Xuan Center or Streetfood Thursday at Markthalle 9. You can read all about our culinary trips here.
Some people say, Don Xuan Center is heaven on earth regarding Vietnamese street food, groceries and bits and bobs. But the only thing Isa remembers from her last visit was a slightly stinking smell in the large halls in Lichtenberg. In our new episode of "Foodfeast", we're telling you if this is still the case, if Julia gets the kitchen knifes she's looking for and of course what tasty vegan stuff we found there.
Don Xuan Center is open every day from 10am – 8pm, except for Tuesdays.
DON XUAN CENTER in Lichtenberg
Well, hello there! Today we team up with superfoodie Andy and banh-mi-expert Tim. To protect us from the rain, we start right away!
On to the first hall! We're hungry and Julia is looking for new kitchen knifes. And tataa – two minutes later, we found our first snack of the day. Those small rice cakes are vegan, warm and comfy …
… as well as a bit greasy and soft. They might glue our bellys, but whatever! We could eat three or four of them.
Only a few meters away, this vegan bánh mì sandwich is waiting for us! There are several options, but of course we go with tofu and it tastes.. okay, but nothing too exciting though and pssst, but we had better bánh mì sandwiches before (speaking of Maison Han for example).
.. quick break to drink. In one of the supermarkets, we grabbed some (to us) unknown refreshing drinks. Andy tried a lychee-drink, Julia goes for the soya drink.
But why? Somehow Julia hasn't thought so far, because she doesn't even like dairy drinks. So – suprise! – we have to say no to this one. Julia even tried to force the other to drink it – but without success. Looking for fresh, tasty, vegan food turns out way more difficult than we imagined. All we see is hodgepodge after hodgepodge after hodgepodge.
.. oouuh! Found it! Exquisite! We just love plastic veggies! Fresh summer rolls, soups, fruits: damn, where are you?
We are semi full and try to find some distraction in plastic flower paradise. Julia is still looking for some hidden food. Maybe there are more rice cakes here… hm, nope. After walking around for quite a long time, we decide to visit one of the center's restaurants. Maybe there's a little pho just waiting for us.
So we end up at Don Xuan Quan. There's also the 'Việt Phố', but we couldn't find appealing vegan dishes there. Don Xuan Quan is quite okay. We order rice, veggies and several vegan sauces… It's all okay, but it is no taste revalation, unfortunately.
.. whatever. We order lemonade and hope for the magic of sugar to get us back in the mood!
We are on our way to leave (a bit sad) BUT HEY, there's dessert!
.. bingo! This sandwich consists of mung bean paste, sugar and coconut and tastes as weird as it looks.
Those sesame balls are way better, but at this point we couldn't eat more than two balls. So we leave the Don Xuan Center. Full, but not that thrilled – and still without kitchen knives.
Our conclusion: In fact, we hoped for more fresh and exciting food at the Center. Even in restaurants, it's not that easy to find vegan options. Their supermarkets are great – but not that different than the Asian supermarkets we know. So in the end we learned that Berlin probably spoiled us by unbelievable vegan Vietnamese food. But going to Don Xuan Center is still an experience of its own!