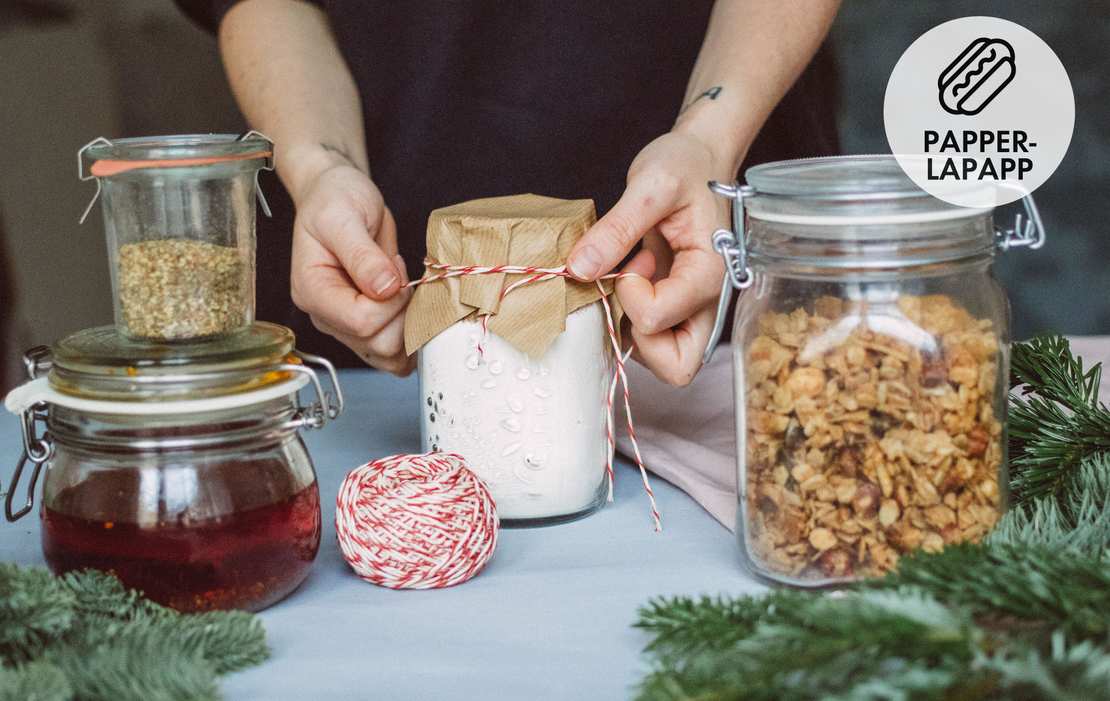 7 Last Minute Gifts from the Kitchen
On Zucker&Jagdwurst you will find so many recipes that it can sometimes be difficult to find exactly the right one for the moment. For that, we've categorized our recipes, but if you want to be more specific, you'll hopefully find the right dish in our recipe collections – for example if you're looking for soy-free desserts, hangover food, and what to eat when you have a cold. You can find all recipe collections here.
Only a few days to go until Christmas, and you're hanging around on our blog even though you should be thinking about the last missing Christmas presents? Then at least, it should worth it. We proudly present seven last-minute gift ideas that you can make in your own kitchen instead of squeezing through a crowd of people in the city.
Since store-bought granola is full of sugar anyway, it pays off to make your own granola mixture at home. As a Christmas present, you can score additionally if the composition of used ingredients is individualized according to the presentee's taste. Make sure to omit certain nuts for friends with allergies and spice the granola well for those friends who always season their food with salt before even tasting it. For fans of tahin, this recipe is just perfect.
Get the recipe for tahin granola here!
In Isa's kitchen, you'll usually find a small glass of vegan caramel sauce that she loves to drizzle on vegan panna cotta, pancakes, and more. She probably even adds it to savory dishes when nobody's looking. Bring your friends the same joy with only three ingredients and 15 minutes of your time!
Get the recipe for vegan caramel here!
How often have you seen vegan lemon curd in the supermarket? Yup, that's what we thought. But once you've tried the fruity lemon cream on a slice of bread or as a muffin filling, you'll never want to miss it again. The best thing about this gift: stored in a resealable jar in the fridge, the lemon curd lasts for two weeks and longer and inspires your friends or family to cook!
Get our recipe for vegan lemon curd here.
Sunday's Help Kit for Vegan Crêpes
It's Sunday, and your fridge is empty, but you long for a tasty breakfast without leaving your flat. Don't worry - you've been there, we've been there, and your friends, too! Here's the solution: gift them an emergency kit for desperate moments like these. Just add all measured dry ingredients for vegan crêpes in a jar. This way, it will wait for its big hero appearance for weeks, and your friends only need to add plant-based milk (at worst even just water). Trust us, cause vegan crêpes can save every Sunday!
Get the recipe for vegan crêpes here!
Fish sauce without fish? Yes, it does exist, and it will make your vegan friends and relatives very happy when you gift them a homemade version for Christmas. It's made out of cooked nori sheets (you can use the rest of the package for homemade sushi!) and then refines all kinds of dishes. Gifts that motivate others to cook are simply the best!
Get the recipe for vegan fish sauce here!
Homemade spice mixtures as Christmas gifts can prove how well you know the taste of your friends and relatives. Do they like Indian food? Then go with garam masala! Do they love Oriental flavors? Zaatar, baharat, dukkah, and sumach will be a perfect choice! Another plus: homemade spice mixtures are cheaper than store-bought ones, and you can do twice the amount to stock up on your own spice rack! We love to add our pumpkin spice to baked goods and warm drinks.
Get the recipe for our pumpkin spice here!
Last but not least, here's a sweet snack to simply enjoy. You can also vary our nut butter cups according to preferences – from peanut or almond butter to a creamy tahin filling. Then choose bittersweet or vegan white chocolate as the coating. And just in case someone is still looking for a gift for Julia: tahin and dark chocolate, please!