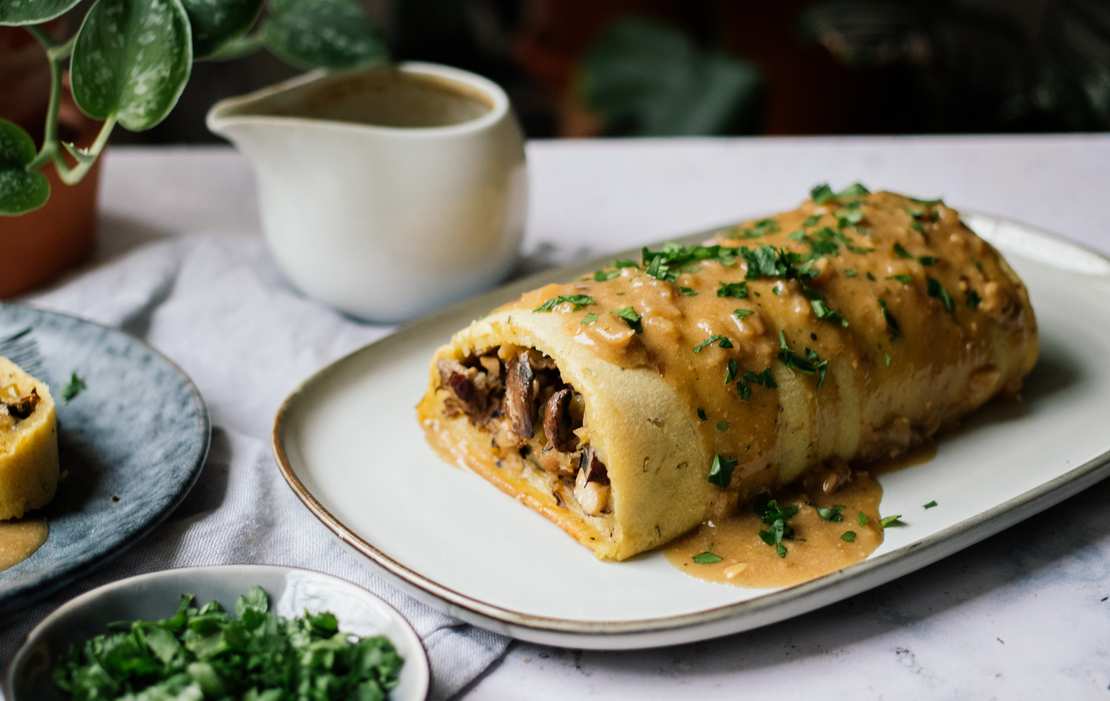 10 Ideas for Vegan Christmas Main Dishes
On Zucker&Jagdwurst you will find so many recipes that it can sometimes be difficult to find exactly the right one for the moment. For that, we've categorized our recipes, but if you want to be more specific, you'll hopefully find the right dish in our recipe collections – for example if you're looking for soy-free desserts, hangover food, and what to eat when you have a cold. You can find all recipe collections here.
Maybe it's your first, second, or even tenth vegan Christmas – it doesn't matter really, because on Christmas the focus will always be on the food (not just for vegans but everyone). But if you just started a vegan diet recently, Christmas can be quite a challenge as most families feel very strong about their traditional Christmas dishes that often contain tons of meat. I can still remember my first vegan Christmas dinners very well, where I often heard sentences like "At least you could make an exeption for Christmas!" But I guess most of us have to go through these experiences. We promise that it will get easier over time!
For me, the best solution for Christmas Eve is to share the side dishes with my family as red cabbage, sauerkraut, potatoes, potato salad, or (bought) potato dumplings are usually vegan anyway or can be veganized very easily. So the only part that I prepare for myself is the "meaty" part. I like to prepare it in advance to only warm it up in the evening which makes my Christmas Eve stress-free! In case your family is even fine with you preparing the whole Christmas menu: Congratulations! In this case, we recommend our Christmas recipe collection, where you can also find vegan starters and desserts for your Christmas menu.
Now you might ask what Julia and I will eat for Christmas. Over the years, we've developed strong feelings for some "new vegan classics" that we love to eat almost every year (we're talking about you, vegan roulades and vegan goulash). But from time to time we also try to clear the stage for completely new dishes and this year we're flirting with our latest recipe for cabbage rolls.
We hope that these recipes help you to find your perfect Christmas dinner match and are excited to hear which main dish you will choose!
PS: If you're wondering where to find the recipe for this delicious looking potato roll on our title picture: it will be posted on our blog asap and will then be added to this list, of course!
1. Vegan Potato Dumplings with Mushroom Ragout and Red Cabbage
2. Easy Vegan Cabbage Rolls
3. Lentil Loaf with Vegan Potato Gratin
4. Stuffed soy steaks with dumplings & sauerkraut
5. Stuffed Butternut Squash with vegan Cream Sauce & Potato Mash
7. Vegan goulash with pan-fried dumplings & red cabbage
8. Baked Cauliflower Roast with Mashed Potatoes & vegan Gravy
9. Vegan goulash with seitan, bell pepper & noodles
10. Vegan Potato Roll with Mushroom and Nut Filling and Vegan Cream Sauce