Carrot Dogs with two toppings
It's not that easy to find good vegan sausages (at least in Germany). If you have any recommendations for us, please share them in the comments below! For some time now our favorite vegan sausages are actually available in every supermarket.. because they are carrots. That was a big surprise to some of our friends because they not only look like sausages (thanks to there natural color) but also get a nice sausage-like texture when cooked right. They should be soft, but still have some bite.
Now only the right marinade is missing. We use some of our old friends that were already helpful with other meat-like recipes, such as liquid smoke and smoked paprika. The carrots should be marinated long enough so they get as flavorful as possible. Over night and even up to 24 hours works best, but if you only have a few hours, you'll still get tasty carrots dogs, just not as intense in taste. The longer they marinate the better they taste. Afterwards you can grill or fry them and serve your carrot sausages as vegan hot dogs or simply as surprising vegan sausages.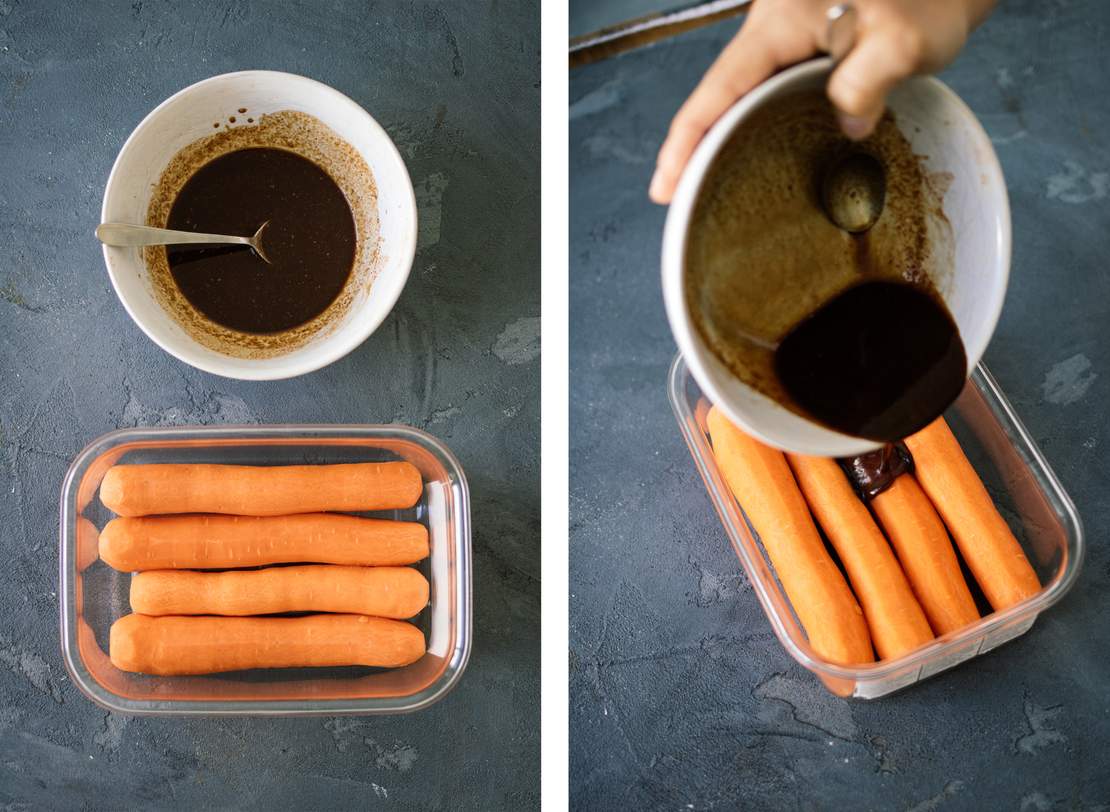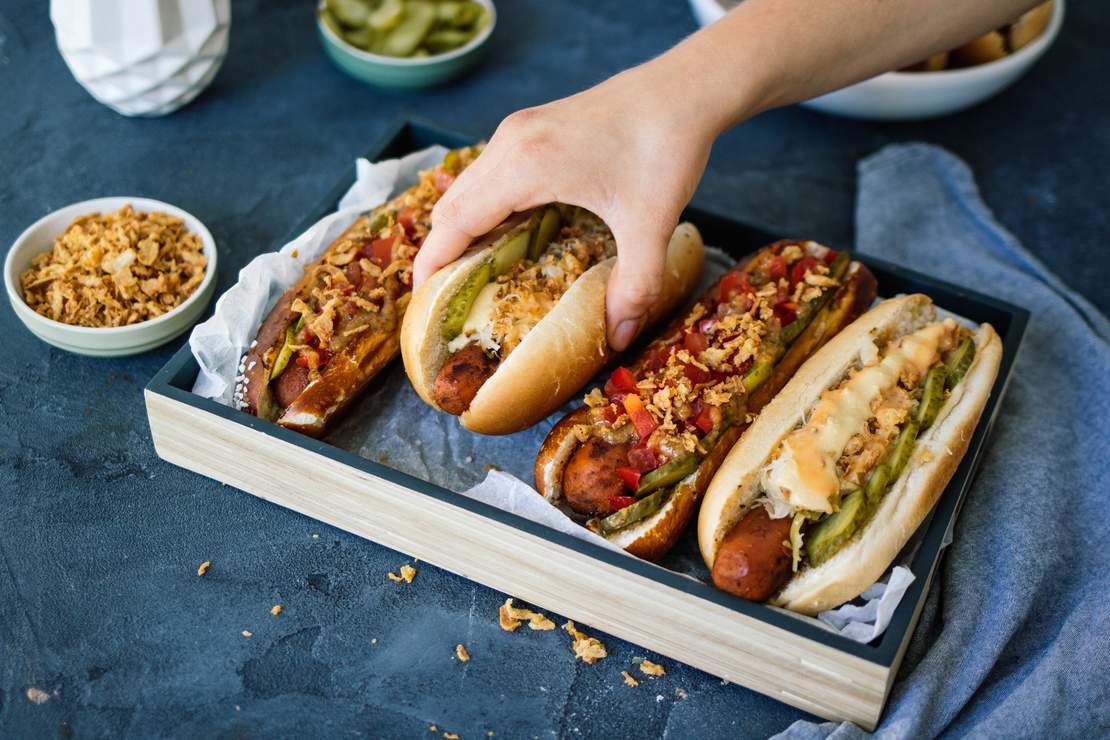 Carrot Dogs with two toppings
4 hot dogs
30 minutes (+8 hrs. for marinating)
Ingredients
4 carrots
approx. 1.5 l (6.5 cups) vegetable broth for cooking
For the marinade
3 tbsp teriyaki sauce
2 tbsp liquid smoke
2 tbsp maple syrup
1 tsp vegan apple cider vinegar
2 tsp mustard
1 tsp garlic powder
1 tsp smoked paprika powder (optional)
salt
pepper
For Isa's favorite hot dogs (for 4)
4 hot dog buns
4 tbsp sauerkraut
4 tbsp fried onions
5 pickles
4 tbsp vegan American dressing
8 tbsp vegan cheese sauce(recipe on the blog)
For Julias's favorite hot dogs (for 4)
4 pretzel sticks
3 tomatoes
1 red bell pepper
4 pickles
4 tbsp fried onions
1 tbsp mustard
2 tbsp ketchup
4 tbsp sweet Bavarian mustard
Instructions
Peel carrots and shape their ends a bit round so they look similar to sausages. Add vegetable stock to a pot or deep pan and bring to a boil. Cook peeled carrots for approx. 6 minutes. They should be soft but still firm to the bite, so you should be able to pick into it with a fork, but not through it.

Add teriyaki sauce, liquid smoke, maple syrup, apple cider vinegar, mustard, garlic powder and smoked paprika powder to a bowl and stir to combine. Season to taste with salt and pepper.

Transfer cooked carrots to a flat storage container and pour over marinade. Close with the lid and gently shake and turn the container around so the carrots are completely covered with marinade. Let marinade over night. If you don't have the time, it's also fine to let them marinate for only a few hours, they will still taste great - just not that intense.

Afterwards you can grill the carrot 'sausages' on a BBQ grill or in a grill pan with some oil. Afterwards, use them as hot dogs or sausages, as desired.

For Isa's favorite hot dog: Finely slice pickles. Cut hot dog buns half open and add the carrot sausage. Top with sauerkraut, pickles and fried onions, then add some vegan cheese sauce and American dressing on top.

For Julia's favorite hot dog: Finely dice tomatoes (without core) and red bell pepper. Finely slice pickles. Cut pretzel sticks half open and add carrot sausage. Top with tomato-bell pepper dices. pickles and radishes, then add some mild mustard and fried onions.