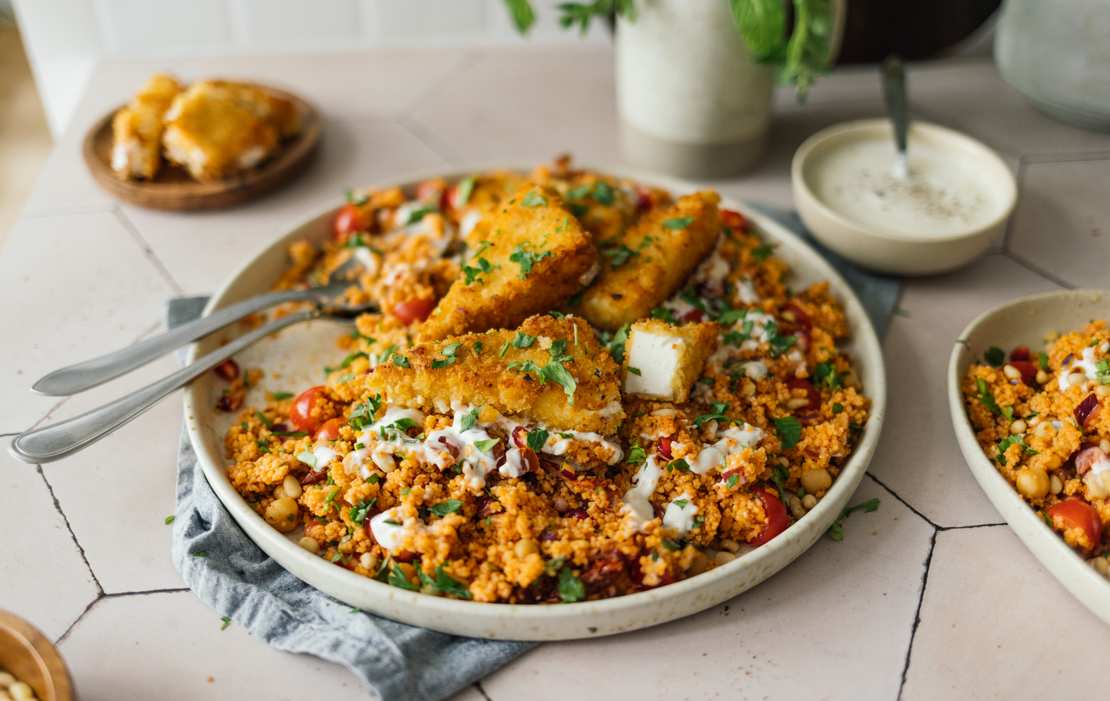 Couscous Salad with Crispy Vegan Feta Wedges
the lunch table and is the star at every barbecue. What salad could that be? Our new couscous salad with crispy vegan feta wedges. Although there are already plenty of summery salads on the blog, like our summer salad with grilled peaches and our soba "summer roll" salad, we felt like we needed even more. This one is truly special.
Let's go through the recipe together.
The Base:
The base of this salad is couscous, which is a little underrepresented on our blog. It could be due to our passion for potatoes and pasta. Nevertheless, couscous tastes great and is ready to serve in no time. Of course, you can also use other bases like bulgur or pearl couscous.
The Vegetables:
This salad has three different types of tomatoes: whole, blended, and the best – dried and pickled. In order for our tomatoes to not feel lonely, we add an onion, pomegranate seeds and fresh herbs.
The Dressing:
We love quick dressings and this one is definitely one of them. Just process all the ingredients with an immersion blender and the dressing is ready. The dressing combines hot spices, sweet tomato paste and deliciously sour lemon juice. There is no better combination out there. If you prefer it a little milder, omit the chili powder.
The Feta Wedges:
The best comes at the end. So it is with this recipe. We top our salad with some deliciously crunchy feta wedges. It's essential to use almond-based feta, as other oil-based feta alternatives would melt. For breading, we use panko, which is a bit more coarse than traditional breadcrumbs, adding some extra crispiness. Once the wedges are fried, your salad is ready to go.
Happy cooking and may the plant-based feta be with you!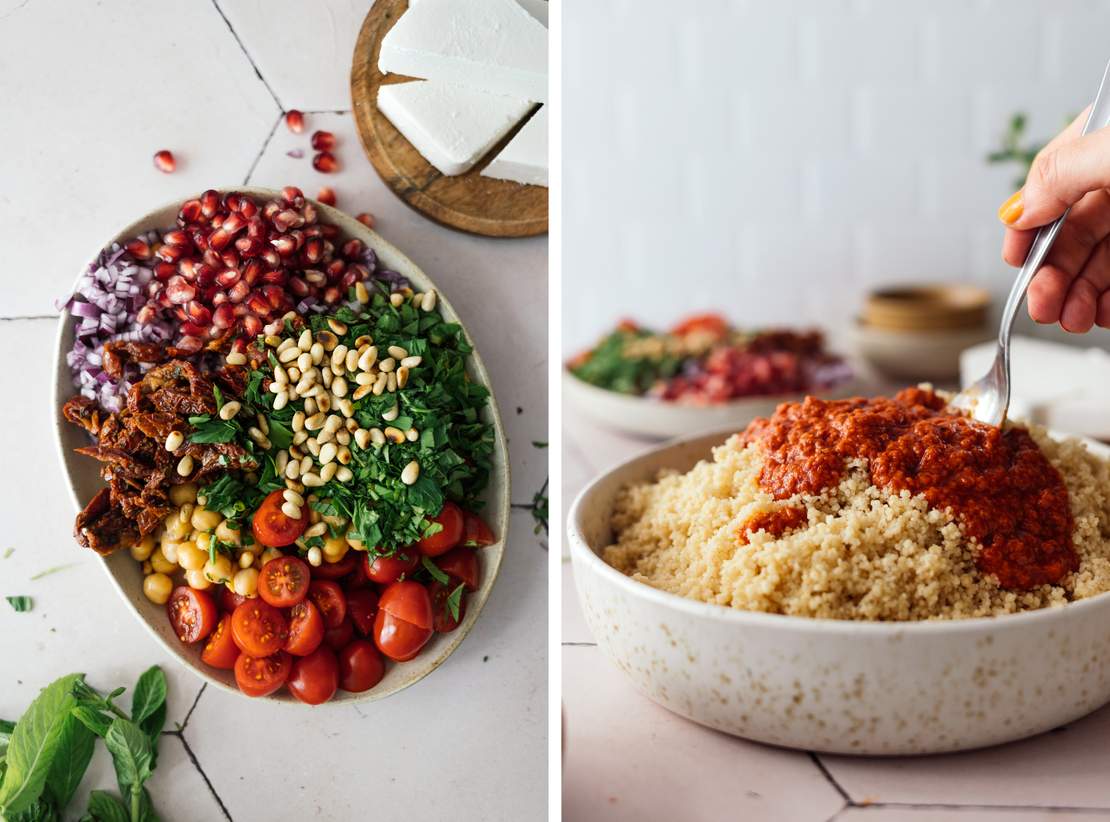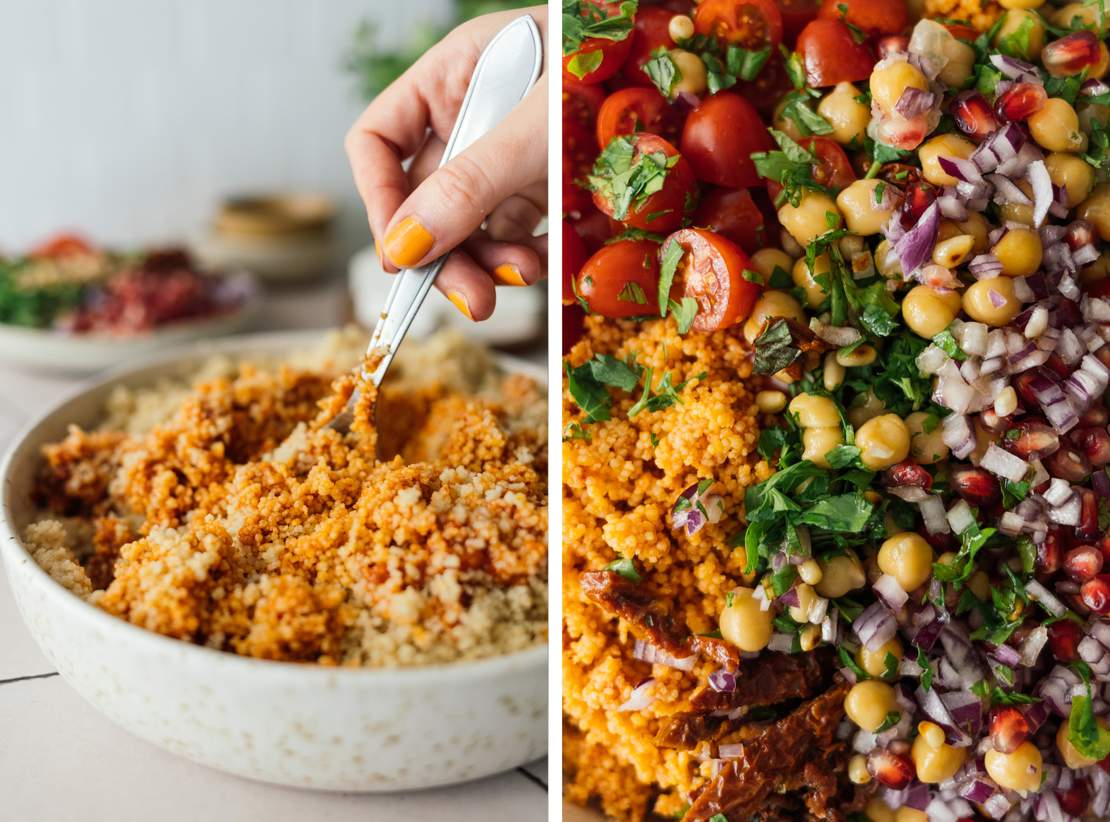 Couscous Salad with Crispy Vegan Feta Wedges
Ingredients
For the salad:
200 g (0.5 lb) couscous
approx. 150 g (0.33 lb) chickpeas
50 g (1.75 oz) dried tomatoes
150 g (0.33 lb) cherry tomatoes
1 red onion
approx. 5 g (0.25 oz) fresh parsley
approx. 10 g (0.5 oz) fresh mint
50 g (1.75 oz) pine nuts
1 pomegranate (seeds)
For the dressing:
approx. 100 ml (0.5 cup) olive oil (or the oil from the dried tomatoes)
2 tbsp lemon juice
0.25 tsp chili flakes (or 1 deseeded chili pepper)
0.5 tsp ground cumin seeds
1.5 tsp harissa
6 tbsp tomato paste
1–2 garlic cloves
water
salt
pepper
For the feta:
approx. 5 tbsp flour
2 tbsp soy flour
5 tbsp water
approx. 100 g (3.5 oz) panko (or breadcrumbs)
300 g (0.66 lb) vegan almond-based feta
0.25 tsp garlic powder
0.5 tsp paprika powder
0.25 tsp cumin
salt
pepper
vegetable oil for frying
Also:
plant-based yogurt for serving
Instructions
Prepare couscous according to package instructions and set aside to cool.
In the meantime, drain chickpeas and rinse briefly. Cut dried tomatoes into fine strips. Wash and halve the cherry tomatoes. Cut the onion into fine cubes. Wash the herbs and then chop finely. Remove the seeds from the pomegranate.
Briefly toast the pine nuts in a grease-free pan and set aside.
For the dressing, add olive oil, lemon juice, chili flakes (deseed the chili if desired), cumin, harissa and tomato paste to a tall container. Peel the garlic and add it as well. Blend with an immersion blender to make a creamy dressing. Add water as needed to make the dressing more liquid. Season with salt and pepper to taste.
Combine the cooked couscous with the dressing in a large bowl. Then add tomatoes, onion, herbs and pomegranate seeds.
Prepare three bowls for the fried vegan feta. Pour the flour into the first bowl. In the second bowl, mix soy flour with water. Fill the third with panko, add garlic powder, paprika and cumin and season with salt and pepper. Then cut the vegan feta into even triangles. Dredge the triangles first in flour, then dip in the soy flour mixture and finally coat all around with panko.
Heat plenty of vegetable oil in a small skillet and fry the feta from both sides until golden brown.
Serve feta with plant-based yogurt and couscous salad and top with toasted pine nuts.