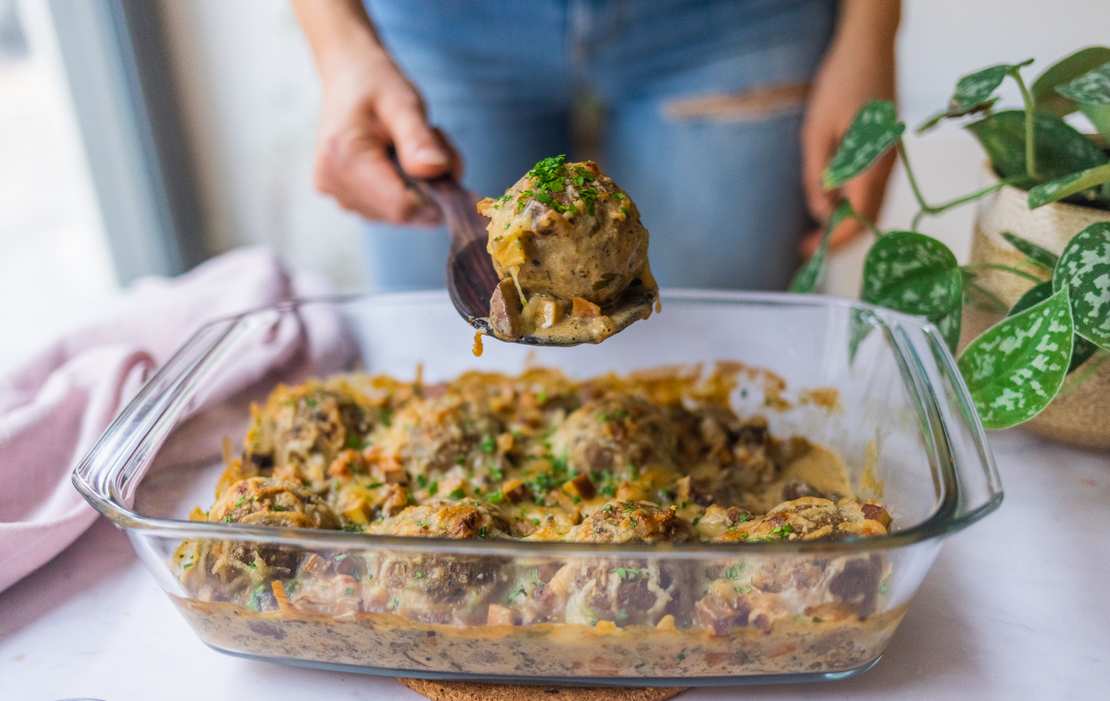 Vegan Dumpling Casserole with Creamy Mushroom Sauce
Our next theme week is coming up, and keeping up with the cooler season, we're devoting ourselves to hearty dishes with round delicacies that would also be an excellent choice for your Christmas dinner. You can probably guess it already – it's about our beloved dumplings, whether it's potato dumplings, yeast dumplings, or bread dumplings! If anyone now thinks that we cook the same recipe seven times – think again! Dumplings can be prepared very differently and combined with various side dishes – we even have a sweet version for you to offer.
Today, however, we start with a dumpling casserole! A great thing about casseroles is that the sauces usually taste especially creamy because they have plenty of time to simmer. But of course, the very best part about them is the layer of cheese on top, of which everyone at the table always tries to grab as much as possible. Don't worry, there's plenty of both today.
We used classic bread dumplings for our casserole and made them from both spelt and wheat bread rolls during our test cooking . We didn't notice any difference at all, so you can use whatever you prefer. The bread dumplings come with crispy smoked tofu and a creamy mushroom sauce with lots of parsley and chives to add some freshness to the dish. You can adjust the amount of herbs, of course, but we really used a lot of herbs and liked it a lot!
One last tip: If you don't have any stale bread rolls from the day before, just use fresh bread rolls, halve them, and let them sit for a few hours. Once they are a bit drier, you can dice the rolls and let them dry until you start cooking.
Vegan Dumpling Casserole with Creamy Mushroom Sauce
4 servings
1 hour (+ 20 minutes backing time)
Ingredients
For the bread dumplings:
6 (approx. 10.5 oz) stale bread rolls
300 ml (1.25 cups) plant-based milk (lukewarm)
1 onion
100 g (3.5 oz) smoked tofu
4 tbsp soy flour
2 tbsp potato flour
1 tsp nutmeg
10 g (0.33 oz) chives
15 g (0.5 oz) parsley
salt
pepper
For the creamy mushroom sauce:
1 onion
200 g (7 oz) smoked tofu
2 large carrots
350 g (12.33 oz) brown button mushrooms
200 ml (0.75 cup) vegetable broth
100 ml (0.5 cup) vegan white wine
400 ml (1.75 cups) plant-based heavy cream
1 tbsp starch
3 tbsp water
3 tbsp nutritional yeast
1 tbsp mustard
1 tsp nutmeg
2 tsp sweet paprika
0.5 tsp chili powder
10 g (0.33 oz) parsley
5 g (0.25 oz) chives
1 tsp sugar
3 tsp thyme
0.5 lemon (juice)
salt
pepper
Also:
100 g (3.5 oz) vegan shredded cheese
vegan butter for frying
chives and parsley for serving
Instructions
Cut the stale buns into cubes of approx. 1 x 1 cm (0.4x0.4 inches) and transfer them to a large bowl. Add lukewarm plant-based milk, mix everything briefly, and let the mixture sit for at least 10 minutes.
Tip: Depending on how big and dry your bread rolls are, you might have to adjust the amount of milk. The drier they are, the more plant-based milk you need.
In the meantime, peel and finely dice the onions. Dice the smoked tofu as well. Wash and finely chop chives and parsley. Peel the carrots, clean the mushrooms, and chop both.

For the bread dumplings, heat vegan butter in a frying pan over medium heat and sauté half of the diced onion. Once translucent, add a third of the smoked tofu and half of the chopped herbs. Sauté until the tofu has browned.

At the same time, prepare the sauce. Heat vegan butter in a second frying pan, then sauté the remaining onions over medium heat. Once translucent, add the carrots and fry for approx. 5 minutes. Add the mushrooms and sauté together until the dumplings are cooking.

Once the smoked tofu mixture from the first frying pan is ready, transfer the mix to the bowl with the soaked bread rolls. Add soy flour, potato flour, salt, pepper, and some nutmeg. Stir until combined and knead with your hands until you don't see any whole bread roll chunks anymore. Season the dough again to taste, then roll it into eight dumplings.
Tip: If the dough is too dry, just add some plant-based milk. If it sticks to your hands, it helps to wet your hands a little.
Bring a pot of salted water to a simmer. It should not be all bubbly, but just before boiling. Carefully transfer the dumplings into the water and let them cook for approx. 10-15 minutes. Once they rise from the bottom of the pot to the surface of the water, they are done.

While the dumplings are cooking, continue with the sauce. Deglaze the sautéed vegetables from the second pan with vegan white wine, then stir in vegetable broth and plant-based cream. Mix cornstarch with some water and stir in the mixture into the sauce. Continue to simmer everything over low heat until the sauce is creamy. Season with nutritional flakes, mustard, salt, pepper, paprika, nutmeg, chili, thyme, chives, parsley, some sugar, and lemon juice to taste.
Tip: If the sauce get too thick, add some water or plant-based cream. If you like it very creamy, just add a bit more starch.
While the dumplings and sauce are simmering, fry the remaining smoked tofu in the frying pan you used before until it's crispy and browned.

Preheat the oven to 200°C/390°F (top and bottom heat). Remove the dumplings from the pot and transfer them directly to a baking dish. Add half of the fried smoked tofu to the sauce and pour it over the dumplings. Sprinkle the remaining fried smoked tofu and vegan shredded cheese over the dumplings and the sauce.

Let the dumplings bake in the oven at 200°C/390°F for approx. 20 minutes, until the vegan cheese is golden brown. Sprinkle with chopped parsley and chives before serving.