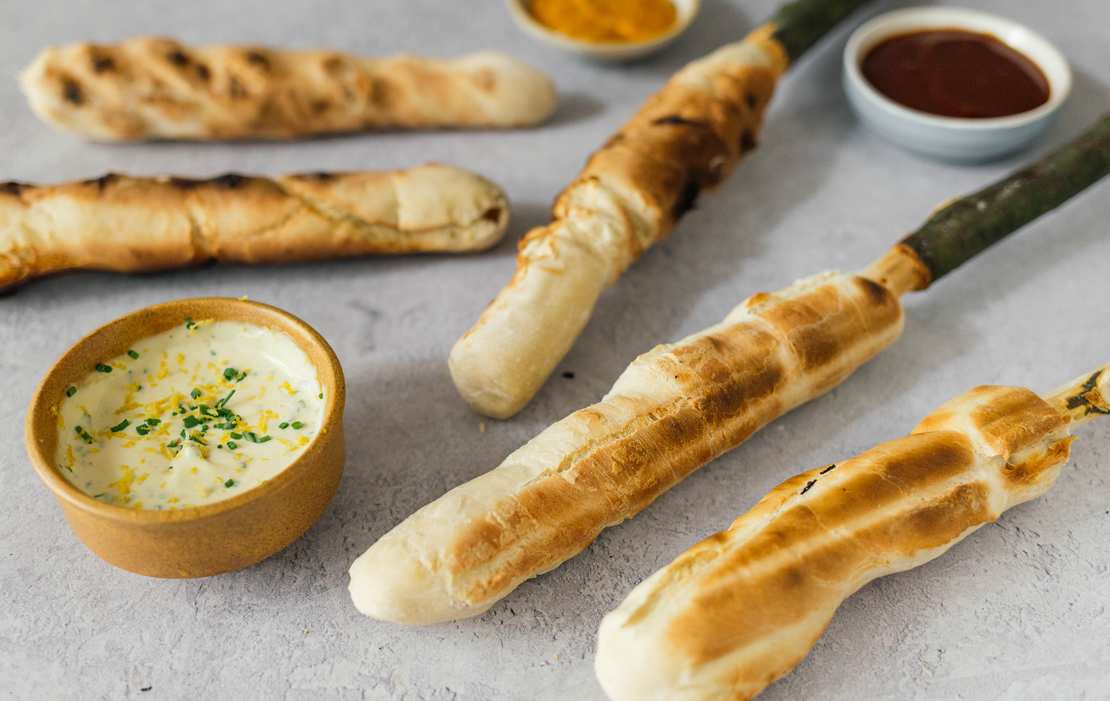 This recipe literally represents my childhood. At every barbecue, be it at school, at the neighbors' or grandma and grandpa's – the dough for stick bread was simply never missing. It was usually the food I looked forward to the most. But eating stick bread meant much more than just rolling up the dough and holding it over the embers. It meant going into the woods before the barbecue and finding the perfect sticks. These, of course, had to be carved afterward to have a nice smooth surface at the front end. There were only ever two little problems with the whole bread on a stick thing. First: The grill was only released for the stick bread bakers when everything else had been eaten. This meant I was always full by the time it was finally time to eat the stick bread. Second: The grill (we always had one with charcoal) was usually too cold to thoroughly bake the bread. That's why it was primarily black on the outside and still raw on the inside. Would either of those two problems have kept me from eating it anyway? Absolutely not.
Can the recipe be modified?
To bring in more variety, we have a few options on how you can modify the stick bread recipe. In the past, I often had a version with poppy seeds, which I liked very much. Alternatively, you can also add roasted onions, various spices such as sweet or hot paprika, onion or garlic powder or dried herbs such as basil, oregano or parsley to the dough. Finally, of course, a sweet version is also possible: Instead of salt, simply add more sugar and possibly some cinnamon and raisins to the dough. Then, when rolling up on your stick, ensure the raisins are not on the outside, if possible, otherwise they can burn quickly.
Can you make stick bread only on the grill?
Good news for those who don't have a grill: Stick bread can also be made easy peasy in the oven. We have wrapped the dough instead of sticks on wooden spoons. A little pro-tip from us: You can spread vegan aioli on the finished, hot stick bread – it tastes great. If you don't want to do that, just use the aioli as a dip.
We took the vegan aioli by Byodo for this. Together with fresh herbs and lemon zest, it is the perfect fresh dip for any barbecue. In our house, however, it is not only used as a dip but also goes into the batter for flavor, giving the stick bread a slight garlic note. But the aioli is not the only dip you will find on our barbecue buffet. Byodo has many more delicious sauces such as the Grill & Fondue Mustard or the Barbecue Sauce. Why do we like Byodo so much? The answer is quite simple: The products are all made from 100 % of the best organic ingredients and therefore have a high premium quality and great taste. This is a promise made by the company from Upper Bavaria.
So, waste no more time preparing your yeast dough so that it has nicely risen when your barbecue starts.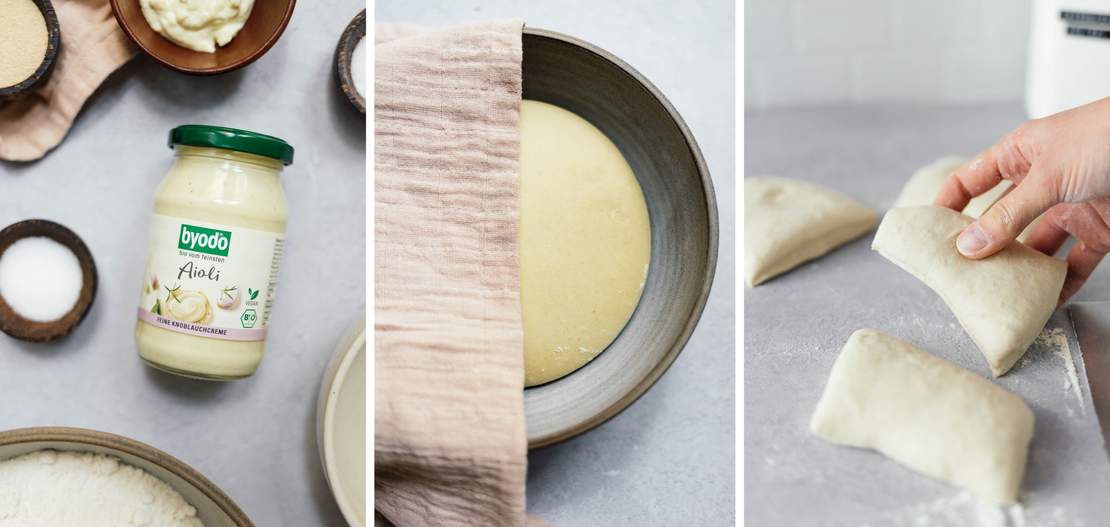 Easy vegan Stick Bread
8 Stick Breads
80 minutes (+ 165 minutes resting time + 15 minutes baking time)
Ingredients
For the yeast dough:
7 g (0.25 oz) dry yeast
1 tsp sugar
280 ml (1.25 cups) lukewarm water
500 g (17.66 oz) wheat flour (type 405) or spelt flour (type 630)
2 tsp salt
25 g (0.75 oz) vegan aioli (e.g. by Byodo)
For the dip:
50 g (1.5 oz) vegan aioli (e.g. by Byodo)
1 organic lemon (zest)
10 g (0.35 oz) fresh herbs
Also:
Various barbecue sauces (e.g. Barbecue Sauce or Grill & Fondue Mustard by Byodo)
Instructions
In a bowl, put dry yeast together with sugar and pour lukewarm water over it. Let stand for 5 minutes until the yeast bubbles. Add flour and salt and mix to a rough dough with a wooden spoon.

Now place the dough in a stand mixer and allow to knead on low speed until a smooth dough is formed. Alternatively, knead with your hands. Spread the vegan aioli on the dough and knead for another 7–8 minutes with your hands or the food processor. Then roll the dough into a ball and return it to the bowl, cover with a cloth and let it rise in a warm place for at least 1 hour or until the dough has doubled in size.

Meanwhile, mix the dip out of vegan aioli, chopped fresh herbs and lemon zest and refrigerate until ready to use.

Once the dough has risen, knead again and divide into 8 equal-sized pieces. Shape the dough pieces into a snakes, flatten them a bit and wrap them around your stick (or wooden spoon) and let them rise again for about 30 minutes.

Now bake the stick bread either over the grill or in the oven at 200 °C / 390 °F (top and bottom heat) for about 10–14 minutes until golden brown.