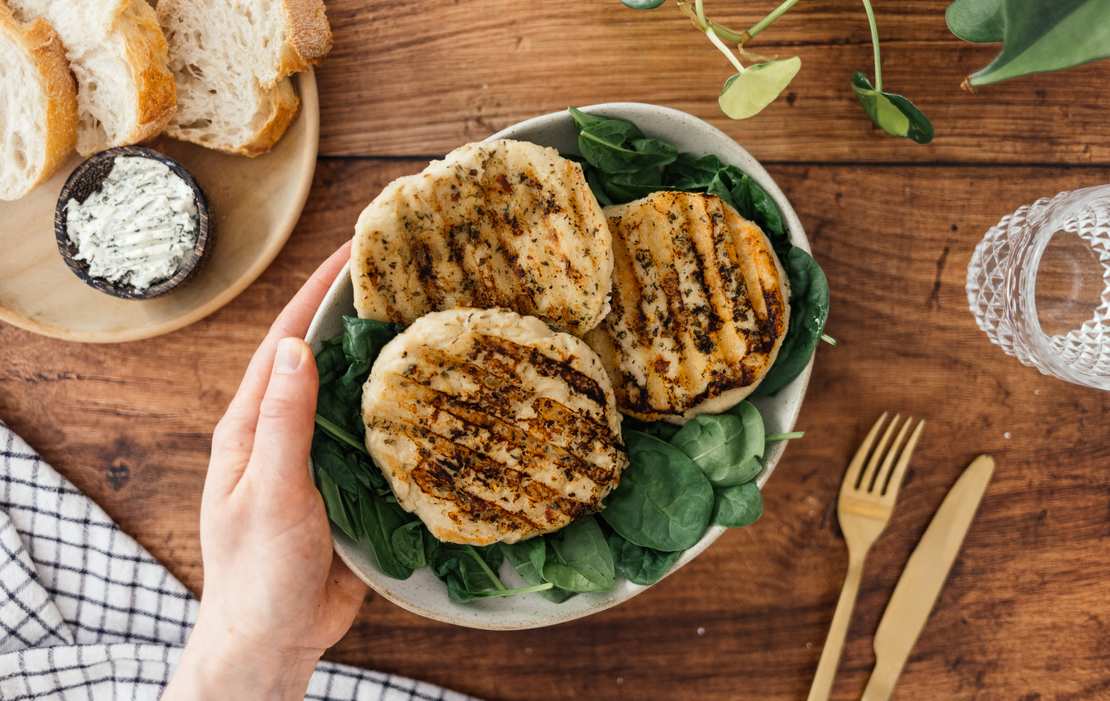 First things first, let's talk about the name of this recipe. As I just learned when I spoke to a friend from Canada last week, vegan grilled cheese doesn't have the same meaning in German and English. Whereas people from English-speaking countries think of a sandwich when they talk about grilled cheese, the Germans are actually talking about a cheese you can grill on a barbecue or in a frying pan. So let's not get confused here as we are talking about a vegan cheese for your next barbecue today.
There have never been more vegan products for a BBQ evening to buy in the supermarket. And finally, even vegan grilled cheese has made it into the stores in Germany. Of course, we have already tried all the varieties that are currently available, but unfortunately, none of them have convinced us yet. They all taste okay but could definitely be improved. Therefore, we came up with the idea to create a recipe for homemade vegan grilled cheese and the result has become fantastic!
Basically, our vegan grilled cheese consists of blanched almonds, cashews, vegan yogurt, and starch. The mixture is pureed and seasoned with nutritional yeast, salt, miso paste, and lemon juice and thickened with agar agar until it's chewy and creamy. We then divide the mixture into four portions and pour each into a round silicone mold to end up with four servings of grilled cheese. Once in the mold, the cheese should rest one night in the refrigerator to get firm. In our experience, it also tastes much better after resting in the fridge for a while.
The next day, we drizzle the vegan grilled cheese with a marinade and then fry it in a pan until it's golden brown. As an alternative to the pan, you can also use a contact grill or grill the cheese on a barbecue. If you want to grill it, however, you should grill it in an aluminum tray, otherwise it will stick to the grillage. And that's it. We recommend eating the vegan cheese straight away as it tastes best when it's still warm.
By the way, we use more tapioca starch than cornstarch in this recipe, because tapioca starch gives the grilled cheese an even creamier consistency, so you even get some vegan cheese pulls, as you know it from regular cheese. Nevertheless, if you don't have tapioca starch at home, you can also prepare this grilled cheese with just cornstarch. We also recommend that you prepare the marinade a day in advance, as it will have more time to infuse and will taste more intense. You can find more recipes for a perfect barbecue here.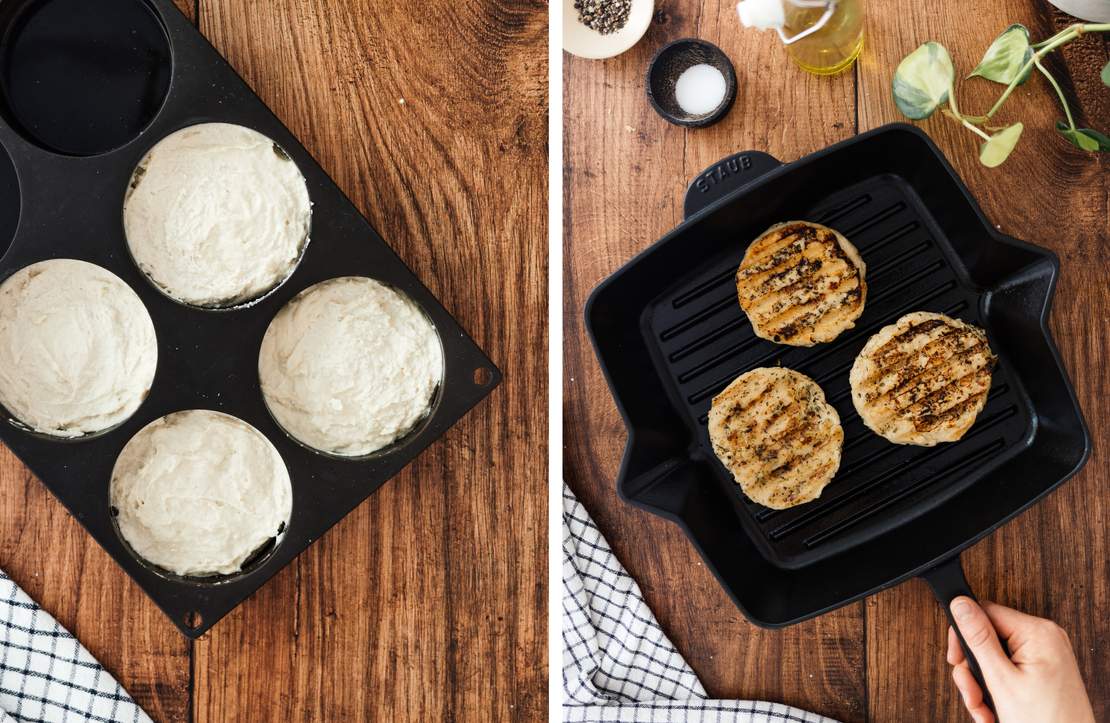 Vegan Grilling Cheese
4 vegan cheese
30 minutes (+ 24 hours resting time, + 2 hours cooling time)
Ingredients
For the vegan cheese:
80 g (2.75 oz) cashews
80 g (2.75 oz) blanched almonds
6 tbsp nutritional yeast
60 g (2.25 oz) tapioca starch
20 g (0.75 oz) cornstarch
150 g (0.66 cup) vegan yogurt (unsweetened)
1 tsp miso paste
2 tsp salt
3 tbsp lemon juice
100 ml (0.5 cup) water
6 g (1 tsp) agar agar
For the marinade:
1 lime (juice)
30 ml (4 tbsp) olive oil
1 clove of garlic
1 tsp agave syrup
1 tsp dried herbs (e.g. marjoram, thyme, oregano)
0.5 tsp chili flakes (optional)
salt
pepper
Also:
Instructions
Let the cashews and almonds soak in water for at least 30 minutes or overnight.

Use a blender to mix the soaked nuts, nutritional yeast, tapioca starch, cornstarch, vegan yogurt, miso paste, salt, and lemon juice in a bowl until you have a smooth mixture.

Next, mix water and agar agar in a saucepan and let simmer for about 2 minutes until the mixture thickens slightly. Then add the nut mixture and let simmer until the mixture separates from the side of the pot and is very difficult to stir. Make sure you constantly stir so nothing burns. Then remove from heat and pour into four silicone molds. Cover and let the vegan cheese rest in the refrigerator overnight.

For the marinade, peel and finely chop the garlic.Mix it with lime juice, olive oil, agave syrup, salt, and pepper in a bowl. We recommend preparing the marinade the day before to get a stronger flavor.

The next day, transfer the vegan cheese to the freezer for about 2 hours before frying it. This will help to remove the cheese from the mold later.

Heat vegetable oil in a frying pan. Then brush the vegan cheese with the marinade and fry over medium heat for a few minutes until golden brown. Serve while still warm.
Tip: The vegan grilled cheese can also be prepared on a contact grill. If you want to grill the cheese on a barbecue, you should transfer it to an aluminum tray. Otherwise it will stick to the grillage.