Homemade Italian antipasti platter
An antipasti platter is a really nice way to start into a dinner or evening. Everyone can grab the things they like but also try out new dips and snacks. It's very simple to just buy everything you want for your platter in a supermarket, but we'll show you three homemade snacks: olive tapenade, grissini, and half-dried tomatoes. They're easier than you'd think.
Also served on our platter: pickles vegetable, artichokes, olives and crispy bread chips.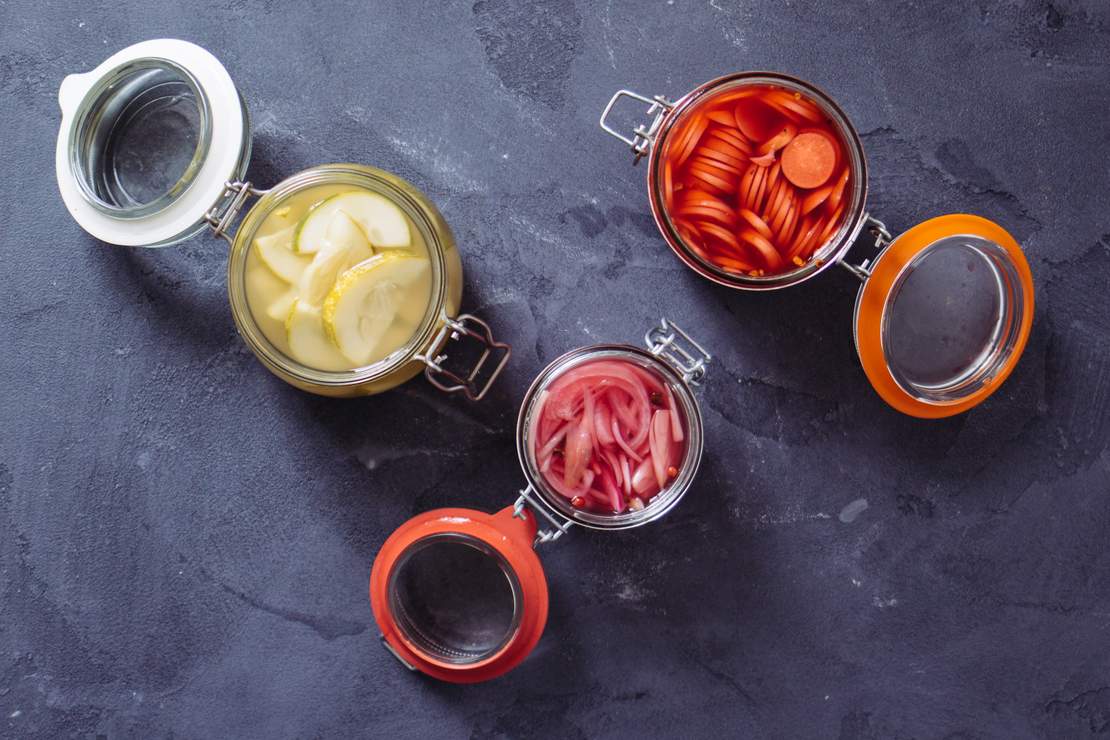 Homemade grissini
Ingredients
250 g (2 cups) flour
21 g (0.75 oz) fresh yeast
1 tbsp sugar
125 ml (0.5 cup) lukewarm water
50 ml (0.25 cup) plant-based oil
2 sprigs rosemary
Instructions
Add flour to a bowl and form a small hollow in the middle. Mix yeast, sugar and lukewarm water and stir until yeast and sugar are dissolved. Add the mixture into the flour hollow, then start mixing some flour into it to form a pre-dough. Cover with a fresh kitchen towel and let rest for 10 minutes.

Chop rosemary and mix with oil. Add to flour bowl and kneat until a smooth dough forms. You should knead the dough for at least 5 minutes. Transfer back to a slightly oiled bowl, cover with kitchen towel and let rest to rise for approx. 1 hour.

As soon as dough volume doubled, divide dough into 12 equal-sized pieces and form each of them into a long twist. Transfer onto a parchment-lined baking sheet. After you did this with remaining dough, let twists rest again for approx. 15 minutes. Then bake at 200°C/390°F for 15 minutes or until grissini are golden brown.
Homemade half-dried tomatoes
Ingredients
500 g (18 oz) cherry tomates
3 cloves garlic
5 g (0.2 oz) fresh rosemary
5 g (0.2 oz) fresh basil
5 g (0.2 oz) fresh oregano
olive oil
salt
Instructions
Halve cherry tomatoes and spread on a baking sheet. Drizzle olive oil on top and season with salt. Roast and dry in the oven at approx. 80°C/155°F, this can easily take more than 1 hour. We are using a gas oven that's often a bit faster, but according to your oven, time can differ. Afterwards, remove from oven and let cool down.

Peel garlic and crush with the back of a knife. Chop fresh herbs (if you don't get fresh herbs, you can also use dried ones). Add garlic and herbs into a jar, then add 3 - 4 tbsp of oil and mix together.

Add roasted cherry tomatoes into the jar and fill up with high-quality olive oil. Seal and you have homemade half-dried tomatoes!
Homemade olive tapenade
Ingredients
200 g (7 oz) kalamata olives (pitted)
100 g (3.5 oz) green olives
50 g (2 oz) capers
1 clove garlic
5 g (0.2 oz) fresh basil
5 g (0.2 oz) fresh thyme
5 g (0.2 oz) fresh oregano
1 tbsp lemon zest
olive oil
salt
Instructions
If you didn't get pitted olives, start by pitting the olives you bought. Otherwise, start by directly adding olives, capers, garlic, fresh herbs and lemon zest into a high jar or bowl and blend with a hand-held mixer until combined.

Add olive oil little by little until the tapenade gets smooth but viscous. Season with salt and use as a spread or dip!