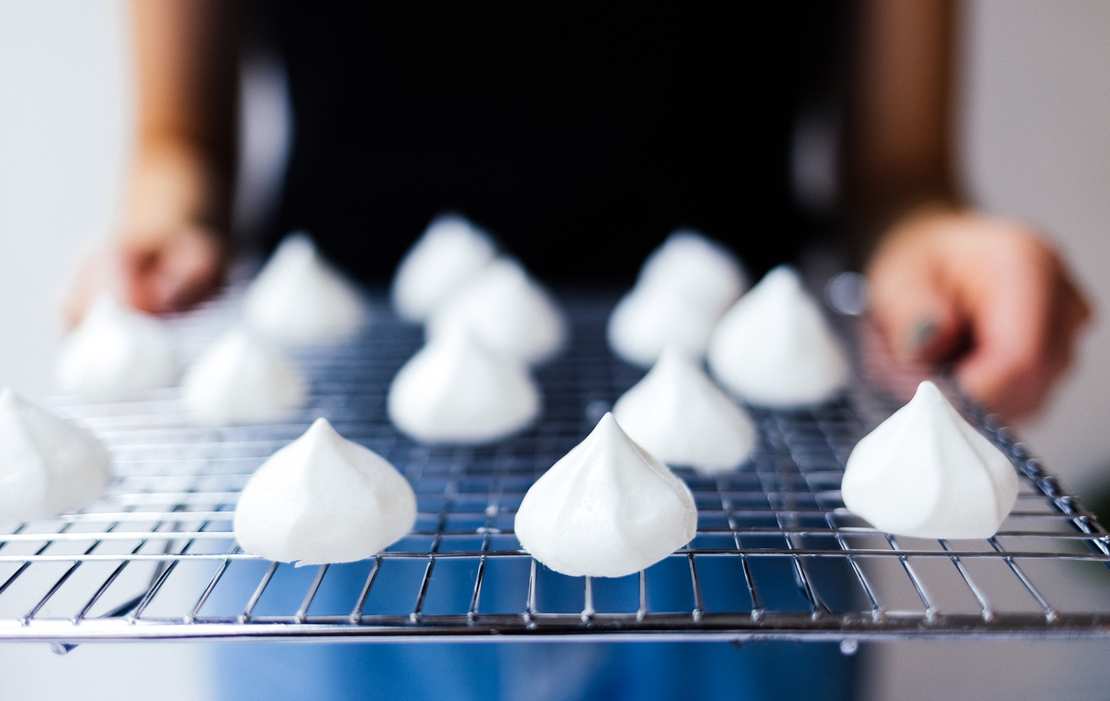 When I think of meringue, I think of my mother who loves the candy more than anything and used to eat a LOT of it. Julia also loved meringue as a child and always got in trouble for crumbling it all over her father's car's back seat. Contrary to this, I didn't eat meringue very often, and once I went vegan, we parted ways completely. But never say never, right?! We asked you on Instagram for a little challenge for us, and between hundreds of suggestions, I read "vegan meringue" and immediately knew: I have to try this! So today, I show you my recipe for it. Packed as a small gift, I will surprise my mother with it and I'm really curious if she will like it just as much as the original. But before that, I have a few tips for you which will help you with this recipe. Because you have to whip and dry aquafaba it's not as easy as some other recipes of ours, but it was also about a little challenge, right?
Which aquafaba is best to use?
Aquafaba is the canned liquid of legumes, but chickpeas are the most commonly used. When you're buying them, look for a "drained weight" label because the difference between the can and the drained weight is the amount of canned liquid (aquafaba) that you'll need for the recipe. Some varieties of chickpeas are not canned in liquid, so make sure you get the right ones.
Drying in the oven, dehydrator, or in open air?
We tested all of the above options and have to say that our meringue turned out best in the dehydrator. They become wonderfully crunchy this way as all the moisture is perfectly extracted. The recipe also works well in the oven, but you should make sure that you open the oven door every now and then to make sure that the moisture can escape. In open air, the meringue actually reaches the right consistency only in winter. In summer, the humidity is usually too high, so they tend to draw moisture instead of drying. However, even in summer it can still take a few hours or days until the meringue is dry enough.
Whisking with a whisk, hand mixer, or stand mixer?
When it comes to whipping aquafaba, we can only recommend a powerful stand mixer. With a whisk only, it's almost impossible to muster the strength and patience that's needed to whip aquafaba until it's stable. You won't do yourself any favors with a hand mixer either because you'll have to hold it the entire time – after five minutes at the most, it gets pretty tedious.
We whipped the aquafaba in the "Cooking Chef XL" from Kenwood and it worked out great! Thanks to the integrated scale, we were able to weigh all the ingredients directly inside the bowl, and with the help of the "whip egg whites" program, the aquafaba turned into a wonderfully fluffy and stable foam. Of course, you can prepare more than just sweet recipes in this stand mixer. Thanks to the integrated induction technology, the temperature in the bowl can be regulated from 20°C/68°F to 180°C/360°F in 1°C/34°F steps – with this, you can even sear or simmer ingredients. Crazy, right?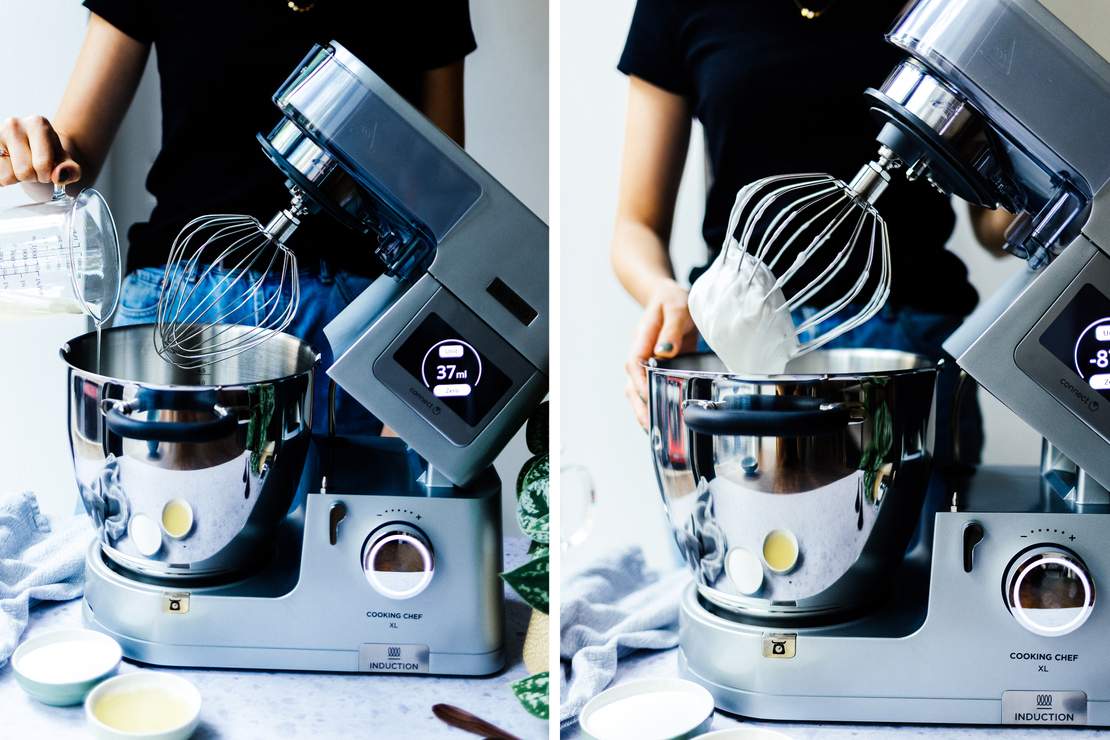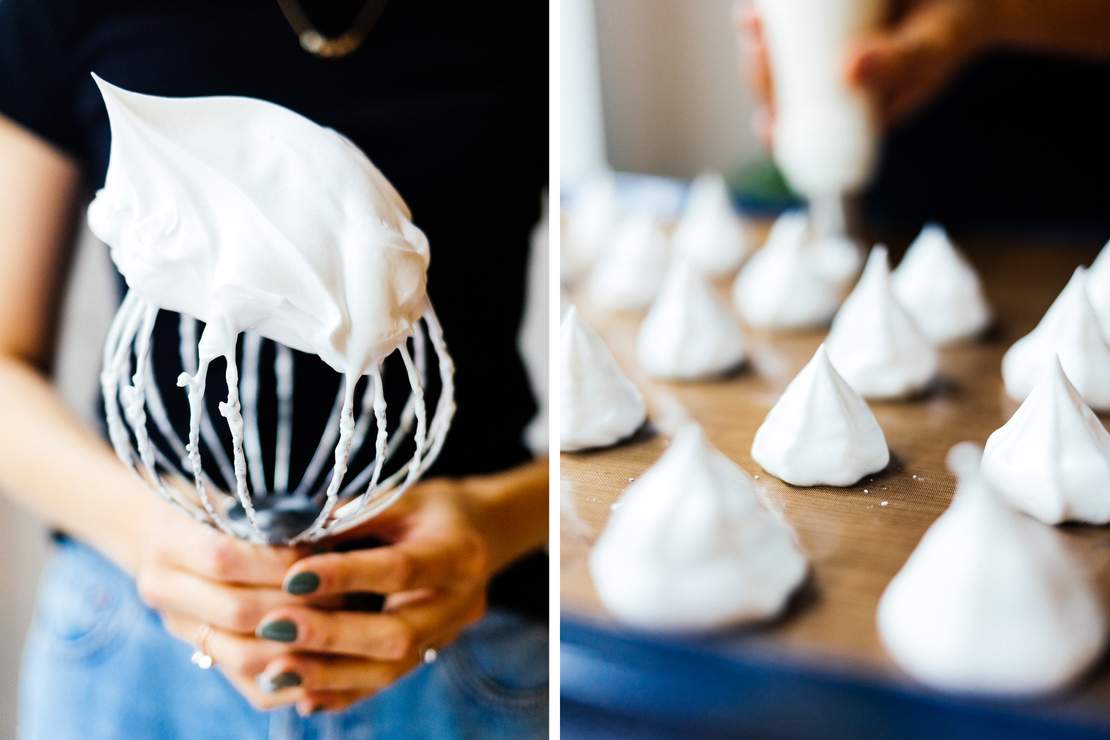 Homemade Vegan Meringue
20 minutes (+ 2 hours baking time)
Ingredients
100 g aquafaba (3.5 oz) (canned chickpea water)
1 tsp lemon juice
5 g (1 tsp) cream of tartar
1 tsp vanilla paste
100 g (0.75 cup) confectioner's sugar
Instructions
Add aquafaba to a bowl and whip for approx. 10 minutes on high speed until it's fluffy and stiff.
Tip: We whipped the aquafaba in our "Kenwood Cooking Chef XL" kitchen machine, with which we could easily weigh all the ingredients. With the program "whip egg whites" we had all hands free to prepare the next steps.
In the meantime, prepare a piping bag into which you can fill the whipped aquafaba directly afterwards. Meanwhile, you can also line a baking sheet (or the trays of your dehydrator) with parchment paper.

Back to the aquafaba: while constantly whipping it, add lemon juice, cream of tartar, and vanilla paste. Add the powdered sugar by the tablespoon and beat the aquafaba for a few minutes longer.

Transfer the beaten aquafaba into the piping bag and pipe small dollops of the mixture on your prepared parchment paper.

Set your oven to top and bottom heat and bake vegan meringue at 70°C/160°F for approx. 90-120 minutes. Open the oven door regularly so that the moisture can escape which will help to dry out the meringue. In the dehydrator, a temperature of 70°C/160°F is also suitable for approx. 90-120 minutes.

Allow the meringue to cool out completely and seal them in an airtight container as they will otherwise hydrate again.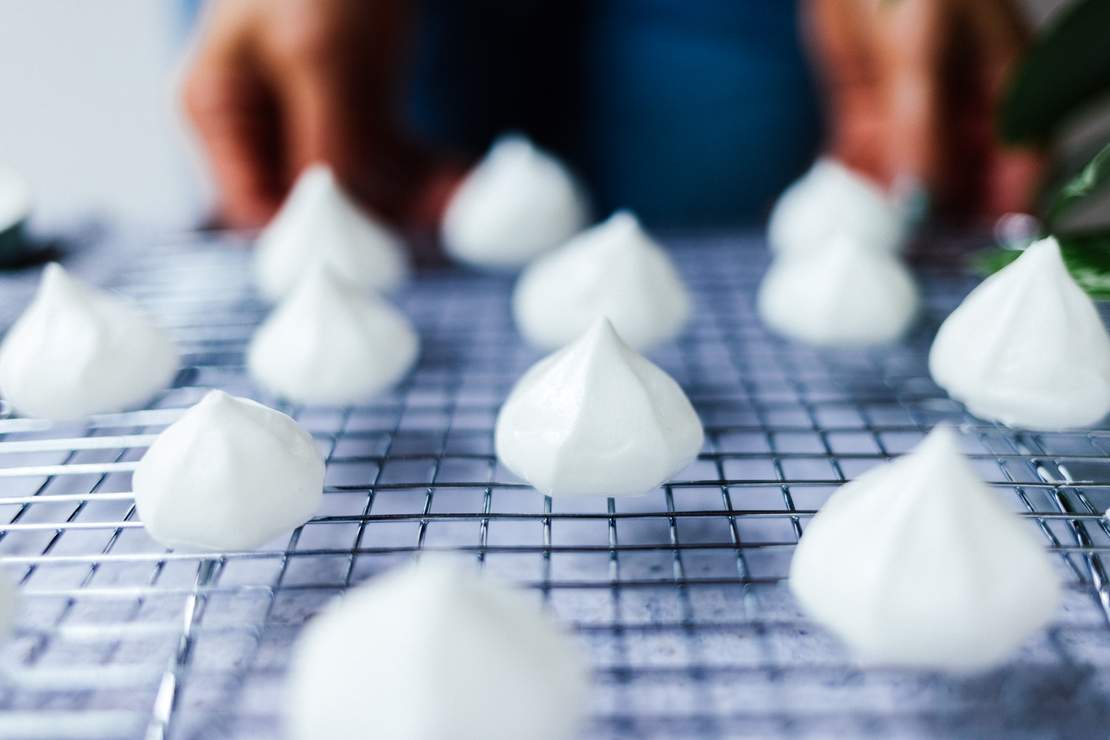 More Vegan Chocolate & Sweets Recipes and Plant-Based Copy Cats