Vegan Filled Cookies (with 5 Ingredients)
To be honest, finding a 5-ingredient cookie recipe wasn't our biggest challenge this week. After all, you could even bake a shortbread cookie with just three ingredients: flour, vegan butter, and sugar. So the actual challenge was to find a cookie recipe with only five ingredients that is a little different and has a little surprise in store. I think we were very successful because, on the one hand, these cookies are filled, and on the other hand, we don't use any flour at all! They may even be our new favorite cookies - that's how good they tasted to us.
For the dough, you just mix ground almonds with vegan butter, sugar, and vanilla extract. For the filling, all you need is a chocolate spread or nut butter of your choice. Since it's difficult to coat the liquid nut butter with dough, you'll want to freeze it in small portions first. It doesn't have to be completely frozen, but it should no longer be liquid. Once your nut butter is firm enough, you can form small patties out of your dough, place a piece of nut butter on each of them, and then fold the dough around the filling to form stuffed balls of dough. Afterward, you can bake the cookies in the oven. They will be done after approx. 12 minutes.
Of course, you can adjust this recipe any way you like, but we found the version below to be the best of the six different cookie versions we tested in the office. If you like to play around with the ingredients, try using flour instead of almonds, agave syrup or another sweetener instead of sugar, or cocoa as a fifth ingredient instead of vanilla. We're excited to hear what ingredients will hide in your new favorite cookies!
If you feel like baking more cookies, check out our other cookie recipes here.
Vegan Filled Cookies (with 5 Ingredients)
10 cookies
20 minutes (+ 150 minutes cooling time)
Ingredients
200 g (7 oz) ground almonds
120 g (0.5 cup) sugar
120 g (1 stick) cold vegan butter
1 tsp vanilla extract
1 pinch of salt
100 g (3.5 oz) nut butter of your choice
Instructions
For the filling, fill ten small ice cube or praline molds with nut butter. Then freeze for approx. 2-3 hours until the nut butter is firm. Your nut puree does not have to become completely firm, but it should no longer be liquid to make it easier for you to fill the cookies.
Tip: It's best to choose a nut puree that is not too liquid. If your dough is too greasy or soft, you can add a little flour or more almonds.
Preheat the oven to 180°C/360°F (top/bottom heat). Mix ground almonds, sugar, vegan butter, vanilla extract, and salt in a bowl and knead with your hands until a smooth dough forms.

Divide the dough into ten portions (45 g/1.66 oz each) and form small patties out of each part of the dough. Place the frozen nut butter pieces in the center and fold the dough around the filling, forming a ball. Spread the cookies on a lined baking tray, spacing them sufficiently apart.

Bake the cookies at 180°C/360°F (top/bottom heat) for about 12 minutes. It's normal that the
cookies are still soft at the end of the baking time. Remove from the oven and flatten them gently with a spatula. After cooling, store in a sealed container or eat directly.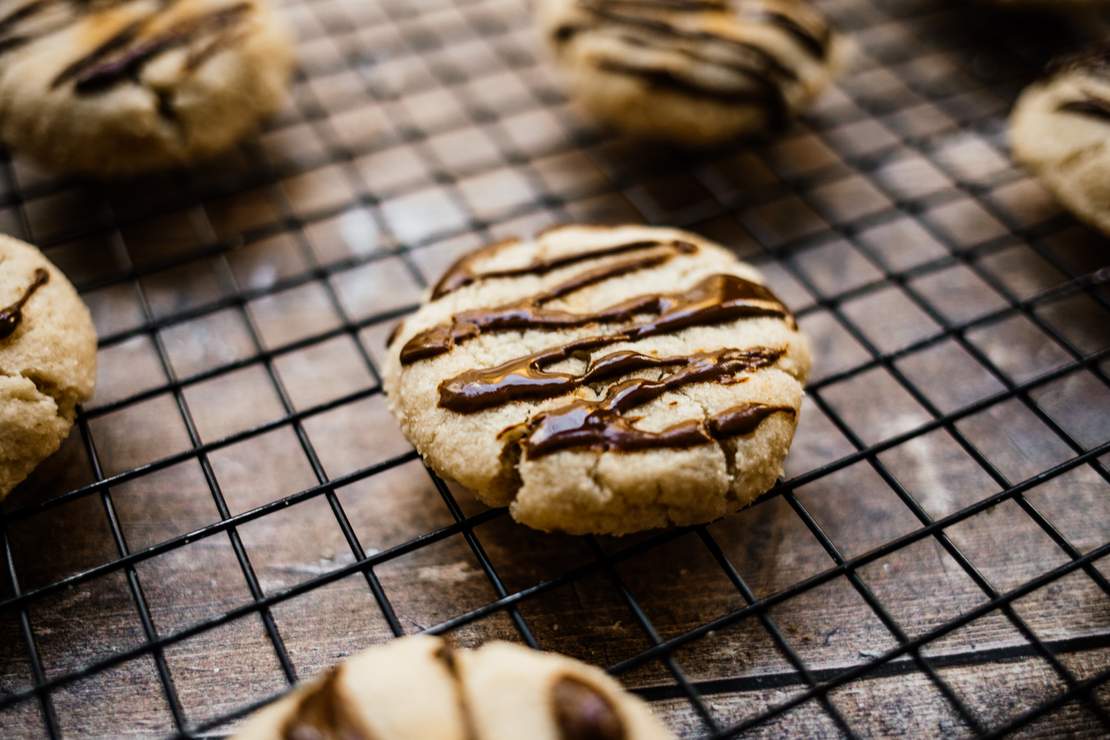 More Vegan Chocolate & Sweets Recipes and Plant-Based Copy Cats